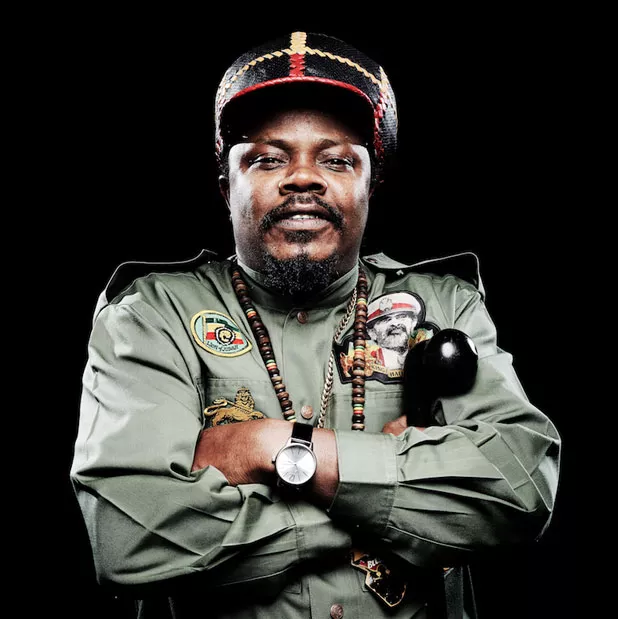 There are few genres more ready-made for a particular season than reggae is for summer. There's just something about those breezy island vibes that perfectly suits hazy days lounging with rum drinks. Mmm, rum…
Where was I? Ah, yes. Reggae.
The weekly MiYard Reggae Night at Nectar's has been a Sunday staple for years. Helmed by DJs Big Dog and Jon Demus, it is one of the longest running and most successful residencies in town. But the MiYard crew is more than just a bunch of talented and deeply knowledgeable reggae DJs. They're also, as it turns out, pretty savvy concert promoters as well.
This week, MiYard presents the first of its MiYard Reggae Series at Nectar's and Club Metronome. It focuses on roots reggae and features some of the genre's most important and influential artists. The inaugural show is this Thursday, July 18, and features reggae icon Luciano the Messenger, backed by a seven-piece band, i-KRONIK. Luciano emerged in 1995 as something of a roots-reggae savior in the face of the digital dancehall sounds that were then dominating the club scene. He's been hailed as a profoundly influential reggae artist with more than 45 albums to his credit.
On Sunday, July 21, the series continues with Luciano's mentor, Freddie McGregor. McGregor not only discovered Luciano but has been involved in virtually every evolution of reggae since its earliest, post-ska and rocksteady incarnations. He's equally influenced by island sounds and American soul, which is wonderfully evident in his powerful croon.
Next up, on Thursday, July 25, at Club Metronome is a band that is near and dear to my heart: the Skatalites. Here's a quick and abridged history lesson, kiddos. Without the Skatalites, there would be no ska music. And without ska music, there would be no reggae music. (Though I suppose that also means there would be no gimmicky crap such as the reggae-fied Pink Floyd tribute album The Dub Side of the Moon, or Willie Nelson's god-awful reggae record. Whatever. It's still a good deal.)
Formed in 1964, the Skatalites were genuine pioneers who laid the groundwork for ska, rocksteady and reggae. The band currently features only two original members, alto sax player Lester Sterling and vocalist Doreen Shaffer. But the band has a knack for replacing departing — or, more accurately, dearly departed — members with stud players. For example, drummer Trevor "Sparrow" Thompson, who replaced the late, great Lloyd Knibbs a few years ago. Of the former, Brian Mital from Nectar's, whom I trust completely in all things irie, says he's "a MOTHERFUCKER … a force, a powerful dude leading the train." Motherfuckin' sold.
Moving on, Morgan Heritage, known alternately among reggae heads as the "Royal Family of Reggae" and the "Rolling Stones of Reggae," drop by on Saturday, August 17. Methinks the Marleys may quibble with that first descriptor. But as long as they don't reggae up Exile on Main Street, I take no issue with the second.
The series wraps up in October, with Don Carlos, who was an original member of the groundbreaking reggae act Black Uhuru. We'll fill you in more on that one in the fall. In the meantime, for ticket info on all the MiYard Reggae Series shows, check out ticketfly.com, or just drop by Nectar's.
School of Rock
If you've been enjoying the lines, er, dinner at the TruckStop behind the under-construction ArtsRiot space on Pine Street, you might have noticed a curious black and gold sign affixed to one of the warehouses. You might even have thought, Hmm. If I didn't know better, I'd say that logo looks like someone flashing the ol' sign of the horns. Rockin'! Also, if the BBQ dude crosses one more thing off the menu while I'm stuck in line I'm gonna … son of a bitch!
Well you're right! (About the rockin', at least. My condolences on the BBQ. Mine was delicious.) That building is the site of the newly minted Burlington Music Dojo. The studio is a new educational venture offering lessons from a crew of some of BTV's most respected ninja masters. Or musicians, I forget which. Anyway, the sensei roster includes guitarists Bob Wagner and Franky Andreas, drummers Tim Sharbaugh and Russ Lawton, and bassist Aram Bedrosian. And Mr. Miyagi. To learn more about lessons, check out burlingtonmusicdojo.com. Or, better yet, drop by the studio's grand-opening party at the Higher Ground Showcase Lounge on Wednesday, July 24, at which all of the aforementioned rockers will fight to the death, Bloodsport style. Or maybe just jam out.
BiteTorrent
With Guppyboy and Hover partying like it's 1999 at the Monkey House last weekend, it seems 1990s BTV band reunions are all the rage. Next up are Common Ground, a pretty rad hardcore band from the late '90s that included current Rough Francis front man — and, full disclosure, Seven Days employee — Bobby Hackney Jr. on drums. The band plays a pair of gigs in Burlington this weekend: Friday, July 19, at Radio Bean and Saturday, July 20, at — where else? — 242 Main.
So, are you excited for the Precipice yet? Earlier this week, the festival's organizers held a press conference at Burlington College, announcing the full lineup for the July 25-27 festival and, presumably, a bunch of other stuff. I didn't go because, well, I loathe press conferences. Also, I was/am away on vacation. But if I had to guess, I'd say there was probably a lot of thanking of sponsors, thanking of organizers, thanking of fans, etc. Whatever. The point is, it's gonna be a pretty epic three days of local music. We'll have a more detailed rundown in next week's column. But in the meantime, I'd heartily suggest you check out the free Precipice sampler at theprecipice.bandcamp.com. It's a pretty awesome 20-track comp that features a bunch of great acts playing this year's fest, including Kat Wright & the Indomitable Soul Band, Swale, Maryse Smith, Alpenglow and Blue Button, among many, many others. I'd say it's required listening, in fact. (However, I would also say that in the interest of full disclosure, I'm on the comp with an old band that is playing the festival. So take this entire paragraph with the appropriate pillar of salt.)
Ziggy Stardust fans, take note: The Monkey House is hosting an evening of David Bowie love called Monkeys From Mars this Friday, July 19. The show features a ton of great local acts paying tribute to the Thin White Duke, including tooth ache., Paper Castles, Hello Shark and Errands, among others. My only request is that someone — looking at you, Swale — play "Power of the Babe" from Labyrinth. Also, for the show, MH is experimenting with a second stage in the back where the pool tables would normally be. If it goes well, they might move the stage from up by the window to the rear permanently. So, if you go, be sure to let the fine folks at the Monkey know what you think of the setup.
Last but not least, the word from Montpelier is that Sweet Melissa's, the new restaurant and live music venue that opened recently in the old Langdon Street Café space is, in a word, awesome. We've had a few capital city readers write in recently to sing the juke joint's praises, including country songwriter Mark LeGrand, who says the venue is "amazing." LeGrand was particularly impressed with the stage and sound system. I'm eagerly looking forward to checking it out in the near future. Stay tuned…
Listening In
A peek at what was on my iPod, turntable, eight-track player, etc., this week.
La Vega, Wave
Freddy Gibbs, ESGN
Speedy Ortiz, Major Arcana
Robert Pollard, Honey Locust Honky Tonk
The Surfaris, Wipe Out