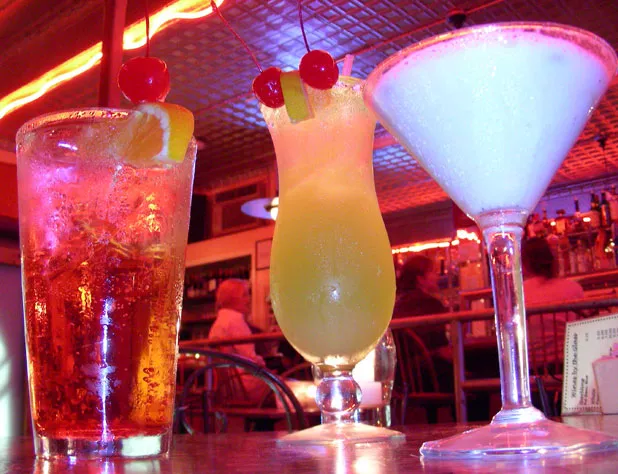 Fans of Canadian comedy troupe The Kids in the Hall may recall an old sketch called "Girl Drink Drunk," in which a teetotaling businessman tries an innocent-sounding "Chocolate Choo-Choo" and finds himself sucked into a ruinous addiction to sugary cocktails with names like "Tahitian Tee Hee" and "Squash Strawberry Alley-Cat."
Well, the joke is on the jokesters, because yesterday's so-called "girl drinks" are today's classiest cocktails. Sure, you can still get a Blue Hawaii with maraschino cherries and a parasol. But Greater Burlington's hip restaurants and bars have raised the basic formula of booze-plus-liqueur-plus-mixers to new heights of invention. Some of these cocktail creations are little pieces of conceptual art; others have localvore cred. And yes, you can get drunk on them. For the sake of our testers' livers, we've limited our survey to a handful of trendy watering holes in the Burlington area.
No vermouth? No problem.
According to Wikipedia's entry on the classic cocktail, "martini purists" are offended when a vodka martini isn't specifically designated as such; even worse is "the use of 'martini' (or the suffix '-tini') to refer to any beverage served in a cocktail glass." One wonders what those purists would make of the Daily Planet's Honey-Nut Cheerio Martini, which features Tuaca and Frangelico "shaken hard with a splash of cream" and three actual Cheerios floating on top. Though the concept evokes leftover cereal milk spiked with booze, the drink tastes more like a White Russian. From the Espresso Martini to the Chocolate Raspberry Martini (Stoli Vanil, Chambord and Baileys), you can sample the Planet's array of specialty martinis without ever tasting gin or vermouth.
Perhaps the martini has made the transition from an actual drink to a canvas for invention and a state of mind: retro, cosmopolitan, whimsical. At the 1/2 Lounge, martinis bear monikers more suggestive than descriptive. Take the Vixen, a combo of Grey Goose Pear, organic blood orange juice and "a splash of Champagne." It's almost impossible to distinguish visually from the Bella, featuring Level vodka, Limoncello and organic Tuscan blood orange: Both are cider-colored and come scattered with blood-red rose petals. But the former has a strong burr of pear on the tongue, while the latter tastes more strongly of . . . vodka. A better choice for the timid is the almost watery Sorbetini, which combines Stoli Razberi, Stoli Vanil, Limoncello and "seasonal sorbet."
A happy invention of Asian restaurants in recent years is the Lychee Martini, served up at Bangkok Bistro with Ketel One vodka, lychee, and lime and cranberry juices. It's sunset pink and tastes like its namesake; a pearly lychee nut rests on the bottom. (By contrast, Asiana House's Lychee Margarita is bright yellow and tastes pretty much like any Margarita.)
What's in a Name?
Some drinks are worth ordering for their names alone. Take Bangkok Bistro's Dirty Girl Scout (Stoli Vanil, crème de menthe, Godiva, Baileys and cream), which looks and tastes surprisingly innocent, like a spiked version of mint-chocolate-chip ice cream.
Smokejacks' menu offers a wealth of inventive names, from the Bee's Knees to Some Like It Hot - Thai chile-infused vodka and freshly squeezed lime. "Don't be fooled by the first sweet sip! WARNING not for the faint of heart," says the menu. The drink is spicy, but not as lethal as the description suggests. A similar-looking but sweeter yellow-green option is the Save the Monks Margarita, which gains its name from a dose of Chartreuse, the herbal liqueur whose recipe is guarded by French monks to this day.
Vivid names pair well with vivid colors. Served in a tall glass, the Daily Planet's Green Monster combines Midori, Watermelon Pucker, Stoli Oranj and Sierra Mist: The apple-green concoction has a distinct watermelon tang. The Shirley Manson is a "Stoli Raspberrized Temple" that comes decorated with multiple cherries. Despite the vodka, it's a lot sweeter than its namesake, the surly Scottish singer from mid-'90s band Garbage. "I feel like I'm drinking a Jolly Rancher," one tester says.
Movie buffs will especially appreciate the 1/2's Zissou, a martini our server confirms is named for Bill Murray's character in Wes Anderson's comedy of quirks The Life Aquatic With Steve Zissou. Composed of Absolut Ruby Red, pomegranate and pineapple juices and fresh lime, it hides a massive Gummi worm described on the menu as "a swamp leech." ("Check for swamp leeches!" Zissou tells his wet-suited men in one scene.) The frigid "leech" isn't recommended for consumption, but the drink itself goes down smooth, with a gentle scrim of foam on top and faint flavors of grapefruit and lychee. It's oddly reminiscent of a fine red ale.
Tastes Like . . .
Sure, it's easy to mix a drink that recalls a Jolly Rancher. But what happens when you take a tumbler of vodka, toss in actual Jolly Ranchers, and leave the mess to soak for a few days? The result, Drink's candy-infused vodka, has the faintest peach tinge and a surprisingly subtle sweetness when it's mixed with club soda.
Commercial flavored vodkas are all the rage these days, but by making them in-house, Drink can experiment with novel combinations. Housed in big glass jars atop the bar, the infusions make their way into more elaborate mixed drinks, too, such as the Iced Tea Mojito with tea-infused vodka, mint, fresh lime, sugar and club soda.
Bartender Ian Collins says the staff will whip up a jar of maple-walnut-infused vodka - an autumn favorite - in time for UVM parents' weekend: It mixes up nicely into a Mudslide-like-drink with Kahlua. For now, though, Drink's menu is all about summery mojitos - nine varieties in all. Another seasonal choice is the watermelon-infused vodka, which Collins says was his idea, inspired by the old fraternity trick of pouring booze through a porous melon.
Drink Locally
Rare is the cocktail that meets the strict definition of "localvore" - limes, for starters, would be out - but that doesn't stop bartenders from experimenting with local, seasonal produce. At the Inn at Shelburne Farms, for instance, the nonprofit's farm-to-table initiatives extend to the bar. This year, for the first time, visitors to Lila Vanderbilt Webb's dining-room can peruse a menu of drink specials such as the Farmyard Fizz: "farm egg whites, lemon, gin, simple syrup and soda water," says Dining Room Manager Laura Wade, who points out that "traditional sour mixes had raw egg in them." The drink is brisk and fizzy indeed, and it's hard to fret about salmonella when you can see the hens strutting the farmyard in question.
Wade creates cocktails in concert with the Inn's head bartender: "The garden offers new things, and we get excited," she says. Take the Coriander Rickey, a "muddled" mix of lush garden cilantro, gin, vodka, lemon, fresh ginger and ginger beer. Or the summery Lemon Verbena Mojito, or the Beet Sangria. Wade is currently at work on an autumnal sangria featuring heirloom apples from Shelburne Orchards, Calvados and ice cider. And the harvest could inspire some truly out-of-the-ordinary drinks: "We're playing around with some tomato water, smoked tomato water," Wade says. "Pumpkin and squash should be an interesting mix."
Vermont's own Green Mountain Sunshine Vodka shows up in the Localvore Sparkler at Smokejacks (with Kombucha from Stony Pond Farm) and the Sunshine Gimlet at Bangkok Bistro (with fresh-squeezed lime and orange from parts south). At the Green Room, straight Sunshine is poured over olives stuffed with award-winning blue cheese from the Boucher farm in Highgate Center to make a VTini, a strong and savory mix that is definitely not a "girl drink."
Quite a bit mellower is the Green Room's Golden Port Martini, which combines Vermont Spirits Gold Vodka - distilled from maple sugar in St. Johnsbury - with British Warre's Port and a "hint of maple syrup" for a rich, sweetish, Cabernet-colored drink. The Daily Planet's Maple Leaf is "Vermont maple liquor, shaken hard with hints of amaretto and cream." Dusted with cocoa, it tastes egg noggy with a subtle maple undercurrent.
For those who would rather taste an exotic terroir in their cocktails - say, the desert - a novel choice is Smokejacks' Prickly Pear Margarita, featuring "House-Infused Prickly Pear Tequila with Cointreau and lime." The raspberry-red "cactus fig," a pear in name only, imparts its color to the salt-rimmed drink, though the flavor isn't particularly distinctive.
******
Some of these unlikely booze combinations show a real knack for mixology; others are more fun to order and contemplate than to drink. But one thing's for sure: It's a good time for adventures in drinking. Whether it's a squash-tini straight from the garden or Asiana House's deceptively lemonade-like Japanese Iced Tea, there are plenty of options that will make your Scotch-and-soda friends snigger in disbelief.
Never mind the purists: whether saccharine or subtle, "girl drinks" are brimful of culture and history. (Why the pomegranate martini? Why now?) And if you sip responsibly, you can make one last all night.