Name: Sean McKenzie Age: 29 Restaurant: Guild Tavern Location: South Burlington Restaurant age: almost 3 Cuisine type: New American/steakhouse Select experience: bartender, Pizzeria Verità, Burlington (2012-2013); bartender, 219 West, Austin, Texas (2011-2012) What's on the cocktail list? Classics like Rob Roy, silver gin fizz and the scofflaw; originals like the bourbon-y Nut House, rye-based Steel Mill and the ginny Regatta
Behind the bar at South Burlington's Guild Tavern, cocktail director Sean McKenzie wears his slick black vest well. Paired with a checked, button-down shirt, he looks every bit the professional barkeep mixing drinks at a tony Chicago speakeasy, circa 1924. McKenzie cultivates the look, but only to a point. Sleeve garters, he says, would be pushing the "retro" thing too far.
McKenzie's cocktail recipes, too, draw on history. His approach to mixology is expressed in the distinctive menu that he refreshes seasonally, and which is divided into "Classics" and "Guild Originals." On the former, cocktails' dates of origin are listed alongside their names. The originals list reveals some unconventional ingredients, such as Crème Yvette, Falernum and Genever, yet some of them are decades — even centuries — old. The Closing Argument, for example — Mezcal, Green Chartreuse, and pineapple and lime flavors — is a modern take on the Prohibition-era gin cocktail called the Last Word.
"At the end of the day, you have to know the classics before you can do these interesting, unique new cocktails," McKenzie says. "We're not really reinventing the wheel. We're just trying to pay respect to tradition, with different ingredients."
Matthew Thorsen
The Closing Argument, the Steel Mill and the scofflaw
Though fascinated with the cocktails of yesteryear, McKenzie likes to give his drinks zany, pop-culture-inspired names. Consider the seasonal Fraggle Stick Car, which tips its alcoholic hat to the 2003 anti-holiday film Bad Santa. His mixes are bursting with unexpected but harmonious flavor combinations and are just boozy enough to inspire another round.
McKenzie met with Seven Days at Guild to talk about the theory and practice behind his creative cocktails.
SD: What's the last drink you had?
SM: Last night, I had a Brooklyn after work, [made] with Rittenhouse. It was delicious. That's a classic cocktail that is rye whiskey, dry vermouth, maraschino liqueur and Amer Picon, a French product that is (a) not available in America, and (b) was reformulated in the '80s. So we use Amaro CioCiaro, which is apparently the closest thing you'll find in America. It's got the same herby, bitter orange profile.
SD: What's your go-to after-work cocktail?
SM: That's tough. I have a few. I would say the Brooklyn is definitely one of them. I really like the aviation. Gin and tonic, sometimes, depending on how I'm feeling. I love the scofflaw, which is currently on the menu. It's a really simple whiskey-sour variation.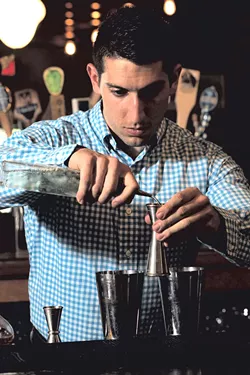 Matthew Thorsen
Sean McKenzie
SD: Tell me about delving into cocktail history.
SM: I've worked in the industry a long time, and I think I just got sick of pushing vodka sodas all night. So I started reading up on [cocktail history] and started going to cooler bars. [Tending bar] is what I do, so it's good for me to know the history, how we've gotten to this point. But you can also learn a lot about people and culture from behaviors such as what they're drinking and how they're drinking it. The cocktail is a pretty American thing and a big part of our culture.
Prohibition is a really fascinating time — the lengths to which people went to do something that was outlawed. We actually got a lot of really great drinks from Prohibition as a result of people using what started as a limited knowledge base and then evolved, and using not the greatest ingredients.
SD: What's in your liquor cabinet at home?
SM: A lot! I've got a pretty fully stocked bar — probably in the ballpark of 80 to 90 bottles. Gin and rye whiskey are the two basic liquors that I always go back to. I'm really interested in some tiki drinks. Allspice dram has become something of a bartender's ketchup, and I'm definitely guilty of [using] that.
SD: What made you want to get into bartending, and how did you get your first gig?
SM: Both of my parents, at one point, were in the restaurant industry. Busing tables seemed like a good job to start with, and I eventually just started bartending.
I think the first real bartending job I had was at a TGI Fridays. I used to push some bad drinks — a lot of things that we called "margaritas." Drinks with refrigerated syrups that came in bags. It's not a place I'd like to go back to, but I think there's some utility in learning in places like that. It's very regimented, and you don't necessarily learn the right way to do things, but you learn how not to do the wrong things, at least by certain standards.
SD: Describe the anatomy of a good drink.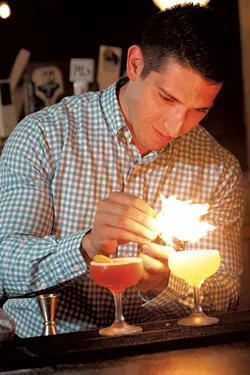 SM: People will come in and say that they don't like a particular spirit, and I usually think they just haven't had it the right way. It's a horrible answer, but it's all about balance. Understanding how things are going to interact with each other. If you're using something cloyingly sweet, you're going to have to dry it out. You need to know what kind of nuance each ingredient has. The scofflaw is an incredibly balanced cocktail, which is one of the reasons I love it. Rye and dry vermouth go together really well. It's a near-perfect cocktail.
SD: What are the basic components of a solid, functional home bar?
SM: I think a home bar should start with Angostura bitters, because it makes everything better. You need a good bottle of rye whiskey, a good bottle of gin and you want some citrus, like Cointreau. Sweet vermouth and/or dry vermouth. With just those bottles, you can make quite a few things.
SD: What kind of drink do people most often ask for?
SM: We have such a diverse crowd here that it really varies. I would say the old fashioned is probably our best-selling cocktail. The Steel Mill is a very close second — interestingly, those are two rye whiskey cocktails.
SD: What's your go-to local watering hole when you need a good cocktail?
SM: I like the bar at Waterworks quite a bit but haven't been there too often. I like Mule Bar, I like the Farmhouse; [Pizzeria] Verità has a great bar. Finnigan's and Manhattan Pizza really surprised me. I hadn't been into either in a long time, but about six months ago I went into both. Fantastic beer lists.
SD: What cocktail or cocktail trend do you most loathe?
SM: I think that classic cocktails and craft cocktails sort of became, at one point, the Thing to Do, and I think a lot of people started to do it because they thought it was what people wanted. It seems really fake, like a lot of places are just jumping on the bandwagon without any reference to what makes a cocktail a good cocktail.
SD: What's your favorite bartending or booze-related book?
SM: For sentimental value, I really like The Savoy Cocktail Book, which is a recipe book from 1930. It's one of the first ones I got, and there are a lot of really, really interesting cocktails in there. I really like Gary Regan's The Joy of Mixology [The Consummate Guide to the Bartender's Craft]. I've got a copy of Trader Vic's Bartender's Guide that I like for the tiki drinks.
SD: What is the strangest thing about American drinking habits?
SM: I've never understood olive brine. The dirty martini just kind of confuses me. But so many people like it that it must be kind of good. I love savory things, and I love olives, but I've never wanted to put them in my drink.
SD: What drink are you ashamed to like?
SM: I don't know if there's any shame in it, but there's a cocktail called the pink lady that just has a really unfortunate name. It's gin, apple brandy, grenadine, lemon juice, a touch of sugar and an egg white. It's a relatively sweet, acidic gin sour with some apple brandy in there. It's just a big glass of frothy pink. You cannot look like a big, tough, burly man drinking that. But it's an excellent cocktail.
Sean McKenzie's Cocktail Recipes
McKenzie provided Seven Days with recipes for three of Guild Tavern's signature cocktails. Some of the ingredients are unconventional, but adventurous tipplers will find the investment worthwhile.
The Scofflaw
1 1/2 ounces rye whiskey
1 ounce dry vermouth
1/2 ounce fresh lemon juice
1/2 ounce grenadine
1 dash orange bitters
Shake all ingredients with ice and strain into a chilled coupe. Garnish with a lemon peel.
The Closing Argument
1 ounce Mezcal
1 ounce Green Chartreuse
3/4 ounce fresh lime juice
3/4 ounce pineapple gomme syrup
Shake all ingredients with ice and strain into a chilled coupe. Flame an orange peel over cocktail; discard peel.
The Steel Mill
1 1/2 ounces rye whiskey
3/4 ounce Falernum
1/4 ounce Cynar
3 dashes Angostura bitters
1/2 ounce Black Strap Rum
Stir all ingredients except rum with ice and strain over one large ice cube into a chilled, double old fashioned glass. Float Black Strap Rum on top of cocktail. Garnish with lemon peel.