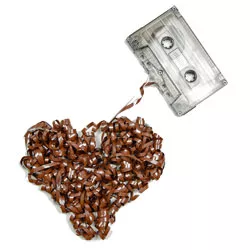 You will never be more in love than you were when you were 16. Oh, sure. You'll likely have more significant relationships as you age than you did with your prom date. Perhaps you'll even get married, have kids and, if you're really lucky, grow old with someone. But for pure, emotionally reckless romantic abandon, nothing approaches the sweet, naïve innocence of young love. And there's no greater symbol of that love than the mixtape.
You remember those, right? Of course you do. Though the format has evolved over the years — loading up your sweetie's iPod, burning a mix to CD or, as was done in the old days, actually recording songs to cassette tapes —there is an art to a great mixtape. Essentially, you're relying on someone else's words to express your amorous feelings. But be careful. Go too heavy on sweet ballads and torch songs and you'll come off as sappy — or worse, creepy. Conversely, play too fast and loose and you risk sabotaging your message altogether. (For more on that, we suggest re-watching High Fidelity, or better yet, reading the book.)
Anyway, with love in the air and Valentine's Day just around the corner, we thought it only appropriate to compile an all-Vermont-music love-songs mixtape for the apple of our eye: you.
"Fairytale" by Maryse Smith
Like the saying goes, you only get one chance to make a first impression. So it follows that your choice of lead song is hugely important. Make it count. We're going with a favorite song by one of our favorite local songwriters, Maryse Smith, from her 2009 debut album, Is Becomes Was. There's a humbly charming quality about this tune that we hope reminds you of, well, us. It's quirky and imperfect, but that's why it's anything but.
"Plenty Hands" by Parmaga
We just set the tone with a pretty acoustic number. We need to be careful not to ruin the mood. At the same time, we don't want to slow it down too much. "Plenty Hands" from Parmaga's 2011 Ghost Pops EP is a good choice. It's mellow, but complex and interesting. No, it's not exactly a love song, per se. But there's no need to be overbearing … yet.
"Windows Down" by Lendway
OK, now we're getting a little overbearing. Leaning heavy on the indie rock? Maybe. But the closing track from Lendway's exceptional 2011 record, Going Places, is breezy, romantic and pretty … just like you. (Wink, wink.)
"Sheets" by Nuda Veritas
We're gonna bring it back down a little with this quietly brilliant gem from Nuda Veritas' 2011 record, Verses of Versus. It's a bit of a risk, since it's a devastatingly sad breakup song. But the hope is that you appreciate its uncommon artistic beauty and daring.
"Ain't That a B" by Japhy Ryder
After that downer, it's definitely time to lighten the mood. We need something playful and fun, so we're going with this cut from Japhy Ryder's 2010 effort, If the Haves Are Willing. It's funky and adventuresome. Plus, there's sort of a 1970s porn-music vibe which, um … is it hot in here?
"Do Over" by First Crush
Enough screwing around, it's time to get down to business. And this sweet, doo-wop-tinged ballad from Montpelier's First Crush cuts right to the core of our romantic heart. There are a few great boy-girl pop duos in Vermont who similarly make us swoon. So while we're at it…
"Hey Sunshine" by Let's Whisper
Quirky bedroom pop just doesn't get much better than this Smittens offshoot. Hey, sunshine. Will you be mine?
"Pumped Up Kicks" by Chamberlin
OK, we're kinda cheating here, since the song is originally by Foster the People. But Chamberlin released this acoustic version on a covers EP in 2011. It's a pretty popular tune, and not a love song. But we're hoping to show that we appreciate mainstream stuff while still having immaculate indie tastes. Admit it, you're impressed.
"No Reservations" by Split Tongue Crow
Love us, love alt-country. And we love this cut from Split Tongue Crow's self-titled debut. "I've got no reservations for you now…"
"Labor of Love" by Wooden Dinosaur
We wanted to go with something from their new record, but we couldn't resist this crushingly beautiful song from the band's debut, Nearly Lost Stars. Simply put, it's music to fall in love to. It also sets up the finale quite nicely.
"Wounded (You're So Fine)" by the Pants
If there is one song on a mixtape that is more important that the opener, it's the closer. It's the last song you'll hear, and — we hope — what you'll remember us by. So we're pulling out all the stops and going with the granddaddy of all local torch songs, from 1990s greats the Pants. Yeah, it's a deep cut and old compared to the rest of the songs here, which are all relatively recent. But some songs are simply timeless. And with any luck, by the time Tom Lawson and company get to the multiharmonied "You're so fine" at the transcendent final chorus, you'll be six digits into dialing our number — or texting, or whatever.
Click here to listen to the entire mixtape as a playlist on Soundcloud.