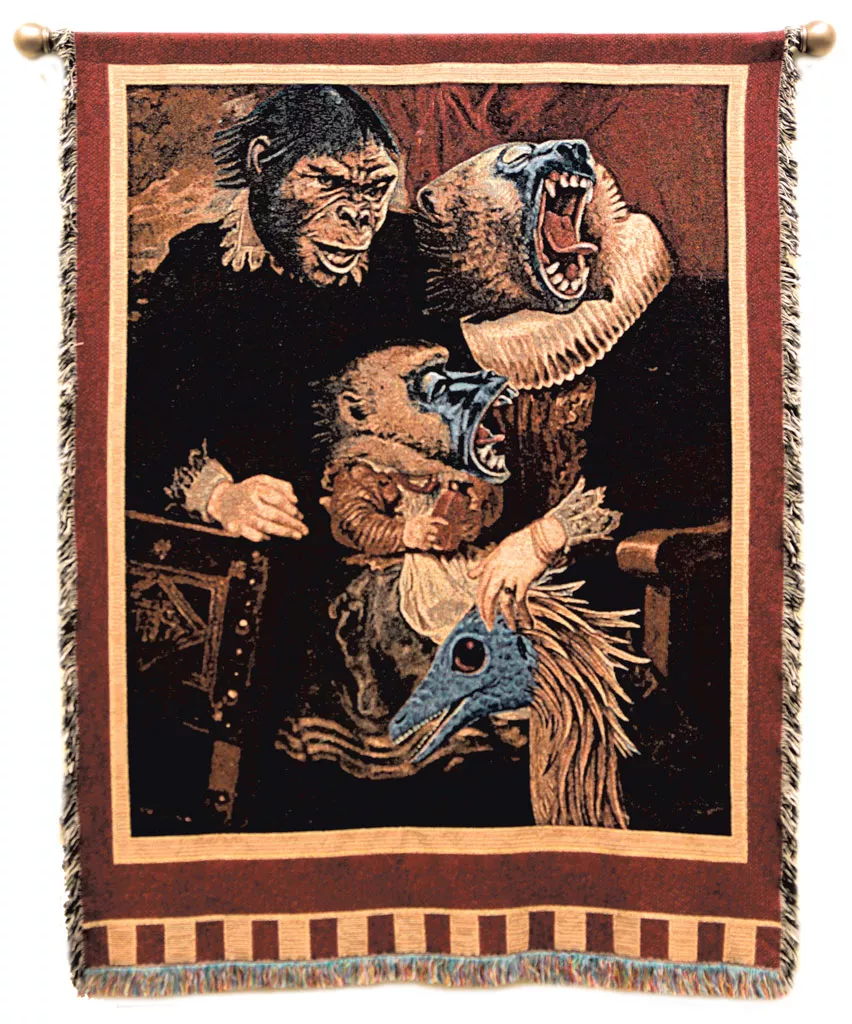 W. David Powell's exhibition at the Vermont Supreme Court Lobby, titled "Everything Must Go 3.0: Artworks From the New Millenium," consists of about two dozen paintings, prints, mixed media and woven pieces, all completed since 2000. The gallery's L-configuration divides the space in two, and Powell uses that to his advantage by showing work from different series and periods in each half.
In the entryway, three 36-by-36-inch acrylic paintings — "Returning Home I Saw the Future," "Available for a Limited Time Only" and "Everything Must Go" (all from 2002) — reflect the sophisticated coolness of much of the exhibit. The self-referential titles appear in the paintings as phrases floating on a colored background, or on a bed of clouds. Reminiscent of Barbara Kruger's photo/word collages, Powell's pieces are neutral, not political, but echo powerfully. The lustrous backgrounds provide more than a supportive environment to the phrases; they're foils to the darker meanings the artist suggests, diverting attention back to all that is pretty but ephemeral. The title piece, "Everything Must Go," suggests that all is for sale — not just the artwork here, but everything in the world.
These works segue into a group of visually simple pop paintings, each with a compelling one-word message: "Happiness," "Security," "Trap." Each of the three paintings in this series depicts a single cardboard box. In one, the box is open, with flaps up, and marked with a red label: "Security." The field surrounding the box is neutral. The box's openness belies the notion of security; its blandness and homogeneity offer a false sense of safety. Equally compelling is "Trap," which depicts a box upside-down in a classic trap position: propped up and ready to fall when a bird enters its territory. The trap seems contrived to contain the very things that birds exemplify: beauty, flight, freedom.
Other works in the front room employ nostalgic kitsch rather than a postpop sensibility. "Freedom of Choice" and "Welcome to the Future" (inkjet prints mounted on birch plywood) are provocative, but the images as a whole don't resonate as powerfully as others here. Still, it's hard not to be caught up in these appropriated images of smiling, eager faces. Powell takes full advantage of the tools and techniques he's mastered; like Andy Warhol, he learned his craft in commercial graphic design.
In the back room, two pieces provide a transition to Powell's newer work. In "What Daddy Saw" (20-by-16-inch pigment transfer on canvas with polyurethane), we see six overlapping photographic images; only two are unique. They are well worn, scratched, like a photograph that's been carried in a pocket for too long. One image, repeated four times, depicts a man dressed in an overcoat and hat, walking past what might be a war-torn, bombed-out building. He passes a motorcycle. It's almost a narrative but not quite, like a memory just out of reach.
Powell has manipulated the photograph, sometimes moving the man into close-up and sometimes letting him appear farther down the road. He adds color to some images and drains it from others. A second image, repeated twice, contains surreal objects that add a dreamlike element.
"Curiosities of Chivalry"
Somewhere between the title and the images of "What Daddy Saw," the work's resonance strikes the viewer. Here and in "Muses in Ruins" (24-by-24-inch mixed media on birch panel), repeating images create rhythms that reverberate visually, leaving an afterimage.
"Entitlement," from 2014, holds the most prominent position in the exhibit, visible from both rooms. The 72-by-54-inch woven-cotton textile, hung from a metal rod, is also the largest work in the show, both in size and subject matter. The tapestry, finished with fringed edges, resembles a Victorian-era family portrait. But its subjects are apes, not humans — and they sport macabre heads. The "family" is decked out in lace collars and cuffs; their gaze goes outward, as if casting about for recognition of their privileged position. It's hard not to draw a parallel with the 1-percenters of the 21st century.
A smaller version of the work in gouache and acrylic, also titled "Entitlement" (20-by-16-inch inkjet print on canvas), serves up detail and nuance that are less distinguishable in the tapestry. Together the two underscore the unexpressed hilarity of this type of real-world portraiture.
Powell's exploration of themes and layers of complexity begins with collage-based works and moves to prints on paper and canvas, then to textiles. The elevation of "Entitlement" to a tapestry is a tongue-in-cheek commentary on evolution and the progress of civilization.
A Vermont resident and associate professor of art at the State University of New York, Plattsburgh, Powell has long been interested in antiquated books of science, history and natural history. That interest is evident in his series "Curiosities of Chivalry." The courthouse show includes two series by the same name ("Curiosity"), one created as inkjet prints and the other as cotton jacquard tapestries. The exacting nature of this work elevates it beyond the print medium; it has the impact of an original collage.
Powell's dedication to precision is abundantly displayed, executed with what must be artistic obsession. "Chivalry" features images drawn from the realms of cartography, knights in armor, horses, heraldry, birds and codes. It's an imagined history that creates a preposterous but authentic-seeming world: a confined universe, evidenced by helmets and armor that cut off perception and a physical wooden frame that defines the limits of such a place.
Powell has expressed interest in the connotations of tapestry and how it confers a kind of authority on objects ranging from Elvis to unicorns to royals. "The jacquard loom was the model for the first punch-card computers," he writes in an email. "I like these value-added aspects to the work."
The original print version of this article was headlined "Mixed Messages"