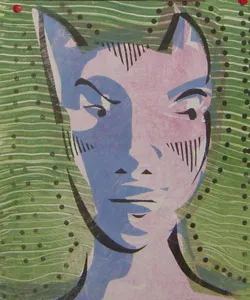 Speaking Volumes on Pine Street in Burlington exudes creativity. Proprietor Norbert Ender has founded an inviting space chock-full of books, antiques, vinyl records and visual art. Unlike the affiliated Barge Canal Market next door, Speaking Volumes doesn't boast a lot of square footage. But it does have high ceilings that allow art to be presented "salon style" in rows ascending toward the rafters. It's a well-curated space that shows local and regional artists.
This month John David O'Shaughnessy, a midcareer artist with a strong exhibition record, presents painting, prints and other works on paper as well as canvas. His versatility is also reflected in the classes he teaches — drawing, printmaking and painting — at the Currier Museum Art Center in Manchester, N.H.
O'Shaughnessy's 40-plus works on paper here run the gamut from cartoonish figuration to nonobjective pieces related to his paintings. "10,000 Machines" is a print loosely based on the theme of motorcycles but really about vibrant colors. The space has a slight diagonal pitch, and the motorcycles are broken into geometric shapes, lined up like bikes for sale in a showroom. The central bike is brilliant cherry red, while the vehicles beside it are lighter in intensity, their hues ranging toward pink and purple.
In an online artist's statement about his printmaking, O'Shaughnessy writes, "Each color was done as a single stage that was layered over the last. All keying of color is relatively random, allowing for individual passages to emerge from the layering of overall pattern." An example of patterning here is the fine, scratchy lines underneath his blocks of simplified color. O'Shaughnessy is a solid technician with a large bag of printmaking tricks.
The works on paper are hung in such density that several titles are difficult to read, or even find. But the chaotic presentation works well with such playful pieces. Some images recur in a variety of hues. One figure is the portrait of a cranky-looking cartoon rabbit in black and gray, and pink and olive. Another cartoonish portrait is of a catlike critter that stares out at the viewer. The pale green background has wavy lines and dots that form an abstract counterpoint to the stylized figure.
O'Shaughnessy's large-scale paintings are the most dramatic works in the exhibit. "Cherub" consists of a series of loopy lines put down in layers, their colors almost pastel, cut with a lot of white. Like the whorls of fingerprints, the groups of lines are rendered in odd, curvy patterns. Pale blue, salmon orange, pale olive and silvery grays are tangled over the surface. O'Shaughnessy contrasts the light lines with darker areas woven beneath them and at the upper left and right corners of the work.
"Year One," at 6 by 4 feet, presents a color field charged with an array of circuitous lines. In this work the colors are richer — lavender, darker green, turquoise and rust. The vertical composition includes several large blue and green dots that provide island-like resting places for the eye.
Segmented strands of color wind across the picture plane of "Loops." The strands appear in O'Shaughnessy's signature pastel yellow, blue, salmon and pale green, but they are not concentric like the lines in other pieces. Instead, they look like twisting mountain roads over a bed of textural browns and ashen grays.
O'Shaughnessy repeatedly shifts from an intuitive, abstract-expressionist approach to playful figuration and back, and his aesthetic diversity can be a little bewildering. There's no rule preventing artists from switching gears whenever the spirit moves them, of course, but so much versatility in a single exhibit is almost too much of a good thing.