Jeb Wallace-brodeur
Rep. Mitzi Johnson leading the Statehouse Singers
Rep. Mitzi Johnson (D-South Hero) stood before a semi-circle of 20 lawmakers and legislative staff in the well of the House last spring, sheets of music on a table before her. Then she raised her arms to launch the Statehouse Singers through a rousing rendition of "Turn the World Around," punching out the tempo with her hands and lunging forward to signal the singers when to jump in.
"She is a very patient conductor," yet full of "gleeful enthusiasm and so energetic," said Rep. Alison Clarkson (D-Woodstock). Eight years ago, Clarkson and Johnson cofounded this a cappella group, which rehearses just a few times each legislative session before performing in the House. "She takes us through some very difficult music," said Clarkson. "She really figures out how to navigate ... the difficult passages."
Clarkson said her Democratic colleague brings similar energy and leadership to her more important Statehouse role — chairing the House Appropriations Committee, which gets the first crack at writing the legislature's annual budget for state government. This is the second year that the 45-year-old Johnson has led 10 other lawmakers through the process.
They've acquainted themselves with Gov. Peter Shumlin's $5.8 billion budget proposal. Now they are developing the spending plan that they will recommend to the full House in late March.
"She is a good problem solver, and there are a lot of problems in that job," said House Speaker Shap Smith (D-Morristown), explaining why he selected Johnson for one of the most demanding positions in the legislature. This year's challenges include closing a $55 million gap between revenues and spending. Possible solutions include some controversial ones proposed by the governor.
Johnson has represented the Lake Champlain Islands communities, plus a corner of Milton, for 14 years. A member of the appropriations committee since 2007, she was vice chair for four years before taking over last year.
Surprisingly, her background isn't in finance; it's in dirt.
Originally from Clifton Park, N.Y., Johnson attended the University of Vermont and majored in environmental science and international development. After graduating in 1993, she chose to forgo business attire for dungarees. "I wanted to get a better handle on farming," is how she explained her decision to work on the Peters Farm, a vegetable operation on South Hero.
Johnson soon met Ray Allen, whose family has owned and operated nearby Allenholm Farm for seven generations. He still recalls the day Johnson and a coworker came to buy apples. When Allen asked for payment, the pair said they would press the apples to make cider, sell it in Burlington and come back with the money.
"They were good to their word," he said. "It was a good first impression."
So good that in 1997 Allen hired the outdoorsy young Johnson to work as crew leader supervising the Jamaican workers who pick apples at Allenholm every fall. Many of them have done it for decades.
"The men loved her," Allen said of his black-haired, blue-eyed employee, who brought her guitar to the orchard and led sing-alongs. By then, she was also a fully licensed emergency medical technician, thanks in part to a postcollege wilderness first-aid course. It was not unusual for Johnson to find love notes from workers on her car at the end of the day, according to Allen's wife, Pam.
The Allens' fondness for her grew, too. "I consider her one of our adopted family," said Pam, whom Johnson nicknamed "Momma Apple."
Jeb Wallace-brodeur
Rep. Mitzi Johnson
Ray Allen asked Johnson to grow vegetables for the farm. "She decided what to plant, and she developed the customer base," he said. She started a community-supported agriculture program, and soon 40 members were picking up fresh vegetables on a schedule.
The trio also worked together on the South Hero Rescue Squad. Ray Allen headed the volunteer group, and Pam was the dispatcher. Johnson served as an EMT, and her first call was to help an ice fisherman in cardiac arrest. Johnson was the first squad member to reach the man out on Lake Champlain and immediately started administering CPR. He died, but Allen was impressed by Johnson's decisiveness and determination. He made her "fifth captain," Johnson said with a chuckle, meaning she was number five in the squad's leadership lineup. By the time she stepped down, 20 years and many rescues later, she was first captain.
"Yep, it is inconvenient, and, yep, it can be hard," she said of rescue squad duties, but Johnson came from a family that believed in public service. While she was growing up, her dad was on the school board, her mom taught kids to read and the family delivered meals at Thanksgiving. "I have had the opportunity to meet somebody on what could be the worst day of their life and help them out," Johnson said.
That altruism led her to a less dramatic endeavor: land conservation. "The farm that first brought me to South Hero was being subdivided and sold," she said. "That got me thinking a lot about how special Vermont's land base is and how once land goes out of farming, it is really hard to get it back. Other folks in town had similar ideas."
She contributed essential "founding energy" to the South Hero Land Trust, said former longtime board chair Charlie Tipper. "She was sharing concerns about this freight train of development pressure coming to the islands from Chittenden County." The trust has played a role in conserving 1,500 acres, mostly farms, including Allenholm Farm.
Like many Vermonters, Johnson has had to juggle several paying jobs to make ends meet, and her musical background — 14 years studying piano and a spot on the high school chorus — provided some unique opportunities. In addition to farming, she taught piano, even after she was elected to the legislature. "I stacked a lot on Sundays and did a couple before school." For years, she had a regular 6:30 a.m. gig teaching two little girls.
Courtesy Of Mitzi Johnson
A thank-you gift from the girls — a silk scarf they painted by hand — turned into another sideline. Once she learned the technique, Johnson made scarves for herself and some extras to sell in the Allenholm store. They caught on. At one point, Johnson said, she was selling scarves in 13 states — but she cut back to attend the Harvard Kennedy School in 2011. Working around the legislature, she spent three semesters in Cambridge, Mass., and earned a master's degree in public administration.
Back home on South Hero, Johnson owns a house she designed and mostly built herself. She rented and housesat for years before she found a drafty, jacked-up lakeside camp on a single-lane dirt road. Now it's an energy-efficient two-story with a "big screen porch, a place to grow plants and a place for a woodworking shop," said Johnson.
Pam Allen described the house as "very unique, like she is."
Johnson lives with her partner of six years, Bill Baron, who recently retired from the state Department of Fish & Wildlife, and his 14-year-old grandson. Johnson said the first time Baron called, she wasn't sure if he had a constituent request or wanted a date.
Politics didn't become a part of her life until 2000, when friends suggested she challenge Republican incumbent John LaBarge for a seat in the House. She knew and liked LaBarge. He operated a video store and did seasonal work at Allenholm, packing apples. But when she looked at his voting record, she realized they had different values, so she agreed to run. She said, "I at least wanted to give islanders a choice."
With trademark determination, Johnson set out to knock on every door in the district. "I worked my little tail off, and I lost," Johnson said. Even before she knew the outcome, she pledged to run again. In 2002, when the islands became part of a two-seat district, Johnson received the most votes of any candidate in a four-way race.
Rep. Bob Krebs (D-South Hero) has been Johnson's district-mate since 2010, when then-governor Jim Douglas, a Republican, appointed him to fill the vacancy created by the death of Democratic Rep. Ira Trombley. Douglas picked Krebs instead of one of the three people local Democrats recommended. That was awkward, but Johnson was gracious, Krebs said: "She gave me protection and buffer until I got my feet on the ground."
Krebs praised Johnson's budget leadership on the appropriations committee, which is made up of four Republicans and six Democrats. He noted that she won three unanimous votes on budget bills, attributing the bipartisan support to her commitment to making government more efficient.
House Majority Leader Sarah Copeland Hanzas (D-Bradford) said Johnson's approach to budget building enlists lawmakers on every committee in examining whether state government is delivering what it promises. "It is pretty groundbreaking," she said.
Not everyone sees it that way. House Minority Leader Don Turner (R-Milton) suggested Johnson's approach is more talk than walk. "Her taking over the role in that committee is more of the same," he said. "She hasn't changed a thing. We just keep spending."
Turner said he and the four Republicans on the appropriations committee agreed with the principles Johnson wrote into the opening section of last year's budget bill: reducing the use of one-time funding sources to pay for ongoing expenses; looking at the long-term cost of new initiatives; writing budgets that don't rely on every penny of projected revenue; exploring a two-year budgeting cycle to promote longer-term planning; and holding programs accountable for results.
"She took some of the things we had been fighting for and put it in the intent language, which swayed some of our folks," Turner said. But last year's budget has since required a $91 million midyear infusion, he noted. So much for promises about bringing revenue and spending into balance, he said: "She didn't deliver."
Turner said he wants to see a 2017 budget that holds spending to 95 percent of projected revenues and caps the number of state employees, with the goal of achieving a 10 percent staff reduction by 2020 — roughly 400 fewer positions. Without such a commitment to change, he said, most Republicans would oppose the budget.
Johnson said it was too soon to predict the shape the 2017 budget would take. "We haven't had time yet to have a good committee discussion on it," she said. While she might put a package of ideas on the table, she said she wouldn't present the committee with a done deal hatched behind closed doors.
Johnson explained her reasoning: Two decades on the rescue squad taught her about teamwork, and she's applied that to her committee's work. She said, "You have to start from a place assuming everyone is there because they really care and are really trying to make an improvement."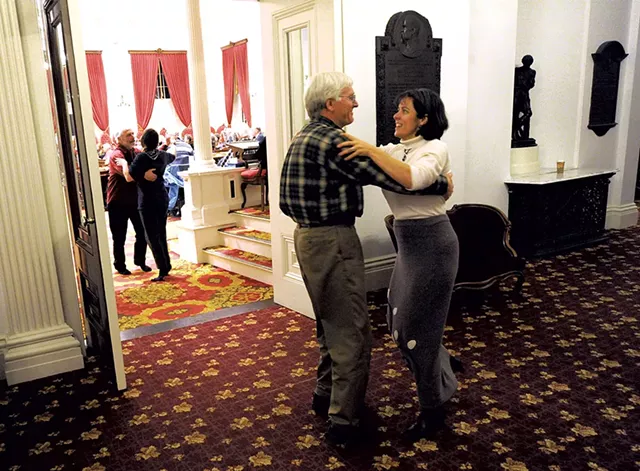 Jeb Wallace-brodeur
Rep. Mitzi Johnson and Rep. John Bartholomew waltzing during a concert in January
Appropriations committee members of both political persuasions acknowledge her inclusive style. "She allows great participation by everybody," Rep. Kathy Keenan (D-St. Albans) said. "People feel secure in expressing their opinions."
"And if we have better ideas, she is quick to jump on them," agreed Rep. Peter Fagan (R-Rutland), committee vice chair. "We as a group make a decision."
"If you can listen really deeply to people, that really helps you understand their perspective," Johnson said. "Then you can start to feel people's priorities, and it will help you work your way to a compromise."
The committee gets down to business after the weeklong town meeting break. That's when Johnson becomes a conductor again. With spreadsheets rather than music in front of her, she will lead her budget-writing colleagues through the thicket of tough choices to produce a balanced budget.
Good thing she knows CPR.