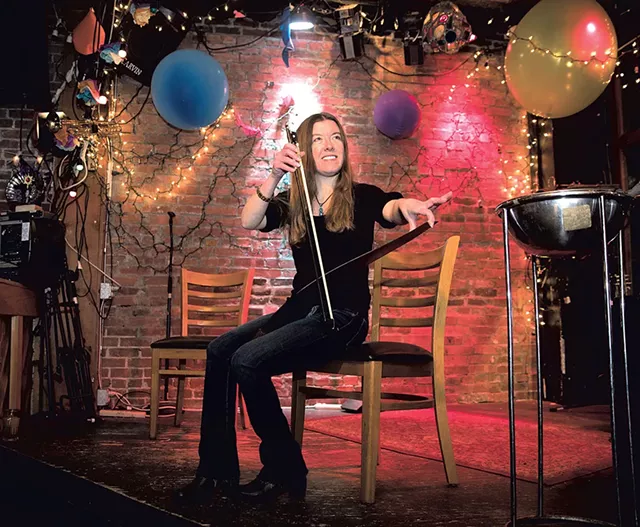 James Buck
Johnnie Day Durand
The music of Silver Bridget is both eerie and familiar. The latter descriptor applies because the Burlington-based instrumental trio primarily trades in covers of popular songs. With a repertoire ranging from the Beach Boys to Radiohead to Henry Mancini, the group winks at enough pop-music touchstones that you're bound to recognize at least a few tunes. But it might take you a few minutes to do so, and that's where the eerie quality comes in.
A Silver Bridget concert is kind of like an audience-wide version of the classic TV game show "Name That Tune." Typically, John Townsend and Matt Saraca lay down the backing music on acoustic and electric guitar, respectively. Townsend also helms a minimalist drum kit, played largely with foot pedals.* The game really kicks in when Johnnie Day Durand takes up the melody on her instrument: a musical saw.
As Durand's strange, warbling tones bend and vibrate across the room, you can pinpoint the moment when recognition dawns on each face in the crowd. I can name that tune in four measures ... "You Got It" by Roy Orbison!
Durand's every elegant pass of bow across steel shrouds the tunes in mystery — even familiar pop standards by the Beatles or the Rolling Stones. Like the warped sci-fi sounds of the theremin, the saw's shimmering voice seems alien. Also like the theremin, the saw is generally seen as a novelty. Rarely do bands deploy the "singing saw" as a lead instrument, much less their melodic centerpiece. But Durand, with her group and other projects, is cutting through that perception one tremulous note at a time.
Durand, 38, grew up in Rhinebeck, N.Y., a Hudson Valley town two hours north of her birthplace of New York City. She started playing piano at age 8. In high school, she took up saxophone and, like any number of teenage horn players in the 1990s, played in a ska band.
When Durand was 19, her twin sister witnessed renowned saw player Natalia Paruz busking at Grand Central Station in New York City. "She told me about it, how it was this beautiful, mesmerizing sound," says Durand. "It made me instantly think that I wanted to do it."
A week later, Durand was visiting that same sister in Portsmouth, N.H. While window-shopping downtown, they walked into a music store.
"And there on the wall was this musical saw for sale," Durand recalls. "It's the same saw I play now. It's the best 50 bucks I ever spent."
That saw, made by the late musical-saw champion and maker Charlie Blacklock, came with a short instructional video. Aside from that, Durand is entirely self-taught.
"At first, I thought it was impossible," she says. "Little by little I got better. And now it's quite easy. But it's taken a lot of patience."
Once you get the hang of the technique, playing the musical saw is intuitive — numerous musical saw websites champion it as "the world's easiest instrument to learn." There are no keys or frets. The instrument is played by a combination of ear and feel, so an understanding of musical theory isn't a prerequisite — though Durand says her piano background has been helpful.
But mastering the technique is tricky. Durand sits with the saw handle between her knees, the serrated edge facing her. Using three fingers on her left hand, she grabs the top of the saw and presses down with her thumb on the flat of the blade — which shows an oily spot from countless hours of thumb pressure. That pressure helps create an S curve along the blade, which is what makes the saw sing when bowed with the cello bow in her right hand.
"The trickiest thing in the beginning is finding the right place on the blade to strike the bow," Durand explains. "You generally want to bow mid-arc."
Otherwise, it's a fairly simple instrument: Bend the blade up to play lower notes, bend down to play higher. Durand uses her legs to control the saw's signature tremolo.
Durand says it took several years before she felt comfortable enough in her ability to perform in front of people. And she has experienced growing pains along the way.
"One time I picked it up too fast, and it slipped," Durand says. The serrated edge of the saw struck her in the face. "I had this dotted line between my eyes for two weeks."
Look closely at her saw, and you'll see the bottom eight inches of the blade's cutting edge are wrapped in tape. It's not exactly a safety measure, though.
"That's because I ruined too many pairs of pants," Durand confesses with a laugh.
She says she can play on any flat-backed handsaw. But musical saws are specifically made with more resonant types of metal than a saw one might use to, say, cut a two-by-four. They also tend to be more pliable.
"They're a little thinner, so they ring out a little more than normal saws," Durand explains. There is also a range of sizes, from small soprano saws to much larger tenor and baritone saws. Durand plays alto. She once bought a tenor saw but found the length prohibitive.
"My arm length was a little short," says the diminutive sawist.
While the saw is relatively easy to pick up, it does have limitations. For one thing, Durand's alto saw has, at best, a two-and-a-half-octave range.
"I sometimes have challenges fitting in melodies," says Durand. She cites Jefferson Airplane's "White Rabbit" as an example. Silver Bridget recently tried to arrange it for saw and guitar, she says, "but it was so hard because it starts out so low and goes so high."
Even with a limited range, Durand finds she can fairly easily fit the saw into a variety of musical settings. After she moved to Vermont in 2002, Durand began playing in local songwriter Joe Adler's band Electric Halo. She later joined another Adler-helmed project, the Wee Folkestra. Durand has also composed for and performed with a number of local theater groups — including the recent local production of Hedwig and the Angry Inch, which traveled to the Toronto Fringe Festival.
Then there is Silver Bridget, which Durand describes as her "dream band."
That trio is currently working on its debut album and hopes to finish this year. In the meantime, Silver Bridget will be gigging regularly around town and preaching the spooky, wordless gospel of the musical saw.
*Correction, January 11, 2017: An earlier version of this story misidentified the drummer of Silver Bridget. John Townsend plays the drum kit.