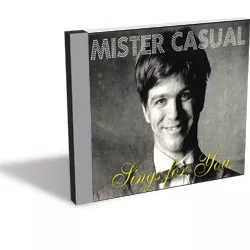 (Self-released, CD)
If you have been paying attention, you may have heard that the loose collective called Dan Haley Is Mister Casual is really, really good. Playing a handful of sporadic gigs in the last year or so, mostly around central Vermont, the band, led by Haley, has quietly established itself as one of the area's promising under-the-radar acts. But for proof we need to travel, Hot Tub Time Machine style, back to 1989. George Bush the first was in the White House. The world was gripped by the Tiananmen Square protests in Beijing. Daniel "Harry Potter" Radcliffe and Taylor "Voldemort" Swift were born. Lucille Ball and Ted Bundy died. And somewhere in the Pacific Northwest — OK, Portland — Haley wrote and recorded, as Mister Casual, a ragtag collection of pop tunes that inspired the current incarnation of his band, Dan Haley Is Mister Casual. Sings for You became something of a cult hit before being trampled by the relentless march of time, the rise and fall of Milli Vanilli, and the fact that hardly anyone listens to cassette tapes anymore.
"Shining on You" opens the epic 22-track re-release with a punchy, recklessly inconsistent guitar line. Over imprecise rhythmic strokes, Haley unfurls a string of classically influenced rock musings, at times recalling Alex Chilton's sweetly melancholy work with Big Star, at others the pure, guilt-pop sheen of Cheap Trick. But what keeps the tune, and most of the album, in balance is a tendency toward the unconventional deployment of lo-fi studio wizardry and arrangements to accent Haley's idiosyncratic wordplay. This particular instance is less effective than on other songs, as his atonal guitar work is more distracting than complementary. But it ably sets the stage for the peculiar pop brilliance to follow.
"Song in F" continues the Big Star-gazing aesthetic but infuses the harmony-laden track with offbeat musings recalling David Lowery. "Vida" is a gruff, acoustic gem that rolls along with a rambling, back-road appeal. "St. Jude" is a lean, capricious ballad, highlighted by swooning, close harmonies that recall early Byrds. "Downtown Sunshine" further implies Chilton worship, but with a subtle, sexually suggestive bent. "Babytalk Bubblegum Overture" is as bizarre as its name suggests. And "Geography of Love" brings Mister Casual's record to a close with fitting, well, casualness and wide-eyed whimsy.
Mister Casual's Sings for You is available for download at danhaley.bandcamp.com, as is his latest effort, Digital "45" #1. Dan Haley Is Mister Casual begins a short regional tour Wednesday, September 22, at Langdon Street Café in Montpelier.