Matthew Thorsen
Tulsa Gajurel and Indra Bhattarai
A group of six women toiled silently in the kitchen at Howard Center's Resource Center in South Burlington. One lowered the lid of a rice cooker and pressed a switch to turn it on. Another gripped a knife, pursed her lips and began to cut chicken thighs into quarters. On the other side of the room, two women chopped tomatoes, mushrooms and onions. A third tended a boiling pot of potatoes.
The aroma of chicken curry lured more than one Howard Center staffer into the crowded room to offer words of encouragement. "Smells good," one remarked. But the women barely acknowledged the interruptions — not out of rudeness, but because they hadn't noticed them. Two-thirds were either deaf or hard of hearing, a special population within Vermont's Bhutanese community, which numbers approximately 2,000.
Along with the typical challenges of being a refugee — dealing with language barriers, finding work and housing, navigating a new cultural landscape — as many as several dozen local Bhutanese face the additional obstacle of being deaf or hearing-impaired. Though exact figures aren't available, "there is ... an unexplained high rate of deafness" among the state's Bhutanese refugees, according to a cultural competency manual published by the Champlain Valley Area Health Education Center in 2012. Anecdotes from resettlement agencies in Philadelphia and Seattle suggest a similar trend in those areas.
Matthew Thorsen
Stephanie Cramer, center
For newcomers who have fled adversity and now face a disorienting and daunting new reality, deafness adds yet another layer of isolation. Hearing refugees have access to English-language classes offered by agencies such as the Vermont Refugee Resettlement Program, but there's no similar provision for deaf refugees who want to learn American Sign Language. The private nonprofit Howard Center has been offering sign language classes for its New American clients since 2013, but only autistic and developmentally disabled individuals can access them. And that program, for which some Bhutanese qualify, is dependent on annual state funding.
Without a means of communication, deaf Bhutanese find themselves walled off from employment, health care, community involvement and the opportunity to lead self-determined lives.
Furthermore, their native culture discourages mainstreaming people with disabilities. For some deaf Bhutanese in Vermont, family members are the greatest impediment to independence.
Matthew Thorsen
Stephanie Carmer and Tulsa Gajurel
As a freelance American Sign Language interpreter, Stephanie Cramer got to know many deaf Bhutanese in her work with the University of Vermont Medical Center and the Agency of Human Services. Cramer has experience working with deaf individuals from a range of cultures: She interpreted at the 1999 Deaflympics in Davos, Switzerland. In March, she started the cooking class at Howard Center to provide a safe space for deaf Bhutanese women to get together, cook and share experiences. Some of the women, she explained, aren't allowed to get near a stove at home.
"I also knew it'd be a great catalyst for language development, as well as a place to practice sign language," Cramer said.
To penetrate the insulation cocooning deaf Bhutanese refugees, interpreters should ideally know both American and Nepali sign languages. Waitsfield-based Cramer is the only person in the Green Mountain State who fits that bill. Service providers of all kinds rely on her to translate the needs of their deaf Bhutanese clients into words.
While Cramer's weekly two-hour cooking class offers opportunities for communication practice, it's also about life skills. For the duration, Cramer worked alongside the Bhutanese women. She got down on her knees to wipe an oily patch from the floor. She watched as one woman turned a stove knob, then taught her how to check the heat of the pan.
Matthew Thorsen
Indra Bhattarai and Tulsa Gajurel
As the meal came together, Cramer beckoned Indra Bhattarai over to give her a turn stirring the food. "I want Indra to be comfortable near the heat," she explained to Bishnu Magar, a hearing Bhutanese woman whose brother is deaf. Magar attends the cooking class to become more proficient in sign language — and, of course, to chat with Cramer.
More sensitive to spicy foods than her companions, Cramer pulled a jar of chiles from a bag. She poured a few in her palm and motioned to Magar, asking, "How many of these can I survive, do you think?"
When the spread of dishes was ready, it was already time to start cleaning and packing up. A few women stayed to eat and socialize, while others left with take-out containers; their family members had arrived to bring them home.
Cramer lamented, "We could really do with three hours to do more signing and English."
From Bhutan to Burlington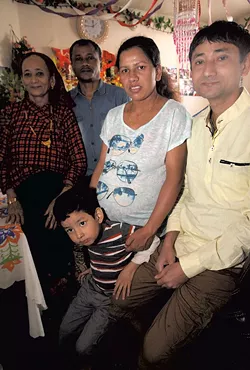 Matthew Thorsen
From left: Lachhi Karki, Indra Karki, Tulsa Gajurel, Chuda Karki; front: Anish Karki
While his wife, Tulsa Gajurel, was cooking with Cramer, Chuda Karki was at home in Burlington. The deaf couple and their 5-year-old son share an Old North End apartment with seven other relatives.
The family of three occupies one of two bedrooms on the first floor. Portraits hang on one wall, opposite pictures of Hindu deities and a map of the U.S. A small table holds a Sorenson VRS videophone connected to a television screen.
Karki, Gajurel and their families are descendants of ethnic Nepalis who settled in Bhutan in the 19th century to cultivate the land. They developed the area and prospered; some became high-ranking government officials. The Citizenship Act of 1958 granted them citizenship rights. But in 1989, all that changed when Bhutan's king, Jigme Singye Wangchuck, implemented the draconian "One Nation, One People" policy. He banned the Nepali language and imposed the culture and religion of the local majority, the Buddhist Drukpas, on the Nepali settlers.
Tens of thousands of ethnic Nepalis were stripped of their Bhutanese nationality and expelled from Bhutan in the early 1990s. An entire generation was born and raised in refugee camps in Nepal and India. Both Karki and his wife grew up in a camp — Beldangi II — in eastern Nepal. They met in a hut there.
"Tulsa was very shy at that time," Karki told Seven Days through Cramer, who acted as interpreter. "I tried talking to her, but she didn't really want to talk."
"He would tease me a lot, as he's doing right now," countered Gajurel.
In 2006, the U.S. offered to resettle the Bhutanese refugees, and other countries — including Canada and Australia — followed suit. Between 2008 and 2013, Bhutanese made up one of the three largest U.S.-bound refugee groups. To date, an estimated 86,000 have been admitted to the country, according to the U.S. Bureau of Population, Refugees and Migration.
Among the population of 16,000 Bhutanese refugees still living in camps in Nepal, nearly 5 percent have a disability of some kind, according to the United Nations High Commissioner for Refugees. Half of those disabilities are classified as hearing or speech impairments. Untreated ear infections may be a factor, but no scientific study has been conducted to validate this or other possible causes, said Deepesh Das Shrestha, an assistant external relations officer with UNHCR in Kathmandu.
A 2012 World Health Organization report notes that one of the global regions with the highest prevalence of disabling hearing loss among children and adults is South Asia, a region that includes Bhutan and Nepal. Hearing loss and deafness can be caused by hereditary or nonhereditary genetic factors or certain complications during pregnancy or childbirth, according to the WHO. Infectious diseases such as measles and mumps, fluid in the ear and aging can also lead to auditory disorders.
Gajurel lost her hearing at age 8 after falling ill in the camp.
Whatever the causes of hearing loss, it has had persistently detrimental effects on the social and educational lives of many Bhutanese. Growing up in Bhutan, Karki, now 34, couldn't get a normal education. He remembers following his brother to school, where he was curtly dismissed by a teacher who told him, "No, you're deaf. You're not allowed to be here."
In the Beldangi II camp, Karki attended a mainstream school. He fared poorly and learned little, because none of his teachers were deaf or used sign language. Some were even abusive. "They would hit our hands if we got things incorrect or twist our ears," said Karki.
At home with his family, Karki used basic gestures to communicate — aka "home signs." But those didn't help when his mother chatted with neighbors and he wanted to be included in their conversations. "My mum would say, 'Oh, never mind, never mind.' She couldn't explain things to me," he recalled. Finally, in 2004, Karki started learning Nepali Sign Language at a disability center.
Karki found companionship among his deaf friends — and the layout of the refugee camp made it easy for them to connect. "There were many deaf couples around. We could stop and chat with people all the time," Karki reminisced. But the deaf also faced taunts and bullying. At times, they avoided using sign language in public for fear of being harassed.
When Karki and his family got the green light to leave Nepal for Vermont, in August 2013, he was terrified, he said. Like most refugees, he wasn't sure what to expect in his new country.
"We were told to be on our best behavior, so we won't get into trouble and no one would do any harm to us," he said. He kept his head down at the airport and tried to be as inconspicuous as possible.
"I was scared for a long, long time," Karki confessed.
A Limited Safety Net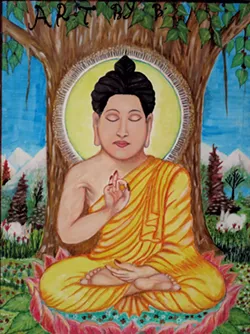 Matthew Thorsen
Painting by Bhim Magar
When they arrive in the U.S., refugees who are deaf are eligible for the same services as other refugees, including employment services and cash assistance, said Denise Lamoureux, state refugee coordinator at the Agency of Human Services. Most also get referrals to mainstream agencies that help deaf Vermonters, such as the Division of Vocational Rehabilitation (VocRehab) and Howard Center Developmental Services. The Greater Burlington Deaf Club, once an organization that brought together deaf people of all nationalities, no longer exists.
Only Howard offers ASL classes for adult refugees, according to Bill Hudson, a senior counselor for the deaf and hard of hearing at VocRehab. The center currently has about 20 Bhutanese clients who are learning ASL. More would likely enroll in the class if not for a strict requirement: To receive support from Howard Center Developmental Services, an individual must be a resident of Chittenden County and be on the autism spectrum or have a diagnosed developmental disability as defined by the State of Vermont. That translates to an IQ of 70 or lower.
Many of the deaf Bhutanese qualify. While it's not clear why, various causes could contribute to that result. For one thing, children of all nationalities who don't share a common language with their parents experience delays in language acquisition and cognitive development, studies have shown. (More than 90 percent of deaf children are born to hearing parents.)
Another possible explanation is that the intellectual evaluations don't take into account the handicaps imposed on refugees by cultural and language differences. Most of the Bhutanese clients were referred by a doctor or case manager from the resettlement program, said Howard's intake coordinator, Delaina Norton. The center has seen "a lot more referrals" from the Bhutanese community than from other groups in Chittenden County, she noted.
With a flurry of hand gestures, Gary Palmer recalled his first day teaching the Bhutanese ASL last fall. The deaf pastor from Cambridge's Hands of Grace Deaf Church doesn't know Nepali Sign Language. When he started, his students weren't familiar with many American signs, either.
"I couldn't just write the English word for things and say, 'Here's the sign for it,'" Palmer said through Cramer. So he used lots of games and images — Uno cards, pictures, videos — to teach the basics.
Three times a week, the pastor prepares a new list of English words and their corresponding signs for a half dozen deaf Bhutanese students, including Karki and Gajurel. Those students vary in their study techniques, he noted. One draws hand signs; another draws pictures; a third writes the Nepali equivalent of the words.
Last Friday in Burlington, in the Fletcher Free Library's Pickering Room, Palmer squatted in front of Gajurel as she signed her way through a list from an earlier class. When she got to the word "camp," she hesitated, thought for a while, then pulled her right hand sideways in front of her forehead and into her palm — the sign for "I forgot."
She looked embarrassed.
Palmer brought the tips of his thumbs, index fingers and pinkies together, separated them slightly, and then joined them again, making the shape of a tent.
"Camp," Palmer mouthed. He quizzed each student this way.
After he'd made the rounds, Palmer asked Pampha Pradhan to stand in front of the class and form sentences using the new vocabulary. She giggled a lot, and Karki clicked his tongue in disapproval, but she didn't miss a single word.
Pradhan made the sign for camp, then used her forefinger and thumb to form a C and bobbed them slightly sideways to refer to the mountains of Nepal. "There are camps in Nepal," she had signed.
"They are highly motivated," Palmer said of his students. But he believes they need more exposure to ASL, because "no one at home is reinforcing the language."
And the continued existence of the classes themselves, which started in 2013, is in doubt. They're expensive to run: A 12-week session for 20 costs the state $18,000. The classes are underwritten by "one-time priority funding," according to Anne Vernon, a senior manager at Howard. This means the center must apply every year for funds to cover the classes, which are extra services Howard provides to its clients. Unless it finds more of that funding soon, classes for this year will end in May.
Deaf refugees who don't qualify to take the Howard classes often try to learn ASL on their own using Google and Facebook — with mixed results.
Among those exploring other options is 33-year-old Harka Monger, who hasn't taken the Howard's qualifying test. (When asked why, he simply shrugged.) Monger wasn't born deaf; he lost his hearing after falling ill as a young boy in Bhutan. He lived in the same camp as Karki and Gajurel and arrived in Vermont two years before they did.
For a while, Monger learned ASL from Jehovah's Witnesses volunteers. But the Buddhist said he prefers taking classes in a secular setting, such as a college.
Becoming more proficient in ASL is a priority for him. His greater goal? In an interview via videophone, he told Seven Days: "I want to be able to communicate to do things for myself."
Interpreting America
Matthew Thorsen
ASL class for Bhutanese at the Fletcher Free Library
Karki describes his life in the U.S as a "transformation," largely because of the support of his ASL instructors at Howard.
Last summer, Karki was among thousands of Sen. Bernie Sanders supporters who packed the Lake Champlain waterfront when the senator announced his presidential bid. His former teacher, Rikki Jiang, had shown him pictures of presidential hopefuls and explained the voting system in the United States. Cramer and a friend of Jiang's came along to act as interpreters.
"I don't think all students understand the voting system completely, but they are aware that we don't have a king," wrote Jiang, who is deaf, in an email to Seven Days. The first ASL instructor at Howard Center, Jiang has since moved to Austin, where she works at the Texas School for the Deaf.
While the Bhutanese may be swept up in the excitement of democratic politics, other traditions die harder, according to Madhu Neupane, a Bhutanese native who initiated the ASL program at Howard. He concedes that empowering deaf clients can cause family friction. Relatives tend to be overly protective and may be resistant to the changes in a deaf loved one who is succeeding at integrating into mainstream society.
"They are seen as people who need help — not someone who can improve and move toward independent living skills," explained Neupane's colleague, Harka Khadka.
Some Hindus, Neupane said, see disabilities as a karmic form of punishment for the entire family. They "believe that it is their responsibility to take care of a person with disability in the best possible way," and passing that burden to someone else reflects poorly on them.
Deaf people in such family settings may experience a "learned hopelessness," as Khadka described it. "They've been conditioned to live a certain kind of life. They think, I am not capable of doing this. I'm disabled. I'm deaf. So this is my limited world."
Karki and Gajurel are trying to break free of those limitations. The pair wants to find jobs, and Karki hopes to get a driver's license. Ironically, the refugee camp, with its close quarters and tight-knit deaf community, afforded them much more independence than they now have in the larger world of the U.S.
"Our friend Bhawani lives in New Hampshire. There's just so few deaf people we can go visit and learn from and share things with," Karki said.
Most importantly, the growing family — a second child is due in weeks — is eager to live on its own.
"It's all very stressful. All the people living in one house and trying to cook and eat," Gajurel said. At home, she revealed, she prepares food in secret to avoid the wrath of her sister-in-law.
The couple owes about $4,000 to the International Organization for Migration for their trip to the U.S. Once they've paid back that loan — the debt service is a monthly $114 each — they intend to get their own place.
"I want to be able to do things myself. I want to be able to walk to places where I want to walk. I want to go to the store that I want to. I want to cook what I want, when I want," said Gajurel, who hopes to pay off the loan in two years.
The deaf Bhutanese recognize they have unique needs. For instance, Gajurel will need an interpreter when she gives birth at the hospital. That responsibility will likely fall on Cramer, who already has a packed schedule.
Cramer estimates that less than half of deaf Bhutanese use an interpreter at their doctor's appointments; instead, family members speak for them. Though Cramer would like to insist that all deaf Bhutanese have access to interpreters, she's pragmatic: "I can't push and say, 'This is what you need to do' when there's no service for it."
"I am maxed out," Cramer lamented. "I am providing services for three clients in any given week. We have 18 others."
Making Noise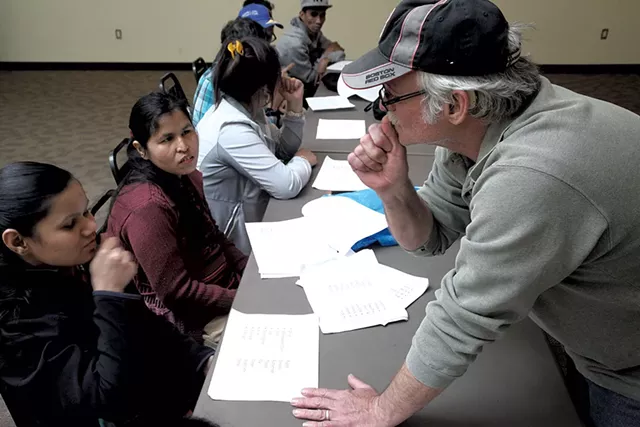 Matthew Thorsen
American Sign Language to Vermont Bhutanese
Bhutanese refugees aren't the only hearing-impaired Vermonters experiencing a need for improved services. Two years ago, Brattleboro's Austine School for the Deaf closed after more than a century of service. Last year, the Vermont Senate passed S.66, an "Act relating to persons who are deaf, DeafBlind, or hard of hearing." That paved the way for the creation of the Vermont Deaf, Hard of Hearing, and Deaf/Blind Advisory Council, which was tasked with identifying and carrying out a gap analysis of services to Vermont's deaf population.
On January 15, that group submitted a report to the legislature suggesting it should be replaced by a governor-appointed council that would work to identify gaps and make recommendations for changes in policy to help deaf Vermonters. Among its preliminary findings: Adult deaf refugees aren't getting the services to live as independently, and productively, as possible.
The House finally passed S.66 on April 22, and Gov. Peter Shumlin is expected to sign it into law on May 4 to coincide with an event organized by the deaf community at the Statehouse.
Meanwhile, Karki doesn't need legislative language to tell him what would help him and others address their unique predicament. "We need more classes. They can't end, no. We need to learn as much language as we can now," he said.
Neupane, the Howard Center program manager, also identifies English classes as a necessity. Without a good grasp of English writing and reading skills, or ASL, it's almost impossible to find a job, Hudson from VocRehab noted.
In states that contain sizable Bhutanese populations — and, by extension, deaf Bhutanese — faith-based groups often organize their own ASL classes. Christ the King Deaf Church, located outside of Philadelphia, is among those that host ASL classes, while deaf Bhutanese have organized their own classes in places such as Concord, N.H., and Syracuse, N.Y.
Vernon, of the Howard Center, said she hopes to request more funds to meet the pressing need to support the Bhutanese. But the group doesn't have the lobbying power of other well-funded programs, she said.
Cramer said the Green Mountain State does a good job with the resources it has — but there's room for improvement.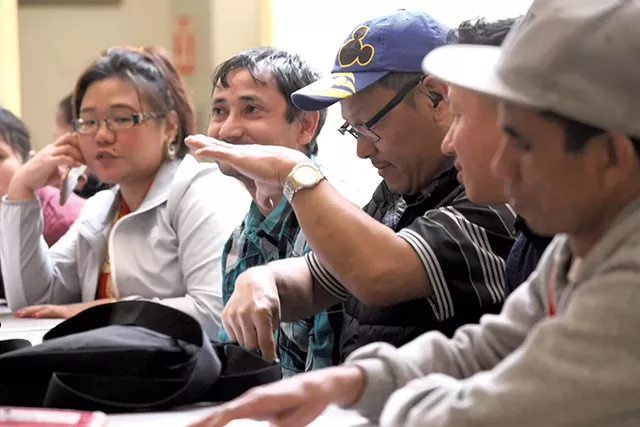 Matthew Thorsen
An ASL class for Vermont Bhutanese
"I hope, through this experience, a resource guide can be developed for Vermont, so that if they have any deaf refugees in the future, each individual will get what they need," she said.
Meanwhile, Cramer plans to run the cooking class indefinitely, minus a summer break, to continue providing her group of students with a place to practice their skills.
As she packed food in a container for Gajurel, the group discussed the following week's menu. With opportunities to practice sign language at a premium, their decision wasn't just about taste.
Cramer stuck out her right hand and then moved it forward, the sign for a fish swimming through water.
For a hearing reporter, she translated: "Fish is the quickest American dinner."