Aaron Shrewsbury
Mohamed Said
Police were trying to reason with a man on the bridge between Winooski and Burlington on November 4, 2013. Despite the 26-degree temperature, Mohamed Said had threatened to leap into the dark rushing waters of the Winooski River swirling 25 feet below.
A Winooski officer was talking to him, and Burlington police were arriving, too. The cops stopped traffic on the Burlington-Winooski link.
Said, a 32-year-old Somalia native, had moved to Vermont a decade before from the Minneapolis area, where his parents still lived. In Burlington, "Faisal," as he was called, didn't have many friends and kept to himself.
But many of the police officers on the scene were familiar with Said, pronounced "Say-eed." They had been called to deal with him a dozen times in the prior two years, including for two suspected suicide attempts. On several of those occasions, he'd been drinking.
Mental health workers knew Said, too. He had gotten services for years — both in traditional hospitals and through outpatient programs from community-based mental health providers.
Said lived alone in an apartment at nearby 222 Riverside Avenue in Burlington. He didn't have a job. Before walking down to the bridge that night, he had drunk a six-pack of Budweiser and given a neighbor $250.
On the bridge, Said turned away from the Winooski officer. Then he leapt off the west side of the span and splashed into the water below.
Could Said have gotten more effective treatment?
Just the year before, Vermont lawmakers had enacted Act 79, a sprawling bill designed to bolster the mental health care system. Critics say that while progress has been made, the system still lacks capacity to treat everyone who needs help. They say it's hamstrung by rules that make it tough to force people to get care. Those who do seek help can too easily walk away from it.
Hospital emergency rooms across the state are still routinely housing people in crisis who are unable to get into one of the Department of Mental Health's designated treatment facilities. And community health providers, charged with caring for people who have left inpatient settings, aren't getting the resources they need to pick up the slack.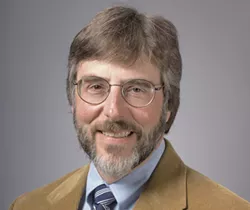 Courtesy of Rajan Chawla/UVM Medical Photography
Robert Pierattini
As a result, according to University of Vermont Psychiatry Department chair Robert Pierattini: "We have a lot of people walking around who we're worried about."
Said, for example. "He wasn't standing there saying 'I'm going to jump,'" said Burlington Police Chief Michael Schirling. "We have people looking for attention who do that."
Said took the plunge and swam on his back toward the Winooski bank. One officer, who could see Said's mouth and nose above the waterline, convinced him to grab a log that was floating in the water. Police and firefighters then managed to get a rope around Said and yanked him out.
Said was so cold, he shivered uncontrollably. His rescuers wrapped him in blankets and took him by ambulance to what is now the University of Vermont Medical Center. There, he talked to an officer who noted that Said switched from being frightened and accusatory to joking with personnel and giving them fist bumps.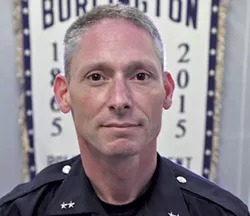 Matthew Thorsen
Michael Schirling
When the officer asked him why he tried to kill himself, Said offered a delusional-sounding answer along the lines of: "The government, you guys are always looking at me, drug dealers, Somalia, police, because of the government."
Rebuilding a System
In August 2011, Tropical Storm Irene destroyed the state's inpatient psychiatric hospital in Waterbury, dealing Vermont's mental health care system a blow from which it is still recovering.
The 54-bed hospital, which offered intense care known as "Level 1" for the state's neediest residents, had sat atop a pyramid of organizations and initiatives intended to care for more than 25,000 people suffering from mental illness.
Instead of rebuilding the facility, Gov. Peter Shumlin, with the backing of the legislature, overhauled the Department of Mental Health and decentralized the system over which it used to preside.
To replace the Waterbury hospital, the state spent $28.5 million to build a new 25-bed psychiatric hospital in Berlin. It also funded 14 Level 1 beds at the Brattleboro Retreat and six more at the Rutland Regional Medical Center — in total, nine fewer than had been offered in the Waterbury facility, which was often fully occupied.
Additionally, Act 79 gave more responsibility to 11 nonprofit agencies known as community mental health centers scattered across Vermont. Those organizations, tasked with offering outpatient care, alternative living options, emergency response and coordinated case management, care for the mentally ill while allowing them to live in the community.
Mental health advocates still praise the goal of Act 79: to keep mentally ill people out of institutions so they can live with support in the community. Although Tropical Storm Irene provided the opportunity, there were other reasons to dismantle the existing system. Mental health advocates in New Hampshire filed a federal class action lawsuit in 2012, accusing the state of needlessly warehousing mentally ill people by failing to fund community care initiatives. New Hampshire settled the case by agreeing to spend an extra $30 million on community care.
But in Vermont, well-intentioned Act 79 remains a promise unfulfilled, some critics say. "Things have changed slightly for the better — slightly," said Rep. Anne Donahue (R-Northfield), an advocate for better mental health care delivery in Vermont. The Berlin psychiatric hospital finally opened in 2014, but there still aren't enough beds for people in crisis. The inpatient facilities usually have waiting lists.
File: JEB WALLACE-BRODEUR
Anne Donahue
"There had been an expectation that as the last beds opened in Berlin, that would be adequate. That was the hope. But it didn't happen," said Donahue.
In May, patients were forced to stay in emergency departments 25 times because a Level 1 bed was not available, up from 18 times in March and 22 in April, according to the Department of Mental Health.
Many of those have been at Central Vermont Medical Center in Berlin, where emergency department director Mark Depman said his hospital is "fed up" with the steady stream of people in crisis who become "boarders" in the emergency room.
Roughly twice a week, ER staff members are required to babysit patients suffering from illnesses such as schizophrenia who have been deemed dangerous to themselves or others. It usually takes a nurse, hospital security staff and uniformed police to monitor them while a Level 1 bed opens up somewhere else. Meanwhile, the patients are forced to stay in a locked room and don't get intensive therapy and treatment they need.
"It's a tremendous pickle as a result of political decisions that were made when the state hospital was closed," Depman said. "The decision that we didn't need the old hospital ... was a gamble, and it hasn't borne out. It was not the right decision. They've gotten as full as they're going to get, and ERs are still packed with people staying three days, five days. None of it is good enough for these patients."
Frank Reed has been the state's interim commissioner of mental health since Paul Dupre resigned in June. He said his agency has made great strides. In recent years, patients were waiting days in emergency rooms to access Level 1 beds. Now, he said, the longest most have to wait is a day or two. "It's a big improvement on what it had been," he said, noting his agency anticipates that as community programs strengthen, wait times will continue to shrink.
Meanwhile, the community mental health centers that provide those programs have their own challenges, one of which is financial: After promising more resources, the state has level funded them every year since Act 79 was enacted.
'Slipped Through'
It's not clear what happened to Said after he was brought from the river to the hospital. While police reports detail the action on the bridge and mention the hospital, his medical records are confidential. One police report notes that an officer spoke that night with a crisis worker about Said.
But it's clear that even if he did receive inpatient care, it didn't last long. Police would soon encounter Said again.
On a mid-November night 11 days after Said vaulted the bridge rail, Said called 911 from his apartment. He told the dispatcher that he was off his medication and "sick." He wanted to apologize to his parents.
He also warned that he had a gun and threatened to kill any approaching police officer. "Tell the officers with children that he sorry but this is how it has to be," the dispatcher reported him saying.
A Burlington police officer reached Said on his cellphone, and the latter rambled incoherently. Said claimed that the police department "thinks I'm bin Laden." He repeated his threat to shoot any officers who might come to his aid.
Police took him at his word.
Nineteen Burlington police officers descended on his building — so many that officers from South Burlington and the University of Vermont had to respond to the other calls in Burlington during the incident. Police shut down Riverside Avenue. For the second time in two weeks, Said was responsible for a major traffic disruption.
Officers equipped with tactical vests, helmets and ballistics shields drew guns and rifles, and evacuated a laundry nearby.
Said emerged from his apartment pointing an object at the team of officers. Then he held it to his head.
Several officers trained their guns on Said and yelled for him to surrender. Eventually, he dropped what he had been holding and lay down on the ground. When officers approached they saw his "gun" was a TV remote control.
Again, Said was taken to the hospital, where his blood-alcohol content was 0.15 percent — nearly twice the legal limit for driving. Police reports say he repeatedly asked personnel what time it was.
"I'm going to make you make me go to heaven at 2:45," he said.
After the standoff, court records indicate, Said wound up in a Level 1 bed in Rutland Regional Medical Center and stayed there for at least a couple of weeks. He was charged with two misdemeanors, but a judge ruled him incompetent to stand trial — Said did not have the mental capacity to understand legal proceedings. The judge dismissed the case. He also determined that Said could leave the inpatient hospital and receive outpatient care via Burlington's Howard Center.
Between his hospital and outpatient treatment, Said was ordered to receive mental health care for 90 days. It is unclear from publicly available records if Said received any care beyond that.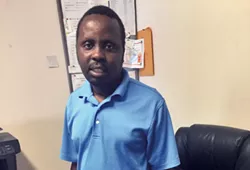 Mark Davis
Mohamed Abdi
One of his few acquaintances was Mohamed Abdi, a Winooski resident and leader in the local Somalian community. He helped Said with paperwork to get public assistance, and Said would occasionally visit the community center. But he was a loner. Abdi didn't even know where he lived. He said he was unsure why Said came to Burlington a decade ago — he didn't appear to have any friends or family in the area.
"He wasn't one of the people connected to the community," Abdi said. "He wouldn't come around a lot. He was usually in his house. I don't know what triggered him. When somebody is not really involved with people, it's hard to know."
Abdi saw Said for the last time more than a year ago, a few weeks after the remote-control standoff.
"He looked normal," Abdi said. "I know he was having mental issues, but other than that, he didn't look like somebody who was going to do it again."
'Built-in Dilemma'
The Department of Mental Health cannot force someone to receive treatment unless they are deemed to have a diagnosed mental illness and be a "danger of harm to himself, to herself or to others," according to state law. Attempting or even threatening suicide is enough to meet that standard, according to the law.
Screeners — usually clinicians from community health teams or local hospitals — make the initial determination if someone qualifies for treatment. Schirling said he believes the screeners are often too reluctant to mandate treatment.
"It's not just 'imminent danger to themselves or others,'" Schirling said, suggesting the standard is more like "repeated imminent danger to themselves or others" or "repeatedly demonstrated danger to themselves or others.'"
Matthew Thorsen
Bob Bick
Bob Bick, executive director of the Howard Center, the community health provider for Chittenden County, disputes that.
"I would disagree that the bar, from us, has changed," Bick said. "Our staff has a consistent approach. It's an incredible decision to make, to take someone's rights away from them by forcing them into a setting they don't want to be in. They don't take it lightly," he said of his employees. "I applaud that. And they don't take it lightly that if they make the wrong call, somebody would hurt themselves."
Even if a person is forced into the mental health system, though, it's pretty easy to get out. A judge is required to review an order of hospitalization within days of a screener's ruling. State laws, and case law, give individuals a host of rights. Once he or she has calmed down and claims to be doing better, they often get released, several experts told Seven Days.
"The legal system in Vermont ... says a person has a right to choose," UVM's Pierattini said, adding that people — even those who can't reason — don't get treatment if they don't want it. "There is a built-in dilemma. We would never do that with kids — no matter what the kid had, we'd make sure they're taken care of. We don't have that attitude with adults. We have allowed a lot of people to come to harm because we are so focused on their rights and free will."
The alternative is to warehouse people, according to supporters of the current system.
"If they've stabilized under their medication, and the crisis passes, how long would you hold the person? Would you lock them away and throw away their civil liberties?" Bick asked, noting that plenty of societies do just that. "We don't want to be that."
Said received at least some outpatient and inpatient care from the Howard Center, police records indicate. He referenced a caseworker in conversations with police, and said that he had left ASSIST — a low-intensity residential program run by Howard Center where people in mild crisis stay for a few days — shortly before jumping off the bridge. Police records suggest that he was a difficult mental health client. He once told officers his Howard Center caseworker was an "evil person."
"I don't know what the right level of treatment for Mohamed Said was, because I'm not a physician," Schirling said. "But it's clear he slipped through the system multiple times."
Court records show his serious problems date at least to March 2009. That's when Burlington police found him drunk at 3 a.m. and took him to jail to sober up. Said tried to hang himself in the Chittenden Regional Correctional Facility by tying a blanket around his neck and the prison door. Guards entered the cell, removed the blanket and handcuffed Said, who spat on one of them.
Hours later, Said told a Vermont State Police trooper that he had a history of being suicidal and, for three years, had been taking four different medications to combat depression and hallucinations. Said told the trooper that he attempted suicide because he was off his meds and had been drinking.
A judge sentenced Said to three months probation for spitting on the prison guard, and ordered Said to undergo a psychological evaluation.
"Did [defendant] show up for eval?" someone wrote in Said's court file. The question was never answered.
At times, Said told clinicians that his drinking, and not his mental state, was to blame for his acting out.
Bick, citing patient confidentiality, declined to comment on Said, or even acknowledge that his agency had contact with him. But Bick said that when an organization cares for more than 600 patients, it is unfair to judge it from one case.
The Howard Center, he said, has successfully treated hundreds of people, and launched programs under Act 79 to keep people out of the hospital and free up bed space.
The Howard Center has opened a residential unit in Essex Junction for seven patients who live in their own apartments, with staff members available in a nearby office. None has been sent to a hospital since moving in. Another program, Bick said, allows a rapid-response team of clinicians to go to patients' homes when they call for help, preventing dozens of mentally ill people from filling emergency department space.
"We work with incredibly high-risk populations," Bick said. "Treatment of mental illness is not as exact a science as everybody would like it to be. There's interpretation, there's disagreement among well-meaning professionals asking what the right course should be. Are there instances where we fail? Yes. There will always be, and that's tragic for us, that's tragic for family and friends and the community."
'No Barry Wana Save Me'
Throughout the first half of 2014, Burlington police heard nothing from Said. But in conversations with Seven Days, Schirling repeatedly voiced concern.
"It's only a matter of time," the chief said.
Eight months after the standoff, Burlington police got a call from a property management company that owns a building on Prospect Street. Said had recently moved into the ground-floor apartment there, and a neighbor had reported smelling a foul odor and seeing flies, according to police records.
Police entered and found Said's body on the couch. It had been there for days. On a nearby coffee table, they found a nearly empty bottle of Zyprexa and two pills of Ativan, both powerful drugs used to treat psychosis and anxiety. A coroner later determined that Said overdosed on them.
Said didn't leave a will or any possessions. It took hospital staff a couple of weeks to find someone — Abdi — who could identify his body and claim it. Burlington police tried for weeks to notify his family, but couldn't reach them. The local Somali-Bantu community, which asks families to pitch in $200 annually for funerals for the needy, contributed $6,000 for Said's Islamic burial in Burlington's Lakeview Cemetery. His obituary in the Burlington Free Press was two sentences long.
The only thing that Said left behind was a note written in the best English he could muster: "My name Mohamed Said my tims is up I kill my self. I save this world no barry wana save me is ok thanks?"
Timeline of Events
March 14, 2009 Burlington police arrest Mohamed Said for public drunkenness. In jail, Said attempts to hang himself, and spits on a prison guard who helped save him. He says later that he had been suffering from depression and hallucinations for years and was taking four different medications.
July 22, 2009 A judge sentences Said to probation for spitting on the guard. He also orders Said to undergo a psychiatric evaluation.
October 20, 2013 Police respond to Said's apartment on Riverside Avenue in Burlington for a reported overdose. Said acknowledges taking too many pills and asks officers "about his reason for living." He is transported to Fletcher Allen Health Care.
November 4, 2013 Said jumps off the Winooski bridge into the frigid Winooski River. He is transported to the hospital.
November 15, 2013 Said calls 911 from his apartment, says he is armed and threatens police. After a standoff, he is arrested, charged with two misdemeanors and eventually sent to Rutland Regional Medical Center.
December 13, 2013 A judge rules Said incompetent to stand trial and orders him to transition from an inpatient bed in Rutland to an outpatient program run by Burlington's Howard Center. The total length of his mandated care is 90 days.
February 24, 2014 Police are called to Safe Haven shelter on King Street, where Said reportedly threatened a worker and demanded a bus ticket out of Vermont. After police arrive, he calms down. A clinician attributes his behavior to drinking.
July 30, 2014 Police find Said's body and a suicide note in his North Prospect Street apartment — the result of a fatal overdose of prescription medication.