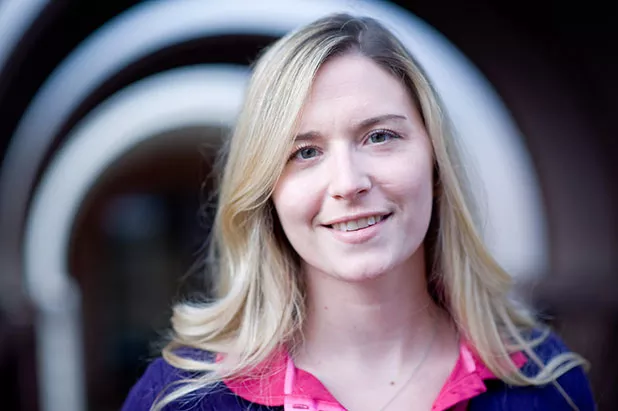 Lizzie Post is decidedly not a member of the manners police. She will not lecture you on the appropriate use of a salad fork, nor will she berate you for putting your elbows on the dining-room table. If you're a woman who chooses bare legs over pantyhose, Post isn't all that bothered. Ditto on whether the fold of your napkin is facing toward or away from your lap. But, as one of the heiresses apparent to the Emily Post Institute (EPI), Post is concerned that people know how to treat one another with consideration, respect and honesty.
Post has an unusual job for a 27-year-old — or anyone, for that matter. As an employee of the Burlington-based EPI and great-great-granddaughter of manners maven Emily Post, she is tasked with relaying the importance of good behavior to a generation that often seems incapable of caring less. Post is the youngest member of the first family of etiquette, so it's incumbent on her to try to bring a little civility to her contemporaries — no easy job.
Post came to the family business by happenstance. While she had always expressed an interest in the institute's mission, she never planned on a career in etiquette. Her entrée came at a request from her dad, Peter Post.
One day during Lizzie's junior year at the University of Vermont, where she studied art education, Peter called his daughter into EPI's South Union Street offices. "I was worried that I had overdrawn my account, or that my car insurance went up," she recalls. "Instead, he said, 'We'd like you to write a book.'"
At the time, the institute was looking for a way to reach a younger demographic. Of all the books EPI had published over the years, none really addressed the concerns of the college-aged set. Peter thought his youngest daughter would be the perfect choice. "She's very relatable," he says. "She looks like the people her age, and she has the ability to talk about issues important to people in her age bracket."
Lizzie Post pursued her mission with a seriousness rarely seen in youth. For two years, she gathered information about the issues her cohorts faced. In the resulting book, How Do You Work This Life Thing?, Post covered everything from how to get back a borrowed piece of clothing to what to do when your roommate is having sex too loudly. Ultimately, her goal was not to be a scold, but to give people tips on improving everyday situations. "People don't have to give up who they are in order to make life better for you and them," she says.
When her book came out in 2007 and hit the talk-show circuit, Post, still in her early twenties, was thrust into the limelight. She did turns on "The Today Show" and "The Tyra Banks Show." She remembers feeling like she was about to faint when Banks put a casual hand on her back. "She had to learn to be a spokesperson. That's not an easy thing to do," Peter says. "That's a heady thing for a 24-year-old."
Lizzie Post still works at the EPI, writing and speaking about modern etiquette and doing much of the company's marketing. Recently she began selling Emily Post seminars at trade shows. And because she's the youngest, most tech-savvy person in the office, she has taken over management of the website, incorporating video segments that demonstrate how to, say, set a table.
Peter Post says he's pleased his daughter is taking to the business — not only because he wants to see her happy, but because it means there's one more person to keep the legacy alive. The institute won't have to scramble to find qualified people to run it. And, because the Post name is a recognizable brand, it's good to have actual Posts in the company.
Though her looks and carriage are on the WASP-y side — long blond hair, pearly teeth, perfect diction, classically elegant clothing — Post insists she was a "wild child." Her mother, Tricia Post, says the young Lizzie had "mischief in her eyes."
There's an assumption Peter Post says he often hears: that growing up Post must've meant they were on etiquette lock-down. Naturally, that would make any kid want to rebel. But both he and his daughter insist they weren't raised with manners rammed down their throats, so they saw no need to rail against them.
"Etiquette was taught by example, not by the rule book," Peter says, referring to his great-grandmother's seminal guide, Emily Post's Etiquette, now in its 17th edition. "Lizzie wasn't brought up with white gloves, and she wasn't forced to read the book."
Still, the public perception of the Post heirs as prissy and stuck-up has been a tough one to shed. "It's one of the things that drives me nuts," Lizzie says. She notes how the stereotype bothered her sister, Anna, who is four years older and also works for EPI. When Anna was at boarding school, some kids wouldn't eat lunch with her because they had had Emily Post etiquette drilled into their heads as youngsters. Some observers seem to expect the family to live by early-20th-century standards — a fantasy, the Posts say.
Certainly, a lot has changed since Emily Post grew up in a world where people — of a certain social strata, anyway — knew what to do in social situations. When her volume Etiquette: The Blue Book of Social Usage hit the shelves, a social framework for good behavior already existed; Post helped reinforce those best practices. In 2010, the book's 18th edition will be released, updated by Lizzie Post and her mother.
In 1946, the EPI was founded to continue Emily Post's work and address the prickly social questions that always seem to pop up. After Emily died in 1960, her granddaughter-in-law — Lizzie's grandmother, whom the family affectionately called Mud — took up the mantle of the institute. The family has run it ever since. Today, of the 10 people who work at EPI, only two are not Posts.
While Lizzie Post may not turn up her nose at "officially" incorrect table manners, she does believe etiquette is still relevant. Today good manners are more about respect and civility than they are about social decorum, she suggests.
When considering how to employ etiquette in a particular situation, the Posts first pose three questions: 1. Who is affected by this, and what outcome works for everybody? 2. What is the most positive solution to the issue? 3. How can you find the positive truth in the situation?
The last question speaks to a quality about which Lizzie Post feels strongly — honesty. "Breaking human trust is the worst thing you can do," she says. That's why, when a friend asks if Lizzie likes her sweater, and she doesn't, Lizzie will find something positive to say without lying.
In the wake of recent dramatic displays of public rudeness and hostility, Lizzie Post found herself fielding reporters' questions. She was asked to comment on Rep. Joe Wilson calling the president a liar, singer Kanye West interrupting country star Taylor Swift during a televised awards show, and tennis champ Serena Williams threatening a line judge. It's unlikely those members of the media knew they were asking a 27-year-old to pontificate on the state of civility in America. But Post's confidence belies her age.
As for those recent instances of serious manners breakdowns, Post offers, "We're not showing our best selves to the nation. We get enticed by the nasty and the controversial."
Those are insightful words from a member of the Millennial Generation, often portrayed (and self-portrayed) in the media as characterized mainly by a lack of tact, an obsession with pop culture and a focus on individual betterment.
Of course, Post isn't above a little carefree fun. She socializes just like her peers do. She just happens to know which fork goes with which dish. And she always writes thank-you notes.