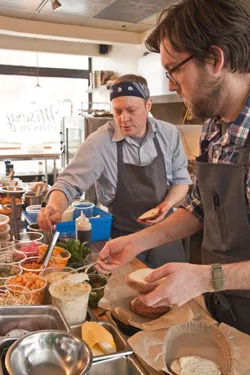 Chef-partners Nathaniel Wade and Aaron Josinsky
It's been almost a year since the shuttering of the Winooski spot where Cupp's bakery used to operate. Now the peeps from nearby Misery Loves Co. are resurrecting it as a bakery and commissary.
The racks will start filling at 25 Winooski Falls Way by late January or early February when MLC Bakeshop opens its doors, says MLC co-owner Laura Wade. She sounds happy to flex MLC's baking muscles just "a stone's throw" from its existing restaurant at 46 Main Street. "We were doing our own rolls" and other items at the restaurant, Wade says, but space was at a premium. "This remedies that situation."
The bakeshop will sell croissants, fresh breads and MLC's popular lemon-curd doughnuts, as well as an array of to-be-determined baked goods. "We haven't really gotten that far into planning" the menu, says Wade, as she and chef-partners Aaron Josinsky and Nathaniel Wade are waiting on the necessary equipment.
One thing they know for sure: MLC Bakery will offer java from Portland-based Stumptown Coffee Roasters and have a few tables inside, plus places to sit on the sidewalk during the summer. "It's definitely not going to be a 'lounge around all day' kind of place, but more of a quick stopover," says Laura Wade, for people to grab coffee, bread and pastries to go.
Besides housing the bakeshop, the new space will serve as a commissary for a rejuvenated MLC catering arm. Does that mean Big Red, the company's food truck, will be plying the streets of Burlington again soon? One can dream.