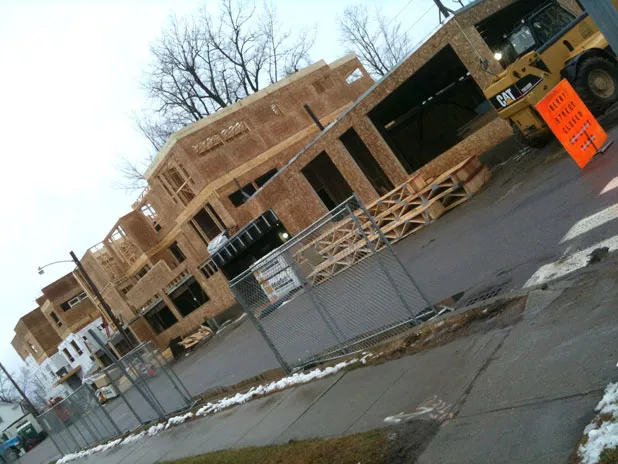 The Packard Lofts project as of December
Jul 03: Several homeowners on or near Lakeview Terrace in Burlington were shocked last summer by the sudden leveling of a 16,500-square-foot structure that had stood for decades at the northern end of the scenically situated street. The developer won city approval to convert the former Packard automobile showroom and an adjoining warehouse into 25 condos and a café — twice as many units as are normally allowed under zoning rules — in part by promising an "adaptive reuse" of the partially historic structure. To many neighbors, the project looked more like wholesale demolition.
Critics also questioned the project because the developer, the Hartland Group, was cofounded by Mayor Miro Weinberger. The then-newly elected mayor said he was no longer active in the company, though he did retain a "passive minority" stake and acknowledged he could potentially derive financial benefit from the Packard Lofts project.
The Hartland Group never specified how much of the entire structure — the historic showroom plus the architecturally insignificant warehouse — would be left standing, although it implied there would be no radical alterations in the building's appearance. As it turned out, everything except two walls of the showroom was destroyed.
Asked last summer whether the demolition could be seen as an example of "adaptive reuse," former Development Review Board member Ellie Kenworthy said, "It doesn't pass the straight-face test."
Update: Construction is proceeding on schedule on the Packard Lofts, which for now is now a two-story skeleton. One big change in the project: the 25 units will be rented rather than sold — at least initially. Home sales prices in the Burlington market remain soft, notes Justin Dextradeur, project manager for the Hartland Group. Rents for the two- and three-bedroom residences will be set soon, he says, and the apartments will probably be ready for occupancy by July.
Lakeview Terrace resident Ivan Goldstein opposed the project throughout an eight-year review process and still doesn't see it as "a positive contribution." He criticizes Packard Lofts as grossly out of scale with nearby homes and says the building will ultimately resemble "a nicely designed cruise ship."
But the Hartland Group has managed to mollify Goldstein and others who had earlier complained about construction issues. "Initially," Goldstein says, "it really sucked because the concrete people were racing down the street." The builders have since become "more considerate," and do keep neighbors informed via Front Porch Forum, he adds.
For his part, Weinberger says, "I wish it had not been as controversial as it was." He defends the project on the grounds that "this is a city that needs more homes at all income levels and of many types," adding, "I hope that over time people come to see it as a positive contribution to the neighborhood."