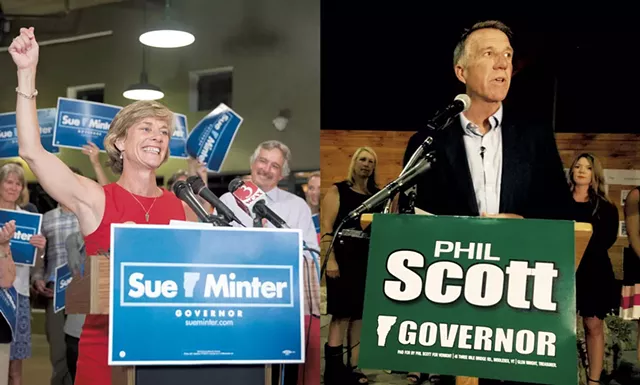 James Buck and Molly Walsh
Sue Minter and Phil Scott
Waterbury Democrat Sue Minter will face Berlin Republican Phil Scott this November in the race to become Vermont's 82nd governor.
Both candidates faced tough competition in Tuesday's primary election, but both emerged with convincing wins.
Incomplete results late Tuesday showed Minter, a former transportation secretary, winning the Democratic nod with 50 percent of the vote. Former state senator Matt Dunne fell short in his third bid for statewide office, taking 36 percent. And former ambassador Peter Galbraith came in a distant third with just 9 percent.
"We did this," Minter said as she greeted supporters Tuesday night at Burlington's Main Street Landing.
After hugging family members and former governor Madeleine Kunin — the first and, thus far, only woman elected to the office in Vermont — Minter previewed the message she will send in her race against a cautious moderate.
"All I know is that we have a great state. Vermont has never stopped being great," she said. "And we do not need to slow down. We need to charge forward to the future!"
Scott, the lieutenant governor, easily dispatched retired Wall Street banker Bruce Lisman 60 percent to 39 percent though Lisman outspent him 3-to-1. Scott's top supporters expressed nervousness in recent days that Lisman's hard-hitting advertisements had tightened the race, but in the end it wasn't even close.
After his mother, Marian Scott, introduced him to supporters at Barre's Vermont Granite Museum, the lieutenant governor delivered a withering assault on Lisman's campaign tactics.
"But tonight we can say with certainty that this campaign settles an important debate: Negative campaigns don't have to work in Vermont," Scott said. "No matter who you are, no matter how much money you spend, the high road truly leads us to victory."*
Turning to his general election matchup against Minter, Scott said he hoped to make it "an exchange of ideas and not an exchange of attacks."
Dunne, who ran a spirited race but faltered in its final weeks, told supporters at Burlington's Arts Riot that he was proud to have empowered and inspired his youngest campaign workers. He said he was "certainly going to work hard to make sure Sue Minter is the next governor of Vermont."
At the Burlington Hilton, Lisman said his campaign had sent the message that Montpelier needed a change. But he conceded that he had fallen far short of victory.
"I feel like I let you down," Lisman told a small crowd.
"No, you didn't!" one supporter yelled.
The upset of the night came in the race to replace Scott as the state's lieutenant governor. As Seven Days went to press, Sen. David Zuckerman (P/D-Chittenden) was leading House Speaker Shap Smith (D-Morristown) 43 to 37 percent in their competition for the Democratic nomination. A third candidate, Rep. Kesha Ram (D-Burlington), was trailing with 17 percent of the vote.
Having presided over the Vermont House for the past eight years, Smith is well known and well regarded in Democratic circles. But Zuckerman, a veteran legislator, is beloved by progressive activists. Last week, he won the coveted endorsement of Sen. Bernie Sanders (I-Vt.).
The Associated Press called the race for Zuckerman at 10:16 p.m., but neither leading candidate appeared ready to declare victory or concede by Seven Days' deadline. Republican Randy Brock ran unopposed for his party's nomination.
Few other statewide races featured competitive primaries, though the general election will include some interesting matchups.
Republican Scott Milne, who nearly defeated Democratic Gov. Peter Shumlin in 2014, is challenging veteran Sen. Patrick Leahy (D-Vt.). Chittenden County State's Attorney T.J. Donovan, a Democrat, will compete with St. Johnsbury Republican Deborah Bucknam to succeed retiring Attorney General Bill Sorrell. And Republican Dan Feliciano, who also ran for governor in 2014, will face incumbent state Auditor Doug Hoffer, a Democrat and Progressive.
In Chittenden County's six-member Senate delegation, Rep. Chris Pearson (P-Burlington) and Williston Selectboard member Debbie Ingram appeared poised to win seats vacated by Zuckerman and former Republican senator Diane Snelling. They will join incumbent Sens. Tim Ashe (D-/P-Chittenden), Ginny Lyons (D-Chittenden), Michael Sirotkin (D-Chittenden) and Phil Baruth (D-Chittenden) this fall on the Democratic ballot. Only one Republican, John Gifford, is running, making it likely the delegation will shift to the left.
Farther north, incumbent Sen. Norm McAllister (R-Franklin), was routed in his bid for a third term. McAllister has faced criminal sexual assault charges and was suspended from the Senate in January. He has pleaded not guilty and chose to run for reelection despite a looming trial.
Fellow Sen. Dustin Degree (R-Franklin) and Rep. Carolyn Branagan (R-Georgia) handily defeated McAllister in the county's Republican primary. They will compete with Democratic challengers Denise Smith and Sara Kittell, a former senator, for two seats in the Senate.
And in Windsor County, Rep. Alison Clarkson (D-Woodstock) seemed likely to succeed retiring Senate President Pro Tempore John Campbell (D-Windsor) in that county's three-member delegation. She and incumbent Sens. Dick McCormack (D-Windsor) and Alice Nitka (D-Windsor) beat out Campbell's former aide, Conor Kennedy, for positions on the Democratic ballot.
The Tab
It's too soon to say just how much Vermont's gubernatorial primary cost, but one thing's for certain: It was the most expensive in state history.
A Seven Days analysis of available campaign finance data shows that the candidates themselves spent more than $4.9 million seeking their parties' nominations. That includes all expenditures made before July 15, but only mass media — television, radio, print, internet and phones — since then. The final tally will likely be quite a bit higher.
Nor does that $4.9 million figure count outside spending on the race. In the past week, Vermont has seen an unprecedented influx of direct expenditures from super PACs and a Silicon Valley billionaire. Collectively, they put up more than $371,000 in six short days.
"We're in the dawning of a new era in campaign finance," says Secretary of State Jim Condos.
To be sure, Vermont has seen more expensive contests — in the general election. Take, for example, the $13.5 million Sanders (I-Vt.) and Republican businessman Rich Tarrant collectively spent on their 2006 cage match. But never before has a Vermont gubernatorial primary cost so much.
Just six years ago, when Vermont saw its last competitive race for an open governor's seat, the five major Democrats spent a combined $1.8 million. The biggest spender, third-place finisher Deb Markowitz, doled out nearly $631,000, while second-place finisher Doug Racine spent just $246,000. (The winner, Shumlin, dropped $565,000.)
"It sounds almost quaint, and it was just six years ago," says Vermont Public Interest Research Group executive director Paul Burns.
This year, Dunne and Minter likely both exceeded the million-dollar mark. Even discounting the final three weeks of non-media expenditures, Dunne had spent at least $956,000 and Minter $910,000. Even the comparative pittance Galbraith put up, $309,000, topped Racine's 2010 total.
And then there are the Republicans. Lisman, who largely self-funded his campaign, spent more than $2 million — including more than $876,000 on mass media alone. Scott spent far less during his warm-up laps — just $467,000 before last month. But in the final weeks of the race, he revved his engines and ended up dropping more than $686,000 total.
What made the race so expensive?
For one thing, both Democrats and Republicans had competitive contests — unlike in 2010, when then-lieutenant governor Brian Dubie had the GOP field to himself. It also started unusually early: when Shumlin announced in June 2015 that he wouldn't seek a fourth term. Within a month of that announcement, Dunne had already collected $134,000.
Just as important: In January 2014, the legislature voted to double the amount that individuals, corporations and PACs could donate directly to statewide candidates — from $2,000 to $4,000 apiece. According to a database kept by the Secretary of State's Office, those who donated between $2,001 and $4,000 this cycle account for $1.1 million in contributions.
This race also featured five millionaires, three of whom spent gobs of money on their own campaigns: Lisman, Galbraith and Dunne. The last one of those was a bit of a surprise. At a May press conference, Dunne promised he wouldn't self-fund and called on his opponents to do the same. But last Tuesday and Wednesday, he loaned his campaign $95,000.
Then there's Citizens United, the 2010 U.S Supreme Court case that opened the floodgates to money in politics — and led to the rise of super PACs, which can raise and spend as much as they like. According to Burns, even "the fear of the super PAC — real or imagined" — has prompted candidates to raise more money on their own.
In this race, fear turned into reality.
Starting last Wednesday, a super PAC founded by retired Vermont lobbyist Bob Sherman and funded largely by EMILY's List pumped more than $124,000 into pro-Minter advertising. The next day, LinkedIn and PayPal founder Reid Hoffman spent $220,000 on pro-Dunne ads. Later Thursday, a super PAC financed by Lisman's former Bear Stearns colleagues dropped $27,000 on his election.
The only other time a super PAC has spent so much on a Vermont primary was in 2012, when the Democratic Attorneys General Association plowed $200,000 into ads designed to save Sorrell from Donovan, who challenged him that year.
Consider this primary a preview of coming attractions.
Now that the general election has begun, you can expect major national organizations to get involved. The Democratic Governors Association and Republican Governors Association have already established Vermont-based super PACs. And if 2010 was any indication, they could each spend millions.
Then there are all the other races on the ballot. Whether or not Milne gains traction in his quest for a U.S. Senate seat, you can be sure that Leahy will break the bank. Because, you know, that's what Leahy does.
Given the national trend, Burns says, Vermont's move toward big-money politics shouldn't be surprising.
"But it's still a shock to people who think Vermont is a little bit different and we're not going to be that way," he says. "It turns out we are not immune to the same tactics that work in other places — and those tactics cost real dollars."
*
Correction, August 15, 2016: An earlier version of this story omitted several words from Phil Scott's victory speech.