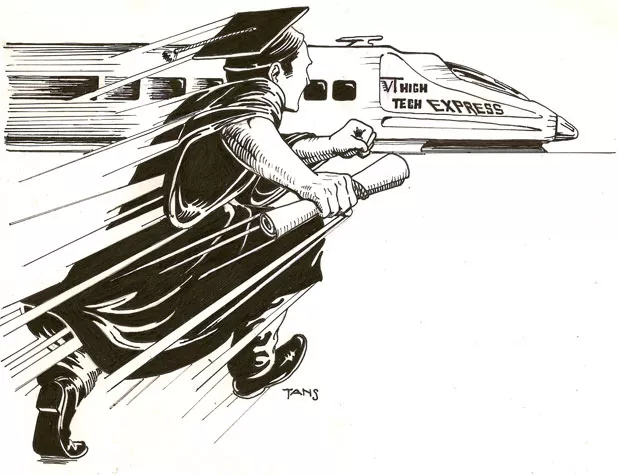 Ask a graduating college senior about the local job market, and you're likely to hear a common refrain: "I want to stay in Vermont, but there just aren't enough high-paying jobs to make it affordable." Hence the oft-cited "brain drain"; exodus of young people from the state for greener pastures.
But ask an employer in Vermont's high-tech sector — say, a software developer — about the job market, and you're likely to hear a different story: "I'd love to hire locally, but I can't find enough qualified applicants with the skills my company needs." Hence the tendency of many high-tech firms to recruit and relocate new employees from out of state, a costly and time-consuming process. Despite the thousands of seniors graduating from Vermont colleges and universities each spring, local companies still say they're often forced to look elsewhere to fill their ranks.
What accounts for the disconnect between the experiences of college-educated job seekers and the needs of Vermont's high-tech employers?
"It's not necessarily a case of there's not enough people seeking jobs in those fields," explains Patrick Martell, executive director of the Vermont Software Developers' Alliance. "The biggest challenge we face is finding the right people with the right qualifications."
That's a troubling trend, given that Martell's organization — a coalition of 75 companies in the state's $300 million software industry — represents one of the bright spots in Vermont's economic forecast. At a time when the state is undergoing a dramatic shift away from jobs in the manufacturing, agriculture and forestry sectors, 75 percent of Vermont's exports — $2.8 billion worth in 2007 — are now high-tech goods. In fact, Vermont now has the highest concentration of high-tech exports of any state in the nation, according to the latest figures from the American Electronics Association.
On the job front, software engineering is now the state's third fastest growing occupation overall, and the single fastest growing high-wage job, offering an average hourly pay of $33, according to Vermont Department of Labor statistics released in September. Jobs requiring IT skills are an especially promising growth area, because they can transcend many of the Green Mountain State's traditional economic handicaps — high energy costs, remote locations, bad weather and the lack of an industrial infrastructure — while stretching the standard definition of "workplace."
Despite rosy projections for Vermont's high-tech sector, Martell says his members still hear from recent college grads whose professors are telling them there are "no opportunities in Vermont" and that they should "go elsewhere" for a job.
"I think that 90 percent of the time what's missing is that they are not actively engaged with the local business community to even know what local businesses need," Martell says of educators. "They're not necessarily looking at what those career path opportunities could be."
A report published by the Vermont Human Resources Investment Council reached a similar conclusion. Despite Vermont's well-developed and highly regarded educational system — which employs nearly 35,000 workers, or 12 percent of the state's workforce — the report found that the educational and business sectors aren't aligned closely enough to meet all the needs of the state's technology workers.
"Many of the key components of this system are in place," notes a recent Report of the Information Technology Skills Taskforce. "However, full coordination across the public school system, workplace training, private training providers and higher education remains a challenge."
How can Vermont's colleges and universities keep up with the ever-growing demands of the high-tech sector, especially when technologies advance at lightning speed? Consider this: In the time it takes for a college professor to write a curriculum, submit it for approval and teach the class, technologies such as software applications may already have become outdated. Moreover, it's not uncommon for today's college professors to be teaching technologies that didn't exist when they were in school. Keeping up amounts to a full-time job.
But educator Brent Sargent doesn't think it has to be that way. The dean of Vermont Technical College's Williston campus claims it's unnecessary for schools to invest in the newest "cutting-edge bells and whistles" in each field. He says that Vermont's high-tech employers are looking for a healthy mix of the educational fundamentals of their industry — say, strong math and science skills — with a strong emphasis on interpersonal skills that will be in high demand in the coming decades.
"What we hear is that it's less about the technical skills than the affective skills," Sargent adds. "The ability to work in a team framework, writing skills and presentation skills." VTC works closely with Vermont businesses that want to hire locally — for example, NRG Systems of Hinesburg maintains a summer internship with VTC as a way of recruiting talent. VTC has a 98 percent placement rate for its graduates in their chosen field; at least 80 percent of them stay in Vermont after college.
Marian Lawlor has spent 18 years doing educational outreach for IBM, Vermont's largest private employer. While she doesn't specifically recruit for Big Blue or manage its employees, she is very familiar with the mix of skills her company seeks — what IBM calls "T-shaped people." Such workers have a deep understanding of one subject, such as engineering, but also a broad range of tools needed to succeed in a global economy: skill in a foreign language; a working knowledge of business, cultural and historical perspectives; and the ability to work, problem-solve and communicate in a multicultural setting.
"Almost all developed countries have migrated to the services," Lawlor explains, "but in higher education, they haven't necessarily kept up with the kind of skills that are needed to be effective in the services industry."
Lawlor, who also does outreach at the K-12 level, says she has noted some promising developments in Vermont's public schools. For instance, there's the Connectivity21 project, which kicked off this fall with a convocation of 3000-plus public school educators. One of its goals was to clue teachers in to the growing importance of right-brain skills in the job market — skills that manifest themselves as artistry, inventiveness and abilities to think outside the box and see the big picture.
According to Lawlor, educators at both the K-12 and college levels need to break down the usual "silos" that exist in education and teach students how to apply their skills in practical settings. She cites one project IBM is doing with the University of Vermont called SEED, or "Senior Experience in Engineering Design." Now in its second year, SEED enlists teams of UVM students to solve real-world engineering dilemmas at IBM.
"That's the kind of experience students need today," she adds, "because it's where you bring together all of that knowledge that you've accumulated over the years and actually apply it. And it's only when you apply knowledge that you internalize it."
Champlain College's new Emergent Media Center in Winooski may be the closest thing to the "real world" that exists in Vermont academia. When students "apply" to the program, the process resembles what you'd experience at an actual software development company: They submit a cover letter and resume, go through a rigorous job interview, then present their portfolio or write computer code on the spot.
And they're asked to draw a duck.
It's not always a duck. Sometimes students are asked to write a poem using wacky or incongruous words. Why? Not because a degree in computer gaming or 3-D digital design requires the ability to draw or rhyme. It's to see if students are quick on their feet, according to EMC Director Ann DeMarle.
"If you apply for a job at Microsoft or [video gaming company] EA, they'll ask you weird questions like, "OK, describe all the shoes you've seen in the last 10 seconds,'" DeMarle says. "Really, they're not looking for a right answer. They're trying to see how you think and approach problems. And that's what technology today is all about: identifying problems and finding solutions."
In a sense, the Emergent Media Center is doing both of these things, too. It's bridging the gap between higher education and industry by giving students real-world problems to solve using the latest computer technologies. And the EMC does this not in a classroom or computer lab that simulates the real world, but with real clients, real budgets, real deadlines and real paychecks.
Heather Kelley is a gaming industry professional from Montréal. EMC hired her to work with a group of students on a game targeting boys and young men in developing countries. The three-year project, funded by the United Nations and the Population Media Center of Shelburne, aims to produce a cellphone-based game to teach young males about ending violence against women. Stop the violence, the theory goes, and you also begin to ease poverty.
"I was impressed, actually, that these students have as much know-how about being on a team," says Kelley, who's been in the industry for 12 years. "They've had a chance to actually produce products, with actual clients and deadlines and deliverables that are part of the job. . . There was nothing like this when I was at school."
Similarly, adjunct professor Ken Howell is working with another group of EMC students on a game called the Real Time Incident Preparedness Simulation. This project, funded by Massachusetts General Hospital, is designed to teach first responders how to handle different disaster scenarios. Unlike other simulators, however, this one uses real-time weather data and geographically accurate locales from Google Maps. A firefighter in, say, Idaho can train on a scenario using real conditions, streets and even individual structures found in his or her zip code.
Director DeMarle sees the Emergent Media Center as just one example of how colleges can break from the traditional "sage on the stage" model, where a professor lectures to 500 students at a time, then quizzes them for answers.
"Education has to change," she says. "It's still good to listen to a lecture and sit down with a book. But it's also good to do an interactive experience."
Gerry Ghazi sees the shortcomings of higher ed in Vermont from a different angle. He's president of the nonprofit organization Vermont HITEC — or Healthcare and Information Technology Education Center — a team that is reinventing the model of education for the tech sector by focusing on the needs of the employer, then "reverse-engineering" curricula to fill those needs.
As Ghazi explains, HITEC approaches a business, such as Burlington-based Dealer.com, and identifies its growth need (in the case of Dealer.com, to increase the number of account managers sevenfold). HITEC then places an instructor in the growth-sector job for two months. During that time, the instructor masters the job, figures out ways to improve it, and designs an educational curriculum to train others to do it.
Meanwhile, HITEC looks across the workforce spectrum, from GED-holders to people with PhDs, to fill those slots. According to Ghazi, HITEC never launches an educational program without the promise of jobs at the end.
"Imagine if a college, as part of the application process, said to you that there will be a guaranteed job for you upon graduation?" Ghazi asks. Thus far, the model has led to the creation of more than 400 jobs in Vermont. In addition to training a large portion of the Dealer.com workforce, Vermont HITEC helped Fletcher Allen Health Care hire and train 20 medical transcriptionists, jobs that otherwise would have been outsourced to India. That time the process, which usually takes two years, wrapped up in eight months.
"If I could push any agenda forward, it would be the blending of businesses and colleges, so that education becomes seamless," Ghazi adds, "and you can't tell if you're being educated in a college or a business."
Needless to say, some people may bristle at the idea that the goal of higher education is to "feed the workforce pipeline," rather than to create thoughtful and well-rounded citizens. But others, like DeMarle, believe that colleges can — and must — do both.
"Imagine a world where business is about creating a better world. Why is that not possible?" she asks. "If we are teaching students to be the next-generation employees, they're also the next-generation leaders. I think economics can solve our problems."