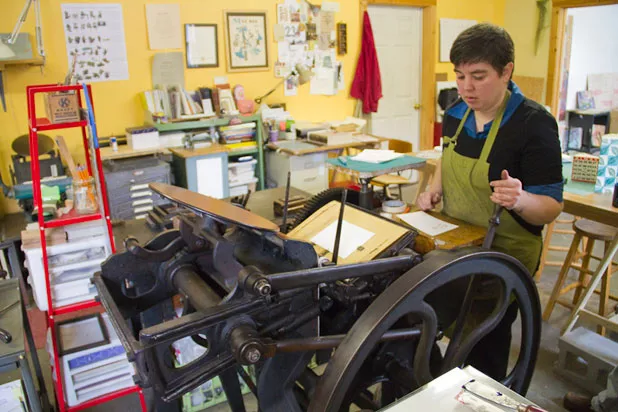 When Kelly McMahon talks about how she visualizes words, it's easy to understand why she spends her days setting type on letterpress machines dating back to 1911.
"I actually see letters as a visual form," says the 32-year-old Montpelier resident. Take the word "both" — McMahon sees the "b" and "o" as a "soft, cushy couch." The "t" and the "h" are its ends. "So 'both' is a coming together and sinking into a really soft space," she explains. McMahon's sense of the connections among words, actions and objects inspired her to create three-dimensional art from two-dimensional characters.
The native of southern California owns May Day Studio, a custom letterpress shop on River Street in Montpelier, where she teaches letterpress workshops; churns out handcrafted stationery, invitations and band posters; and binds journals and photo albums with reused and recycled materials.
A letterpress machine is a printing press that squeezes a piece of paper firmly between an inked surface and raised letters or designs to create a permanent image. Though printing presses in some form have existed since 750 BC, Johannes Gutenberg is credited with refining the machine in the 1400s so that movable type could be set in any order in a chase — a square frame — to produce pages of text. The machine's 500-year run ended abruptly with the widespread adoption of the offset press, which is much faster and easier to use and can print in multiple colors simultaneously. By 1980, nearly the entire letterpress industry had disappeared.
But in the late 1990s, interest in letterpress printing surged. When they compared it with computerized design, artists found the mechanical and infinitely variable nature of letterpress machines reassuringly real. Unlike magically manipulating a mouse and a keyboard and hitting the print button, letterpress has no secrets. It doesn't even have electricity. You pick the leaden letters out of a box and set them in the chase. You spread the ink on a plate or a roller. And then you crank.
McMahon was introduced to letterpress printing while studying for her master's degree in fine arts at California College of the Arts. She had come to work on her poetry. But, after taking a few letterpress classes and doing an internship at the San Francisco Center for the Book, she found her poems becoming more like sculptures than words on a page. Her powers of visualization had taken hold, and they transformed her thesis from a collection of poems to a book-art project that looks like a cross between a shadow box and a collage of vellum and fabric, with adorned poems and strings of words inside. "I fell in love with printing and spent way more time in the print shop than I did in the writing studio," McMahon recalls.
After getting her degree, McMahon went to work for Paper Source. Shortly thereafter, the company moved her to Boston. Unhappy there, she found herself driving to Vermont on the weekends to visit friends she'd made during her undergraduate study at Smith College. They had all fallen for Montpelier during spring break of their senior year. "It snowed 14 inches," McMahon remembers. "It was beautiful." In 2005, she moved to Montpelier, where she worked part time at a coffee shop and collected letterpress equipment in her house.
McMahon learned the rudiments of letterpress printing on a Vandercook proofing press. Hers was made in 1968 and used by a weekly newspaper in Somerville, Mass. The Vandercook, with its flatbed and five inking rollers, is the best tool for pressing forms with a large surface area and lots of ink, such as wood-block designs for posters. It weighs 1000 pounds and has a slow production time of 200 pieces per hour.
On the opposite end of the spectrum is the Pilot press, which uses a typical platen (a metal plate) to press the ink and paper onto the type. The Pilot is optimal for small characters and fine print. Sitting on a little table in McMahon's studio, it looks simple and miniature compared with the Vandercook.
The third press McMahon acquired — from a guru outside Springfield who stocks one floor of an old paper mill with presses, cabinets of type and paper cutters — is a 1911 Chandler and Price platen press. This is her production machine, and though it's the oldest press in her workshop, it's also the fastest. Made of cast iron and powered with a foot treadle, the Chandler looks part steam-punk contraption, part Singer sewing machine, and it can pump out 400 pieces in an hour. "It's a bit of a workout," McMahon concedes.
These presses, along with cases of type, work tables and cans of linseed-oil ink, fit inside a rectangular room at Fort Can, the name of the studio complex McMahon and an artist friend rented about 18 months ago. It was the first studio space either had occupied outside their homes.
McMahon's space isn't huge, but it's large enough to accommodate a couple of people for her one-day workshops. During a session, students design their own note cards in the morning and make miniposters in the afternoon with wood type on the Vandercook. The cost is $100, and McMahon supplies lunch. "It will either get you excited or exhausted," she says.
Most of her students are graphic designers sick of working on computers, artists who want to incorporate letterpress into their work, or DIY types who enjoy being self-sufficient on a variety of tasks. Some show up ready to make their own wedding invitations, but McMahon doesn't recommend starting with that sort of project. "There's too much pressure," she says.
McMahon's own work has been gaining popularity in Vermont. She made the coasters for Montpelier's Three Penny Taproom and the holiday cards for Darn Tough Vermont. "It was really exciting for me," she says of the latter order. "I didn't sleep for two days. There were 1250 of them, and they had to go through the press five times."
The type of paper she uses depends on her clients' tastes. Some want the "kiss" form of printing, where the ink merely touches the paper and doesn't make an impression. For that, McMahon uses recycled paper. Other clients like the relief the letters make when they're pressed into the sheet, and that result requires cotton paper, which McMahon sources from venerable papermaker Crane & Co.
Some may question the degree of creativity demanded by typesetting, a job that was once a professional trade. But McMahon's designs are simultaneously whimsical and exacting, and they embody a sense of tangible permanence in this disposable world. "The artistic part," she offers, "is about letting go and being less of a perfectionist about things."