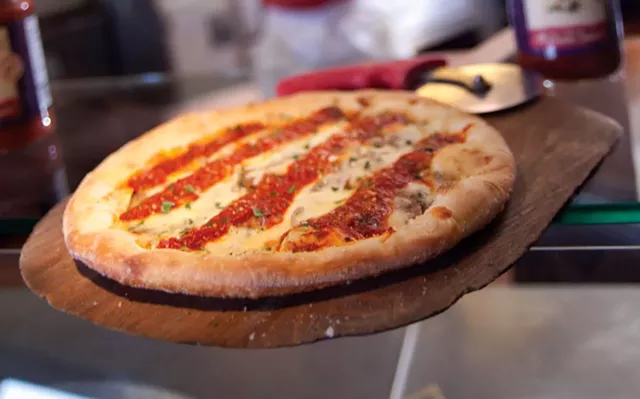 Matthew Thorsen
Mimmo's Pizzeria Restaurant
Pizza purists may claim there are no decent pies north of the Big Apple, but a visit to Domenico Spano's place will open their eyes — and their mouths.
22 S. Main St.
Champlain Islands/Northwest
St. Albans, VT
802-524-2244
Italian and Pizzeria
The Puglia native was still in his twenties when he moved to St. Albans and opened a pizzeria with five tables, a killer marinara recipe, and a menu of classic pizzas and red-sauce favorites.
Matthew Thorsen
Mimmo's Pizzeria
Eighteen years and thousands of pies later, not only is
Mimmo's Pizzeria
Restaurant still open, it's thriving — most likely because of the pizza, with its thin, chewy crust; fresh, melted mozzarella; and sweet, red-wine-seasoned marinara sauce. There are no signs of beets, goat cheese or any other hipster toppings at this traditional eatery that interprets Old Country cuisine through Italian American eyes.
Pizza seems to end up on almost every table at the always-busy Mimmo's, the kind of small-town restaurant where toddlers in highchairs play with spaghetti while their grandparents tuck into crispy, buttery garlic bread. Young or old, everyone finds something to fill up on here — from an oozing plate of baked ziti to the to-die-for lasagna pizza topped with creamy dollops of ricotta cheese and curls of fennel-laced sausage.
Matthew Thorsen
Mimmo's Pizzeria
Pizza naysayers are spoiled for choice, too, with options ranging from vinegary Italian subs bursting with salami and provolone to oversize portions of chicken Marsala smothered with mushrooms in a delightfully boozy sauce.
No one leaves that much poorer — Mimmo's prices are easy on the wallet — and almost everyone saves room for dessert. The fritter-like zeppole, dusted with powdered sugar and served by the dozen, are sinfully delicious.