Matthew Thorsen
A sculpture in the Milton Square plaza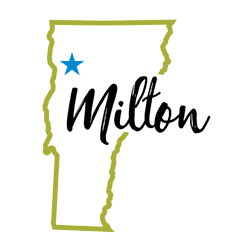 With its flat, open land, reliable infrastructure and easy access to Interstate 89, Milton has become a manufacturing hotspot, attracting companies that churn out everything from concrete to marijuana. In the past year alone, the Bove family built a new pasta sauce production facility; the petroleum transport company JP Noonan established a trucking center; and Camp Precast Concrete constructed a new plant. Champlain Valley Dispensary, one of the state's medical marijuana purveyors, set up a production and research center in a 20,000-square-foot warehouse.
They joined other companies that already call Milton home, including Mansfield Heliflight, which sells aircraft and runs a flight school, and Rennline, which makes beer tap handles for clients ranging from Fiddlehead to Anheuser-Busch.
Along Route 7 — which splits Milton east to west — the town's industrial appeal is clear. Aesthetically, though, there's much to be desired.
Residents consider the main drag to be a 2.7-mile stretch from the Milton Diner to the dam at the bottom of Arrowhead Mountain Lake. They note with displeasure the number of strip developments, space-clogging storage units and car dealerships occupying that prime real estate. Out-of-towners could easily drive through the "downtown" without realizing it.
Milton leaders are working to transform their bedroom community by planning a more cohesive, recognizable downtown that gives people a reason to get out of their cars. The facelift requires attracting a different kind of development — restaurants, breweries and clothing shops.
"It's a hidden tax on everybody in this town to have to go to another town to do that shopping," said selectboard chair Darren Adams.
Asked where the town's center is, people generally point to the Milton Square plaza, which real estate developer Ernie Pomerleau revamped in 2013. The main tenant is a bustling Hannaford supermarket, but members of the Milton Artists' Guild localized the parking lot with a towering site-specific stone sculpture.
On the other side of the Hannaford, a McDonald's serves up burgers and fries. A neighboring complex includes a Family Dollar and a Chinese buffet.
The town offices are located across Route 7, a short walk away.
"Milton is missing the historic downtown that a lot of communities have," Adams noted. "It's hard enough to start new business. It's even harder when you have to build them from the ground up."
But Adams sees an "opportunity to create a new, modern version of that classic New England downtown." Officials want to concentrate new commercial development in the downtown business-zoning district, which includes Milton Square and the town offices.
The idea of creating a more centralized downtown has been around for decades, but town officials say it is finally gaining momentum. There's some evidence to back that up, including a $2.4 million project to spruce up Route 7 and plans for a town green.
Further, the town began rewriting its zoning regs last year. The effort began in part because people were concerned that residential development was outpacing commercial. One of the goals, according to Adams, is to simplify the zoning permit process.
"If it's easier for you to build here, you are more likely to build here," reasons Adams.
Matthew Thorsen
Bove's sauce hot off the jarring line
The town also plans to hold developers to a higher standard, in an effort to improve aesthetics. The borders of the downtown business district won't change much, but what can be built within them will. For example, the revised rules would require developments to be a minimum distance from the road to encourage more green space. The maximum height for buildings would drop from five stories to four.
Such standards may deter some developers, but town officials suggest the new regs will ultimately make Milton a more appealing place to build.
"If you had $5 million to start a new business, you probably wouldn't put it on Route 7 in its current state," said Adams.
The town is investing money in an effort to beautify the strip.
Dubbed the 4D Project, which stands for Defining the Downtown from Diner to Dam, the plan is to make $2.4 million in improvements — adding sidewalks, planting trees, installing streetlights and wayfinding signs — using tax increment financing that voters approved in 2014.
Town manager Donna Barlow Casey said the work could start soon, but the town still needs to obtain easements from other property owners.
The changes could be a boon for Michele Nappi, owner of Moonlight Gifts, a "body, mind, spirit shop" that sells incense, jewelry and other products. Her store is located downtown but sees little foot traffic. "If I have four to six customers, I feel fortunate," she said. By midafternoon on a recent Tuesday, she had done less than a dollar in sales.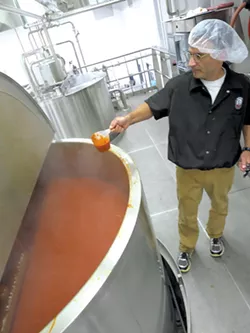 Matthew Thorsen
Mark Bove
Residents are especially excited about a separate plan to create an hourglass-shaped town green opposite the Milton Square plaza. The project also involves improving several intersections, which means federal highway money will pay for part of it. Voters have approved an $800,000 bond to cover the rest.
"I think that's a really big deal," said Bill Kaigle, a Milton artist who owns a wood sign business with his wife called Ye Olde Sign Shoppe. A park in the middle of town would help "create a sense of place," he reasoned.
Last year, Kaigle served on a citizen group that recommended changes to improve the appearance of Route 7. Many of their suggestions — which included planting trees and adding streetlights — influenced plans for the 4D Project. "It would be great to see some of them acted upon," he said.
Milton residents know that zoning changes and a few million dollars can only accomplish so much. It will likely take more money to create the kind of vibrant downtown that officials envision. And in fiscally conservative Milton, tax hikes don't play well with the public.
Don Turner is a lifelong Milton resident who represents the town in the Statehouse, where he is the Republican minority leader. He is also a realtor, a developer and the town's fire chief. He supports the effort to create a downtown core with more restaurants and small businesses — "I would to love see that kind of growth" — but he also has doubts. "You can zone it and hope that they will come," Turner said. But "the market still controls a lot." Turner has been unable to find a tenant for a 12,000-square-foot retail building he owns near the center of town on Route 7.
Others are more optimistic. "Milton needs to take some chances," Kaigle said. "I'm a firm believer that if you put investment in a community, it's gonna pay off."