Sadie Williams
Milton High School students work with Austin as teacher Courtney Reckord looks on
On a Tuesday morning last month, Courtney Reckord's high school students welcomed a new classmate: Austin. The barrel-chested mutt wagged his way into Reckord's Full STEAM Ahead class at Milton High School, greeting teenagers with wet-nosed nudges and enthusiastic prancing. Maybe Austin knew that it was his lucky day; these kids were about to make him a brace for one of his injured back legs.
As the acronym implies, Full STEAM Ahead draws on science, technology, engineering, art and math. Throughout the semester, Reckord and her students tackle projects that necessitate a holistic approach to learning — one intended to motivate students to solve problems by learning new skills. Most of the kids in the elective class are sophomores, with a smattering of juniors and seniors.
Reckord, 41, also happens to be the first educator-in-residence at Burlington's
Generator
makerspace. Along with the title comes a $500 monthly stipend, some of which goes toward supplies for Full STEAM Ahead. She also gets a work station at Generator and access to their equipment, including laser cutters, 3D printers, and woodworking and metalworking tools.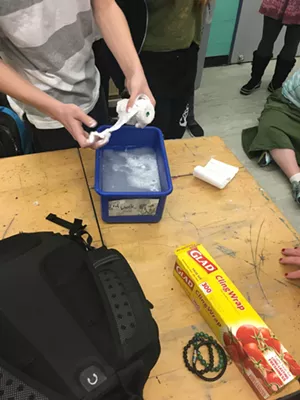 Sadie Williams
Preparing the cast
The art teacher — who moonlights making jewelry — has worked at Milton High School for eight years. And while she occasionally incorporates techie elements into her classes, this is the first one she's taught that is entirely dedicated to STEAM curriculum.
Reckord's students have already made personalized skateboards with laser-etched designs. They customized cardboard pinball machines from local company
Cardboard Teck Instantute
. Now, they're setting their minds toward making Austin a new leg brace.
Two years ago, the 7-year-old dog had anterior cruciate ligament surgery on both hind legs. His owner, Rhonda Keyt, says he struggles to get up on the couch and sometimes favors one leg over the other. When Keyt saw Reckord's post on
Front Porch Forum
looking for a dog with a disability, she responded. Reckord scheduled a visit with Austin and immediately fell in love.
Students prepared for the dog's first visit by taking a field trip to Yankee Medical in Burlington to see how braces are fitted for humans. The first step in making the brace is taking a cast of the injured leg. So when the dog arrived, the kids got down to business — after some requisite petting and exclamations of how friendly he was.
Sadie Williams
Teacher Courtney Record cuts off Austin's cast
The pup was skittish at first but soon settled down. He patiently allowed the kids to slip a stocking over one of the legs, then wrap it in plaster-covered gauze, which would harden into the shape of his limb.
After letting the cast set, Reckord snipped it off with scissors. Austin jumped to his feet and resumed running around the room, wagging his tail.
One student tenderly wiped excess plaster off the dog's leg. Then, the kids said their goodbyes to Austin with affectionate head pats.
Over the next few weeks, they'll be researching and prototyping the brace. "They are using the plaster cast as the negative," Reckord explains. "They will then create a plaster 'positive' that is close to the shape of the leg. They will use that to form the brace, in order to get it close to fitting. Then we will make minor tweaks to get it to fit better."
Austin will come back in late March to try on the contraption and see if it helps him.
Reckford isn't sure how it will all unfold. "It can be scary doing projects like this," she acknowledges, "because sometimes they don't work out." The kids might have to learn other skills, like 3D modeling, to make a hinge for Austin's brace.
You can't be attached to the outcome, Reckford says. The benefits are in what students learn along the way.