Hannah Palmer Egan
Chocolate-vanilla-twist creemee at the Milton Diner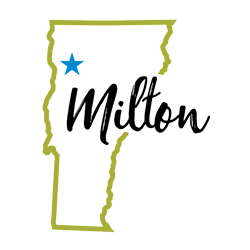 From the side of Route 7, the Milton Diner promises ice cream, fried snacks and a shaded patio in brown clapboard siding. I approach the entry and glance at the menu overhead. Fried cauliflower sounds good, but not as much as something cold. Maybe a blueberry sundae special, which the teen behind the counter describes as your basic ice cream, whipped cream, nuts-and-cherry deal, plus blueberries.
Tempting, but I go for a kiddie-size chocolate-vanilla-twist creemee instead. Cooling, smooth and sweet, the cone is a bargain at $1.53. I head to the back porch, settle into a chair and get to licking.
I'm in Milton to survey the food scene — part of the package of Milton stories in this issue. What do people eat here, just 20 minutes from Burlington's farm-to-table and ethnic restaurants?
Inside the diner, two elderly couples snack on fried something-or-other. Young mothers with kids in tow eat ice cream. But in the sweltering mid-afternoon lull, I'm alone on the deck.
I pull out my phone. Maybe Pokémon are hiding here.
The game takes a moment to load but opens with a quick vibration: A Pidgey has perched on my creemee! It flaps its wings and shoots me a look. I catch it on the third shot, drop the phone and swoop in to save my ice cream, which is losing a battle with heat and gravity.
I'd heard there's a new barbecue joint in town, Roaster's BBQ. If it's open (the owners haven't set a normal schedule yet, though they're reliably open on Fridays and Saturdays from 11:30 until the meat is gone), and if you get there early (it sells out daily), you may even get some 'cue. Which, I'm told, is good. Really good.
It's on my list, but my next stop is Milton Beverage Warehouse, just down the road. Once inside, I scoop up some dank IPAs from Burlington Beer, 14th Star Brewing and Zero Gravity Craft Brewery. I pause at the grill. Should I order a Michigan? With fries, it's only $6.99. But the nice twentysomething clerk at the register draws me in with a warm "hello" smile, so I pay and get on outa there.
Heading toward town on Route 7, I note the chromatic glow of the Dam Diner — the name references Clarks Falls Dam, a local landmark. After the Apollo Diner ended operations there in 2014, the space sat vacant for about a year until the Handy family — which owns other Chittenden County food businesses including the South Burlington IHOP — presumably saw potential in the well-traveled location, and perhaps in Milton as a community seemingly on the cusp of development.
Initially they painted the walls inside and renamed the place Rowan's. When the business failed to meet expectations, the Handys closed for a few months, repainted (this time mimicking the Apollo's original mid-century teal color scheme), and rechristened it the Dam Diner.
But it's too hot to sit for lunch, so I pull up to Madeleines Bakery across the parking lot. Inside, a glass case holds cupcakes, cakes and doughnuts, cream puffs, éclairs, and other treats. I order a Boston cream doughnut and shortbread cookies stuffed with blueberry jelly. Also a flaky puff pastry stick filled with silky, sweet buttercream, which I eat immediately.
A mile or so down the road, a sign reads, "THE DAM FOOD TRUCK, NOW OPEN." I veer onto Middle Road, toward a dance studio and used electronics shop. No food truck. I turn around and pass a Dollar General, a Domino's Pizza and an old recliner set out by the side of the road. At the Middle Road Market and liquor store, I stop in and ask the young gals at the register, "Do you know where the Dam Food Truck is?"
They direct me back to the dance studio.
"Is it any good?" I ask.
Two of the girls shrug — they haven't been — but a third one offers, "If it's the one that used to park at the trailer park, then it's OK."
I go back, but the truck apparently has left for the day. So I wander into the electronics shop, where a sign on the window says "VINYL," hoping to score a gem or two. The selection is mostly old country albums, and I buy five for $3 apiece.
"What if I could make a living selling records in Milton?" the owner wonders aloud, noting that he only recently got into the used vinyl business. We agree that would be rad, if unlikely — but you never know.
Continuing north on Route 7, I spot Duke's Creemees, which looks like a daycare center. It's swarming with young 'uns and a few grown-ups.
Hannah Palmer Egan
Randy's Lunch Box and creemee stand
In a parking lot next to the Milton Grange, two red trailers bake in the sun, each with awnings to shade the order window. Under a waving American flag and an "Open" banner, the sign for Randy's Lunch Box advertises hand-cut fries. Good enough reason to pull in.
"You Randy?" I ask the man in the window.
"Nope," he says. "I just work here." He tells me his name is Robbie Griswold.
I order a Michigan — here called the "Vermont Dog," since it seems like a local specialty. While I wait, I check for Pokémon. The Grange is a Poké Stop — I stock up on supplies, including several Pokémon-catching Poké Balls — but find no Pokémon.
Griswold calls out my order. I add mustard, relish and ketchup, then head for a picnic table. My phone vibrates, indicating a Pokémon in range. I look down and spin around to find it, pouring my hot dog — or mostly its mustard and meat sauce — all over my skirt, legs and feet.
Not. Winning.
Griswold — and Larry Leggett, Randy's dad — watch from the grill. I look up, feeling very uncool, and ask if they can please redo my order, assuring them I'll pay again.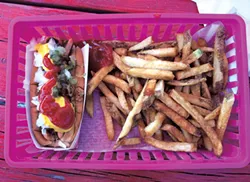 Hannah Palmer Egan
Vermont Dog and fries at Randy's
Leggett is already dropping more fries into the grease. They won't let me pay again, and they send me inside to clean up in the grange bathroom.
Thank goodness for the kindness of strangers — and for hot dogs in griddled buns, smothered in meat sauce. And for pristine salted potatoes, fried to a deep amber crisp.
"Did you get my creemee truck?" Leggett calls as he notices me snapping images of my meal. Randy's began serving creemees a few weeks back, he says, adding that it's been "slow." He thinks that's because Duke's has 100 flavors.
"How many flavors do you have?" I ask.
"Just three," Leggett says. "Chocolate, vanilla and twist. And sprinkles."
I resist the urge to order more ice cream. "Have you been to the new barbecue spot?" I ask the men.
"I've heard good things," Griswold says. "But when they're open, I'm here." It's at the bottom of the hill, he explains, if I want to check it out.
Roaster's isn't open, but I stop anyway and peer in the windows.
A chalkboard menu offers chicken and biscuit for $4.95; sandwiches of pulled pork or chicken, brisket and ribs ($7.50 to $9.50); and fresh corn on the cob for $1. Someone steps out from the kitchen and waves.
I wave back, making a face that I hope reads, I know you're closed and don't mind me, just looking — but he opens the door.
I learn he's Phil Gueniot, the chef. He was at the Parkway Diner in South Burlington before this. I take this as great news, because the Parkway makes great diner food, with local ingredients and all from scratch.
Gueniot says how crazy-busy it's been at Roaster's — he's burning through 150 pounds each of mac and cheese and coleslaw every two days, plus 35 gallons of barbecue sauce. And he makes it all by hand.
Roaster's owner Trevor Leroux rolls up in a pickup truck. He smokes the meat — hundreds of pounds of it each week. "It doesn't matter how much I make," he says. "It goes." He admits he's feeling "wiped out."
Originally, Leroux got his pigs from a friend — until he'd bought every last pig on the farm. "He can't grow 'em fast enough," Leroux says. Then he notices my notebook. "If you're going to write something, you need to give credit where credit is due. This isn't just me," he says. "If it was just me, there's no way this would have happened."
Bill Riley, he continues, owns the building, and leased it to him rent-free between October and June, when he opened. "And John Mason did the refrigerators, and Dean Rock did my oven, and Todd Bushey did the gas lines."
Friends at Catamount Plumbing & Heating helped, too, and Mike Myers did the electrical work. Josh Cutler at Cutler Custom Cycle Fabrication built the extra smokers. None of these workers charged for their labor, only materials. "They're just working for food," Leroux finishes, crossing his thick carpenter's arms.
Dishwasher Larry Whitney — another old friend — "is washing dishes at the same sink he was washing dishes on when he was a kid," Leroux adds. Back then the place was known as Village Roost Pizza.
Leroux won't let me leave before I try the food, and warms up a serving of stewy chicken and biscuit (like an inside-out pot pie), which he serves along with a scoop of excellent potato salad. He also includes slabs of smoked Jack cheese, iced tea and a beautiful slice of raspberry pie, which another friend's wife baked with berries from their property.
Though the restaurant is closed, I leave stuffed — and ready for a beer, since it's about 5 p.m.
The parking lot at the North Country Saloon is teeming with pickups, Harley-Davidsons and beat-up 1990s sedans. Bikes in a bar parking lot are always a good sign.
Inside, it's burger night. Five dollars scores a hefty Milton Burger with cheese, lettuce and tomato. "They're huge," a waitress tells me, waiting by the kitchen doors for an order. "And they're yummy. I get them way too often."
I order wings and a Fiddlehead IPA from the lanky bartender, who is self-effacing and has an easy, nerdy laugh. "You want the boneless ones or the bone-in?"
"Ooh, gimme the bone-in," I say, and we both giggle.
"I used to ask if people wanted them bone-in, bone-out, but that got..."
"Ha," I say. Of course it did.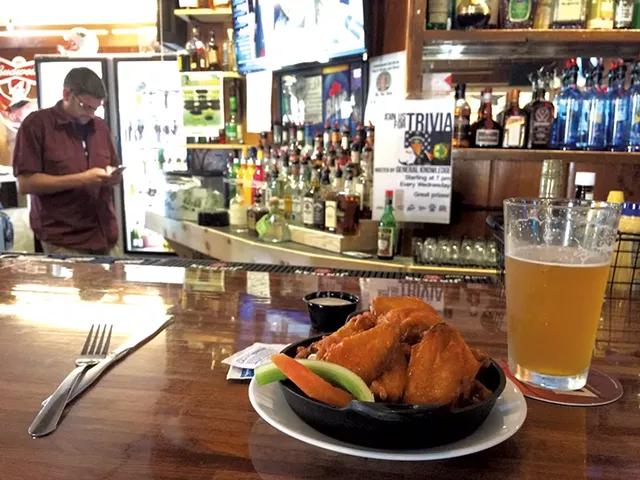 Hannah Palmer Egan
Wings at the North Country Saloon
The beer is fresh, the wings crisp and slicked with orange Buffalo sauce. As regulars shuffle in, the bartender comments on new haircuts and confirms usual drink orders. In the blue glow of a twirling Labatt sign, patrons sip Bud Light or Captain-and-ginger or pinot grigio in sweating glasses.
Picnic tables out front sit vacant in the hazy summer heat.
By 6:30, the bar is full; several families have gathered in booths and around tables in the dining room. Most order the $5 burger.
Two guys at the end of the bar are talking about the new barbecue joint — they haven't gotten any meat yet, either.
One rubs off a scratch ticket: "I was feeling lucky," he says, "and I didn't get nothing." The conversation meanders to mud bogging or four-wheeling or something off-road ... I can't quite make out what.
No Pokémon are hiding at the saloon — Milton is clearly not much of a Pokémon hotspot. But throughout this town, the pleasant faces and cozy, casual chatter — along with solid, everyday fare — are distraction enough.