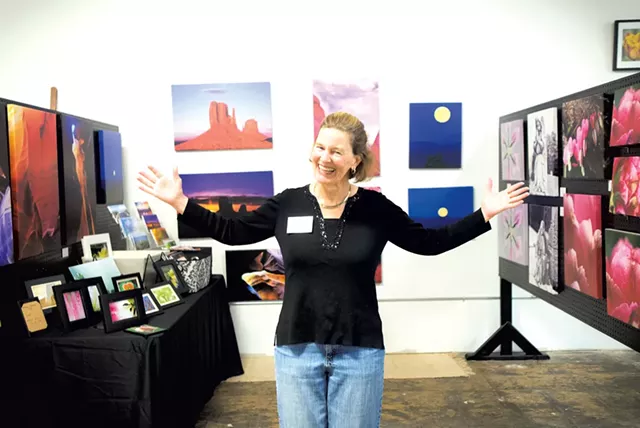 Timothy Santimore
Trine Wilson, a member of the Milton Artists' Guild, standing in her gallery booth
In 1988, Milton-area artists Lorinda Henry, Lorraine Manley and Kathleen Redman founded the Milton Artists' Guild. Almost 30 years later, the northwestern Vermont nonprofit celebrates its first-ever semipermanent home, taking up residence for one year in a 6,270-square-foot commercial space. On Saturday, May 6, Gov. Phil Scott will do the ribbon-cutting honors at a grand-opening ceremony.
Officially called the Milton Artists' Guild Art Center & Gallery, the substantial space inside the town's former Hannaford grocery store was gifted to MAG for temporary use by Burlington real estate broker Ernie Pomerleau. It has been vacant since 2013, when he managed the development of the town's new Hannaford Square.
Pomerleau first established a relationship with the guild that same year, after soliciting submissions for public artworks to be installed at the new grocery and shopping plaza. One of the two works ultimately commissioned was the monumental "Unity" sculpture by Gisela Alpert, a Milton artist who has been president of MAG since 2010.
"It's been one of our longest dreams to have an art center for MAG," Alpert told Seven Days by phone. One of her early acts as president was to help the organization obtain nonprofit status; MAG became a 501(c)(3) in March 2011.
"Since then, we have consistently grown," Alpert said. "At that time, we were at 25 members, and now we [have] about 90 members." And they don't just come from Milton, Alpert noted, but also from towns such as Charlotte, Hinesburg, Fairfax and Swanton.
The guild's growth in membership has paralleled concerted city efforts to revitalize the downtown and make it more welcoming to residents and visitors alike. Alpert said she "took a chance" by asking Pomerleau about the unused space. He agreed to lease it to the arts organization for one year free of charge. "It was quite astonishing that he was so generous," Alpert said.
Until now, MAG has held its meetings at the Milton Public Library or the Milton Community Room. Alpert sees the new headquarters as "a new opportunity to grow even bigger than we are." She added, "We're getting a lot of new members weekly — it's very exciting for us."
Among the uses planned for the center are exhibitions of member artwork to rotate on a quarterly basis, rental of six 10-by-10-foot artist studios to members at $100 each, and rentals for small community events such as "paint and sips."
Alpert was unable to comment on MAG's future plans — or arrangements with Pomerleau — for after the lease expires in March 2018. "Basically, this is a trial year for us," she said. "We're going to work as hard as we possibly can ... [and] see if the art community and the surrounding communities really want this, if there's a need for this."