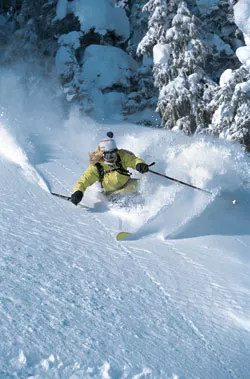 Tuna casseroles were once welcome currency for Warren Miller, who was so broke in the late 1940s that he'd happily accept dinner — and eventually $1 a seat — as payment for showing his joke-filled ski films.
Some 60 years later, Miller's a millionaire, his moviemaking pastime has become a large corporation, and $1 won't even get you a beer at the Flynn Center, where his 59th film, Children of Winter, is scheduled to screen this Saturday and Sunday. But after six decades, Miller's winning formula of awe-inspiring stunts and comic relief (plus, this year, music from Radiohead, Beck and Michael Franti & Spearhead) still works.
And something about the snow in the air and being this close to ski resorts and the Green Mountain backcountry is likely to get Burlington audiences especially excited when the Miller movie stops here on its tour of 240 American cities as a limited release. This year, the Okemo, Vermont, area stars in the fabled fall-tradition film alongside those of Alaska, Austria, Japan, British Columbia and Iceland. In the Vermont segment, members from the Dave Matthews Band, N.E.R.D., Guster and The Barenaked Ladies form the group Yukon Kornelius and romp through the snow with Ross Powers and actor Jason Biggs.
On the eve of Miller mania, Seven Days dialed up two of his "children." Lynsey Dyer, 25, is a champion free-skier who stars in the Crested Butte, Colorado, segment of Children, her fourth Warren Miller film. Jonny Moseley, 33, is an Olympic gold medalist who narrates Children of Winter; he also appears in segments on Colorado and Japan.
SEVEN DAYS: How did you first get involved with Warren Miller films?
LYNSEY DYER: I just got the call one day. I jumped around for a long time! It's definitely been a dream since I was little. I grew up in Sun Valley, Idaho, so that's Warren Miller's roots. I went to his films every year with my family, to the Sun Valley Opera House. It had a huge impact on me. It made me feel really grown up, because it was so rowdy, with people sneaking in beer and being obnoxious and loud. I'd be five or six years old and feel like I was in the middle of some concert with the big kids. It brought my whole town together. And I always wanted to be part of something that inspires people to come together.
SD: So what was it like to be in your first Warren Miller film after growing up watching them?
LD: It's a lot of work. Since it's so scheduled, you never know what kind of conditions you're going to get, so, whatever it is, it's your job to make it look good. That's why they call us professionals. Regardless of how dangerous it is, we've got to make it look awesome. And fun. We're out there from five in the morning until eight at night, pretty much every day we're filming. It's never been easy, except for this last year in Crested Butte; we were so lucky, we got the best conditions they've had all season. It was the kind of snow you dream about for a segment.
SD: How many days does it take to film a segment?
LD: It always depends on weather and whatnot. The segment I did two years ago, at Big Sky [Montana], that took three weeks, and we had to come back three different times to get all that. It's all about the weather.
SD: How does everybody get along when you're out there for so many hours?
LD: Those cinematographers carrying around that gear are oftentimes tougher than us skiers, because they're the ones standing there and freezing. To get that far, you'd better be used to working hard. Those kids that get to do the park shoots have no idea what it's like to have to make it happen in the backcountry, because things are so much more up to chance.
SD: Did you ever have to do something that scared you for filming?
LD: I had to learn the hard way. The first year, while filming for another company [Teton Gravity Research, or TGR], I blew out my knee. I woke up that day feeling that things just weren't right, and I didn't listen to my body. I could even hear it in the wind that we shouldn't be out there. The lesson I took was, you gotta get over the ego and the Kodak courage. All you have is your body, and if you don't respect that, you have nothing.
SD: How would you explain the difference between Warren Miller and TGR or other ski-film companies?
LD: What I love about Warren Miller is the reach. It's always been a dream of mine to show little girls what they're capable of. I love the fact that families come to Warren Miller shows. But it's all the same — you're skiing and trying to get the best shots and trying to push yourself; I landed my first front flip for Warren Miller this year.
SD: Jonny, you've been to a few Warren Miller screenings so far this year. Have you seen differences among the areas you've been to, and the crowds?
JONNY MOSELEY: Yeah, there tend to be pretty rowdy crowds everywhere. The closer you get to snow, though, the more rowdy things tend to get. The Crested Butte crowd was really rowdy. I guess it helped that there was a table set up with the bar actually in the theater. In general, when you go to a ski town this time of year, people are pretty fired up.
SD: Did you have any ritual watching of Warren Miller growing up?
JM: I did, and I actually brought my buddy this time to the show, because I always used to go with his family; they were diehard attendees. We'd go out and film each other and made little movies when we were kids, and he actually went into cinematography partly because of Warren Miller films. We both wanted to be in the films so bad, but we never thought it was reality. It was funny to go with him and be the narrator — that was kind of a trip. We would never have called that one.
SD: Yeah, so what was it like narrating?
JM: It's a little nervewracking being in the theater while you're narrating, and I tend to pretend that it's somebody else narrating; I enjoy the movie much more that way, because I'm hypercritical. I was OK with it. I'm coming along. But it's impossible to replace Warren Miller; even I want to hear his voice in there.
SD: How have Warren Miller films changed over the last decade or so?
JM: They still overall are about trying to get people fired up for the season and showing all the new styles of skiing and snowboarding and the mountain lifestyle. What's changed now is, there's much more in every category, from snowboarding to free skiing to park and pipe to moguls, powder, travel, adventure, high alpine touring. Now it's really a collective of all the best people in the industry.
SD: How did the narration process go, and when did it start?
JM: I read the first run-through probably in July; I start looking at the script, and we start making changes and reading through it and testing it out, and I lay it down word for word so the editors can start playing with it and see how it sounds over certain parts. It takes me about four different voiceover sessions.
SD: Your son is now about 14 months. Does he watch Warren Miller yet?
JM: I've been trying to get him to watch me on TV a little bit, but he's just not interested.