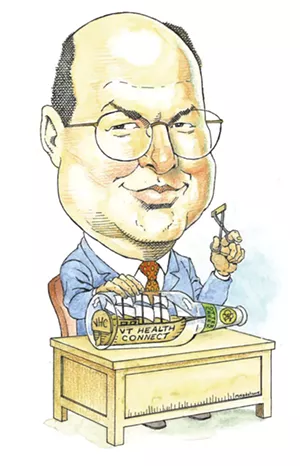 Marc Nadel
Lawrence MIller
Lawrence Miller looked on attentively last Thursday as his fiancée, Helen Labun Jordan, described the English delicacies gracing their kitchen table, from Bedfordshire clanger to the exotically named bubble and squeak.
"It sounds more interesting than it is, right?" Labun Jordan said of the starchy mush. "It's like hash."
Crowded around the table in their cramped Montpelier kitchen were nearly 20 friends, colleagues and perfect strangers, ready to fill their plates and refill their glasses. It was a typical Thursday night at the little white house in the Meadow neighborhood, where for the past three years the pair has hosted a weekly dinner for all comers.
"No RSVP," the emailed invitation advises. "Bring along anyone you find fun and interesting."
The dinners began a year after Gov. Peter Shumlin appointed Miller secretary of commerce in January 2011. The Ripton resident had moved to Montpelier and was looking to establish a new life in the capital city. So he and Labun Jordan — a writer and events planner — threw a potluck dinner and invited everyone they knew.
"You gotta have a life," the 48-year-old father of two explained later in the evening as he leaned against the stove, brewing coffee in a French press.
Over the years, the dinners have grown more elaborate: Recent regional themes have ranged from Korean to Caribbean to last week's more pedestrian British fare. At the same time, Miller's role in the Shumlin administration has grown more demanding. At first he split cooking duties with Labun Jordan, but these days he's limited to the occasional crockpot dish, prepared well before he heads to work on the fifth floor of the Pavilion State Office Building.
"I make a good feijoada," said Miller, dressed casually in an unbuttoned blue flannel. Short in stature and in hair follicles, he bears a passing resemblance to Seinfeld buddy George Costanza. "No, 'amazing' is a better word for that," said Labun Jordan, who was barefoot and wore a Hen of the Wood T-shirt.
"I have a solid feijoada," he conceded.
If anything, Miller's formal titles — he is now both senior adviser to Shumlin and chief of health care reform — understate his influence in Vermont state government. He has become the administration's Mr. Fix-It, assigned to solve its most politically sensitive problems, from reorganizing the mismanaged Vermont Health Connect to plotting a path for Shumlin's single-payer-style health care reforms.
These days, as the governor works to convince a skeptical legislature to impose a 0.7 percent payroll tax in order to better compensate Medicaid providers, it's Miller who is responsible for making the sale.
"Lawrence doesn't let his ego get in the way," says former secretary of administration Jeb Spaulding. "He's willing to take on some tough assignments that really don't benefit him personally in any way."
Now that Spaulding has left the administration to lead the Vermont State Colleges, only Shumlin chief of staff Liz Miller commands as much authority as Lawrence Miller.
"I was told when he came on board that when Lawrence Miller speaks, he speaks for the governor," says Doug Racine, who was ousted as secretary of human services last August, eight months after Miller took charge of Vermont Health Connect.
Miller's record is far from perfect. The health insurance exchange still lacks certain core functionalities, such as the ability to automatically process changes in account information. Single-payer died last December after Shumlin determined it wasn't fiscally feasible. And nearly nobody in the legislature has embraced the governor's proposed payroll tax.
But unlike Racine and departing Department of Vermont Health Access commissioner Mark Larson, the Teflon-coated Miller has — at least, for now — dodged political blame.
Last week, state Auditor Doug Hoffer released a damning report on the billing practices of controversial health economist Jonathan Gruber, who signed a $400,000 contract with the administration last year. Two days later, Vermonters for Health Care Freedom founder Darcie Johnston called on Shumlin to fire health care adviser Robin Lunge over the episode. Seemingly as an afterthought, Johnston also called for Miller's head, accusing him of wasting millions in public dollars.
But in an interview two days later, the perennial critic struggled to find fault with Miller.
"I think Lawrence Miller is doing the best he can in a very bad situation," Johnston said. "You know, it's a very difficult situation to be a mop-up guy when a whole lot of residue is being left behind."
Miller's engaging personal style has surely contributed to his political success. Unlike Shumlin's other top staffers — mostly buttoned-up introverts who prefer to stay out of the public view — Miller is equally comfortable in a board room, in a legislative committee and in the kitchen.
His and Labun Jordan's dinners are not overtly political affairs. Miller calls them a "creative outlet," a celebration of food and a means of leaving behind the day-to-day stresses of the job.
At last week's dinner, conversations veered from the Adamant Black Fly Festival to the new season of Netflix's "House of Cards" to recipes for Oaxacan mole. Writers, lawyers and nonprofit do-gooders mingled with Labun Jordan's parents in the cozy living room, which features mismatched furniture and a folded-up exercise bike.
Of course, it wouldn't be a party in Montpelier without a contract lobbyist — in this case, Kevin Ellis of the firm Ellis Mills — and a state legislator — Rep. Tom Stevens (D-Waterbury) — in attendance.
"It's not like you're in Paris, but it's as close as Montpelier comes to a salon where you can meet new and interesting people, generally who know nothing about you," Ellis says. "You'll see government officials there sometimes who are very powerful, but they're somewhat out of their element, so they become sort of shy and sit in the corner."
Miller himself would never be described as shy and retiring.
His frank assessments of Vermont Health Connect's woes have conferred on him a credibility lacking in his predecessors and even in his own boss, who at first downplayed the exchange's problems.
"He hasn't been sugarcoating it," Racine says. "You don't hear any 'nothing-burger' comments out of Lawrence Miller."
Since moving from the Agency of Commerce to the governor's office last summer, Miller has toned down his salty language: He once called himself a "beer slut" in an interview with Seven Days and used to pepper his responses with expletives. But even in his self-censored reincarnation, Miller remains the kind of guy most Vermonters would enjoy getting a beer with.
That makes sense, given his professional pedigree. Long before he joined state government, Miller was what Vermont Brewers Association executive director Kurt Staudter refers to as "a founding father" of the craft beer industry.
Born in Ann Arbor, Mich., in 1966 and raised near Princeton, N.J., Miller fell in with the microbrew crowd soon after skipping his senior year of high school to enroll at Reed College. He arrived in Portland, Ore., as the pioneering Widmer Brothers Brewing and BridgePort Brewing Company were getting off the ground, and he was soon designated Reed's so-called "beer czar." The job entailed keeping a keg filled on the front lawn for students and faculty to enjoy.
The psych major — he focused on neuropsychology and psychopharmacology — "got to know a lot of the people in the business" and started dabbling in home brewing.
"I already liked cooking," he says. "It seemed to be a creative outlet that I could wrap my brain around. The results were different from anything you could buy in the store."
After making the rounds in the beer halls of Europe, Miller landed in Vermont in 1989 and set about founding Otter Creek Brewing. He bought a 10-barrel brewhouse from Widmer, set it up in a business incubator in Middlebury and shipped his first keg of Copper Ale to the Vermont Pub & Brewery in March 1991.
"He took it from nothing to something," says Baker Distributing CEO David Baker, whose company signed on to deliver Miller's beer from the start.
"It was all seat of the pants," Miller says. "I didn't know enough to be afraid."
Within a decade, Otter Creek was brewing 25,000 barrels a year, but Miller was finding himself out of state 100 days a year. Soon after getting stranded in Las Vegas during the attacks of September 11, 2001, Miller decided to sell the company.
"That whole thing sort of changed people's perspectives," he says.
Miller spent the next decade advising other up-and-coming businesses. In 2007, one of them, Danforth Pewter, unexpectedly lost its new boss.
"I was the only guy at the board table without a real job, so they asked me to come in as CEO to stabilize things," Miller says. "Three months turned into three years."
Soon after Shumlin won the governorship in November 2010, Spaulding and transition cochair Liz Bankowski asked Miller to meet with the governor-elect.
"I assumed we'd be talking about the oversight panel and perspectives and stuff. It quickly became clear it was more like a job interview," Miller says, claiming he didn't think he was "remotely qualified" to become secretary of commerce.
Shumlin, he says, "made a really compelling case and was bringing together some pretty neat people."
"I'd hire Shumlin as a salesman in a heartbeat," Miller says.
Three years later, in January 2014, the governor sold him on another job: to restore order at Vermont Health Connect, whose troubled launch three months earlier was already threatening Shumlin's dream of building a universal health care system.
Miller is the first to concede that he possesses no specific training to tackle one of the thorniest issues in public policy. "I'm a generalist," he says. "There's nothing about brewing chemistry that's remotely useful in this job."
But according to Health Commissioner Harry Chen, who served as interim human services secretary last fall after Racine was fired, Miller brings other skills to the table. "I don't think I've met many people who have his combination of intellect and political savvy and management acumen," Chen says.
Precisely what Miller's job is has always been tough to pin down.
"I have one of those strange jobs where I actually have no direct employees and no budget," he says.
When Shumlin first deployed him to Vermont Health Connect's Winooski offices, Miller remained commerce secretary. Last June, he surrendered that post and moved to the governor's office. In September, after security concerns prompted the state to pull Vermont Health Connect offline — just two months before Election Day — Miller took operational control once more. In January, he turned it over to Chen.
"His roles seem to change every three months," Racine says. "I can't tell you what all the title changes have been, but what I think it shows is the governor and Liz Miller, his chief of staff, have confidence in him."
Whether that confidence is well placed is another matter, the ex-secretary says.
"What I thought he was really good at was defining what the problems were," Racine says. But I think the jury's still out on whether he's able to produce results."
Miller's biggest test came last fall, as the administration prepared a proposal to finance single-payer. In a September interview with Seven Days, Miller previewed the possibility that the numbers wouldn't add up.
"I have no doubt that if the economic modeling we get suggests a negative impact for Vermont, I think [Shumlin] would definitely sooner make a different decision than trash the economy," Miller said at the time. "You're dealing with somebody who can make those decisions."
Sure enough, Shumlin did.
In December, the governor announced to a stunned political establishment that he would not move forward with the proposal he had campaigned on for the previous five years.
"It was personally tremendously disappointing — just crushing," Miller says. "Maybe the best comparison is, you know, putting down a pet."
But, he argues, "The facts matter. The transition risk was massive. If you could fast-forward eight years, it would be a no-brainer ... But the dislocation was significant."
Like his boss, Miller has turned his attention to more incremental health care reforms. But even the administration's comparatively modest plan to bolster payments to Medicaid providers has met with steep resistance in the Statehouse.
"I continue to hear legislators very concerned about voting for a payroll tax, and we'll be happy to explore any alternatives people want to bring forward," Miller says. "But, so far, nobody's brought forward anything specific."
Even as he immerses himself in health policy, Miller says he strives to remain available to aspiring entrepreneurs, as he was for WhistlePig Rye Whiskey founder Raj Bhakta.
"Lawrence gets business," says Bhakta, who sought out Miller's advice when he launched his distillery in 2007 and again when Bhakta was struggling to obtain an Act 250 permit. "He understands the challenges of being an entrepreneur."
Thursday night dinners are an opportunity, Miller says, to extend what he calls his "15 years of talking to people who want to start stuff." Strangers arrive at his home in search of advice — or sometimes just an introduction. Often, they come back the next week.
"Some of the regulars we only know because they showed up to Thursday dinner," Labun Jordan says.
Rachel Stevens is one of them. When she moved to Montpelier last summer to start a fellowship with Vermont Law School's Environmental and Natural Resources Law Clinic, a mutual friend took her to dinner at the Miller-Labun Jordan abode. "It was nice to come and just meet people," Stevens says.
She's been coming back ever since.