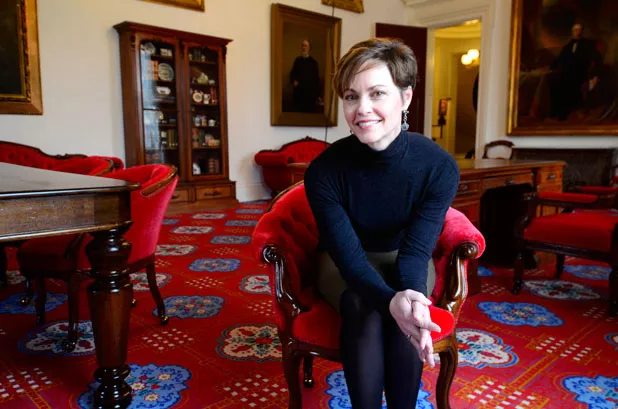 Jeb Wallace-Brodeur
Liz Miller at the Statehouse in Montpelier
Gov. Peter Shumlin had some explaining to do last spring, when he came under fire for his position on a controversial utility merger. So he dispatched his energy adviser — the head of the Department of Public Service — to make his case before the big guns in the Vermont Senate.
Liz Miller not only survived the organized offensive; she fought back assertively and one of her staffers collided with an eager TV news crew as they followed her out of the Senate chamber.
More political combat awaits the 42-year-old lawyer, whom friends and colleagues describe as a quick study and good communicator. Come January, Miller will become Shumlin's chief of staff, the powerful, behind-the-scenes operator responsible for implementing the governor's agenda across all parts of state government.
Her predecessor, Bill Lofy, is leaving for a job with the Democratic Governors Association, to which Shumlin was recently elected chairman. With Shumlin expected to spend more time out of state on DGA business — he leaves for a conference in Rome this Friday — it will be Miller's job, with assistance from Secretary of Administration Jeb Spaulding, to steer the governor's ambitious to-do list.
That includes figuring out how to fund universal health care for Vermont and plugging a $50 million budget gap without raising taxes. A host of other issues — doctor-assisted suicide, marijuana decriminalization, driver's licenses for undocumented immigrants — will be competing for the governor's attention.
At a postelection press conference announcing Miller's appointment, Shumlin said she was the right person for the job. "Liz brings to the job her extraordinary intelligence, her commitment to Vermont and her ability to take complex challenges, synthesize them into short sentences and get them done."
He should know. Two years ago, Shumlin appointed Miller to head the Department of Public Service, the regulatory agency responsible for developing Vermont's energy policy and representing ratepayers in energy and telecom cases.
In that role, Miller proved "she's all business but she can do it with a smile on her face," says Montpelier lobbyist Kevin Ellis.
As chief of staff, Miller will lead a dozen employees in the governor's office who deal with legislative policy, external communication and scheduling. Ellis says Miller has the mental toughness she'll need to be the governor's "gatekeeper" — deciding who gets to see him and for how long. She'll earn $121,700 a year — up from the $101,046 annual salary she made in the DPS.
"She's the protector of the brand. The protector of the message, to make sure the governor's message is aligned with policy," Ellis says. "And if anything goes wrong, it's her fault."
The biggest challenge is likely to be health care. The Shumlin-appointed Green Mountain Care Board is slated to release its financing plan for the governor's health reforms next year, and Miller acknowledges it's a complicated plan that could present "a public message problem."
"I think there's a lot of support in Vermont for improving the health care system," Miller said over coffee last week in Burlington. "The challenge is making sure Vermonters know what we're doing and why and feel they have a voice in the process."
It will be Miller's job to move the big priorities forward amid the distractions that inevitably slow the momentum of any administration. She noted, "You can't let the day-to-day crises override or eclipse the long-term policies. It would be possible to get derailed if you didn't keep that long-term view."
Miller faced one such crisis last year as Shumlin's point person on Green Mountain Power's merger with Central Vermont Public Service. The public service commissioner faced pointed, personal questions over her involvement with the merger because her husband, Burlington lawyer Eric Miller, was a partner at the law firm representing GMP.
Though her husband did not personally represent GMP in any cases, some believed Liz Miller had a conflict of interest. State Sen. Vince Illuzzi (R-Essex/Orleans) sparked a feud with Shumlin, his longtime ally, when he asked the Public Service Board to replace Miller with a special counsel to represent ratepayers in the merger proceedings.
But Illuzzi backed off his public criticism after Miller appointed a former utility regulator to handle the aspect of the merger that most interested the senator: who would get control of Vermont's transmission grid. It was smart politics, and, today, Illuzzi is highly complimentary of his former adversary.
"She knew the legal issues," the retiring lawmaker says, adding that he encouraged Shumlin to appoint Miller as chief of staff. "She was, or became, sensitive to the political side of the equation."
Miller and her husband have been active in Democratic politics for years; they've hosted fundraisers for Congressman Peter Welch, Burlington Mayor Miro Weinberger and Shumlin. But when asked what turned her on to politics, Miller answered, "I'm not so much interested in politics as government. Honestly. For real."
A California native, Miller was raised in Yorba Linda — "the home of Richard Nixon," she noted — and in the East Bay area. Her father was an Army veteran who started a commercial real-estate firm in Orange County. Her mother was a waitress and secretary and later got her real-estate license.
Miller majored in classics at UCLA and decided to pursue law school after a formative experience working for an entertainment attorney. "I would run to Disney studios to drop off contracts, or talk to David Lynch's people about how to license music," she recalled.
At Yale Law School, Miller participated in the prosecutor's law clinic, in which student lawyers run prosecutions at the local courthouse. That was in the early '90s, during the height of the New Haven crack wars, and Miller said the symbolism of a "white woman from California" prosecuting criminal cases in a multicultural city was not lost on her.
At Yale, Miller met her husband, and after graduating in 1995, the couple moved to Vermont, where she clerked for federal appeals court judge James Oakes.
That was followed by a stint at the San Francisco law firm Morrison Foerster, a giant practice for which Miller worked on what she calls the "craziest case I ever heard about." Larry Hillblom, the billionaire cofounder of shipping company DHL Worldwide Express, was killed in a plane crash over the South Pacific in 1995. Hillblom's will did not include a disinheritance clause and after his death, numerous South Asian children came forward to claim he was their father, demanding their share of the inheritance.
Miller's firm represented Hillblom's estate and deployed her to Saipan to open an office and sort out the competing paternity claims. She might have stayed out West, but Miller said she was drawn back to Vermont in search of a place where "you weren't just a number in a city, but you could actually affect things."
The Millers moved to Burlington, where Liz landed a job at the Burlington law firm Dinse Knapp McAndrew. She and one of the firm's partners, James Spink, eventually left to launch their own commercial litigation practice.
"I'm not exaggerating; she is probably the smartest person I've ever met," says Spink. "You give her a subject matter and say, 'Liz, can you please learn this?' It doesn't take very long for her to be an expert."
Among the clients Miller and her new partner took on: an Essex Junction businessman who brought a patent-infringement lawsuit against Apple in 2005. David Contois claimed that Apple employees stole his idea for a computer media player at a trade show in 1996 and used it to develop iTunes. The case settled a year later on undisclosed terms.
In another case, Miller and Spink represented chemical company BetzDearborn against two former employees of the IBM plant in Essex who claimed that exposure to wastewater-treatment chemicals left them with severe neurological damage. That case also settled on undisclosed terms.
Miller said her career reached a certain point that made her want to try something else. She had supported Shumlin during his 2010 campaign — she hosted a fundraiser for him after he won a five-way Democratic primary. After the general election, she submitted her resume for a job in the new administration.
"I was literally thinking, like, board or commission. You know, like, 'You need someone for the arts council?'" Miller said. Instead, Shumlin asked Miller to be his public service commissioner, to steer his energy policy at a time when he was controversially calling for Vermont's lone nuclear plant to be shut down and for more ridgeline wind development.
Asked to identify her biggest accomplishment in the job, Miller cited the new statewide energy plan. Andrew Savage, a former aide to Congressman Peter Welch who now works for Williston-based AllEarth Renewables, says Miller exhibited skills during that process that will be crucial in her new role, including her ability to handle diverse, often diverging, viewpoints and forge something approaching consensus.
"She's got a very good compass," Savage says. "She's got a good gut. And toughness."
Having Democratic supermajorities in both the House and Senate should make Miller's job a little easier. Democrats all but dominate the agenda in Montpelier, though House Minority Leader Don Turner (R-Milton) expects the majority party — and Miller, in particular — will at least keep the GOP in the loop. Turner says he never met Lofy — whose name he mispronounced as "Loffy" — during the latter's two-year stint as Shumlin's chief of staff.
"I think she will definitely take the time to talk to all parties and convey information," Turner says.