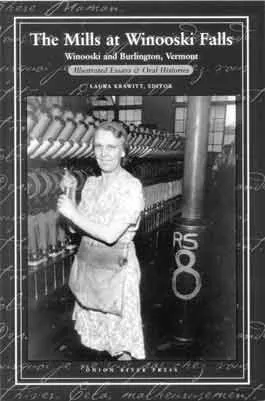 When I moved from Winooski to San Francisco some years ago, I quickly settled into a routine of school-job-apartment. I was, unquestionably, a terrible tourist; I didn't bother to explore my new backyard until pressed by a friend or relative visiting from Vermont. Then off we'd go to history museums, natural areas and manmade wonders, such as, of course, the Golden Gate Bridge. I finally discovered fascinating history everywhere.
I got the same jolt from The Mills at Winooski Falls, a lively collection of 30 essays and oral histories about my hometown. It's the fourth book published by Onion River Press, owned by Michael DeSanto and Renee Reiner of The Book Rack and Children's Pages.
The Mills at Winooski Falls is a tremendous backyard history full of nitty-gritty details of how the Champlain, Chace and Woolen mills and others emerged and evolved. Oral histories shed light both on day-to-day work life a century ago, and on the history of several under-appreciated ethnic groups.
Editor Laura Krawitt of Shelburne by way of Wisconsin has kept her tourist hat on. She pulls together past and present research to challenge commonplace assumptions that all the mill workers were French-Canadian, or that labor unrest caused the American Woolen Company to close down the mills in 1954 and move operations to the South.
"We started looking at the mill history, and one thing led to another," Krawitt says of her initial interest in the subject four years ago. She worked with Heritage Winooski a community group sponsored by St. Michael's College to examine the industrial and cultural heritage of Winooski during the mill era and helped develop historical and educational displays in the Champlain Mill.
"We got into exhibits first," she notes, "but really the story encompasses so many aspects that we looked to do more."
The book will satisfy anyone curious about textile manufacturing, or about how water power was tapped to run a vast mechanical complex. It will also appeal to amateur historians who like to ponder Vermont life in the mid-1800s, when six million sheep dominated agriculture. Poets might find inspiration in the stories of penniless immigrants, family and ethnic pride, adversity, loss and recovery.
Most of the mill workers, who numbered up to 3000 during World War II, did have roots in Canada. But other immigrants shared the struggle of factory life: Irish, Syrian, Lebanese, Italian, Polish and more. Their oral histories make for an engaging read.
The book project benefited from a $5000 grant from the Vermont Council on the Humanities to Heritage Winooski. The Onion River Press matched that amount to cover production and printing costs. An interdisciplinary curriculum "Clickity-Clack: Wool and Waterpower" was also produced, offering activities, worksheets and references for educators.
The print run for The Mills at Winooski Falls was 2500, says DeSanto. "It's available only at The Book Rack right now, but we'll be getting it out to other book stores soon."
DeSanto calls the publishing offshoot of the bookstore business "labor of love." "We hope we're building a foundation for the future," he says. "We don't expect to see or realize any real gain or return on our investment for a long time."
The Dream of the White Village, a "novel in stories" by University of Vermont professor Philip Baruth, was published by Onion River Press in 1998. Its long-term survival looks promising.
"Philip's book has done very well," DeSanto says. "We've basically sold out of the hardcover version of it, and have done pretty well with the paperback version, which is starting to find a life as a book used in college classes."
Next up for Onion River Press is a re-issue of Lil' Champ, by noted Vermont children's author Jim Arnosky, due out this spring.
"We're dedicated to publishing Vermont authors, with a preference for Vermont subject matter," DeSanto notes.
The Mills at Winooski Falls could well have a long shelf life, too for newcomers to Vermont, it provides an overview of regional history exploration, immigration, industrialization and ongoing adaptation and adjustment. For the native or longtime resident, The Mills details part of the state's foundation a past rich with diversity, hard work, suffering and triumph.