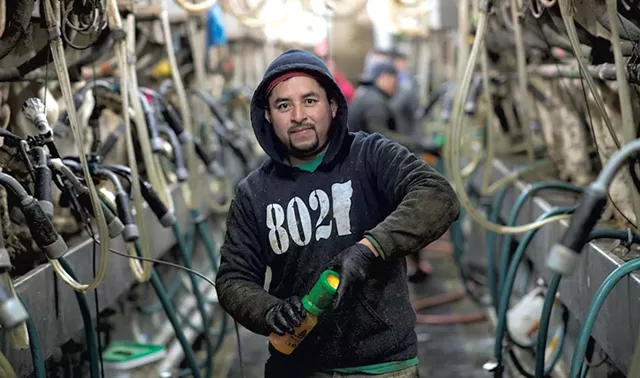 Caleb Kenna
Geraldo Velasco
There is no clock in the milking parlor at Vorsteveld Farm. There are no windows, either, but a couple of hours into my first shift, I stopped wondering what was happening outside. The parlor is like a casino, a cocooned vault where the light is always fluorescent and the time is only now.
There's no point in knowing what month it is or what the weather will be tomorrow, because every day is exactly the same: The ladies come in to be milked 25 at a time, arranging themselves in the stalls according to a mysterious but inviolable pecking order. They don't like new people, I'd been forewarned. The nicer ones just kicked, knocking the motorized pump out of my hands as I tried to fasten the suction tubes to their teats; the more sadistic ones took warm, voluminous shits on my forearms. In the time it took me to hook up four cows, Victor had already finished a dozen.
Every 15 minutes, another 25 Holsteins entered the parlor, although time is not the relevant metric here; there are only cows milked and cows still to be milked. The shift ends not at 6:30 p.m. but when all the milk from every cow in the herd is sitting in the insulated steel Agri-Mark trailer outside. Then, the night crew comes in, time resets itself, and the whole process begins again. There is no Christmas, no snack time, no union-sanctioned piss break for either the cows or the workers, all of whom relieve themselves in the parlor when the urge strikes.
In a storage room off the parlor, there is an actual toilet, the only one on the farm — a closet-size space, hardly big enough to unbuckle your overalls. That bathroom, I was told, is exclusively for women: the breeder, the veterinarian, the milk tester who comes down once a month from Jay Peak and, for one week in mid-February, me.
By the end of each shift, the floor is covered in at least an inch of liquid waste, which flows out of the parlor through two narrow slats, then gets pumped to the manure pits behind the barns. After a snowfall, you might be tricked into thinking that the Vorstevelds have two skating rinks out back. The shit-water sits, frozen, until the spring planting, when the Vorstevelds spread it on their corn and hay fields to fertilize 2,400 acres of manure-to-be.
All dairy farms operate according to the same metabolic principle: Feed goes into the cow; white stuff comes out of the cow. As the ongoing milk crisis squeezes out farmers with smaller herds, larger operations have had to produce more milk in order to survive. But without workers willing to spend upwards of 15 hours a day engaged in the business end of a 1,500-pound animal, Vorsteveld Farm — and Vermont's $2 billion dairy industry — would collapse.
Those workers are predominantly young Latino men who have made the perilous trek from Mexico and Central America to meet the demand for farm labor in the Northeast. The Vorstevelds employ 10 Latinos, each of whom works an average of 14 hours a day, five or six days a week, to ensure that all 1,300 cows in the herd get milked three times a day. Every shift has a designated laundry runner, whose job is to keep the parlor stocked with a fresh supply of blue microfiber towels — the importance of which can't be overstated, given the staggering amount of shit the cows produce.
There are as many as 1,500 migrant farmworkers in Vermont at any given time, although their transience makes it difficult to pin down a precise figure. Some, like Victor, get their own room in housing provided by their farm bosses; others dwell in cramped quarters without heat, privacy or reliable plumbing.
Before Victor came to Vorsteveld Farm in 2013, he worked at a Vermont dairy where he had to share a one-room trailer with four other employees. When he showered, the tub filled with sewage. At Vorsteveld Farm, he says his living conditions are much better, although the sound of the vacuum motor in the parlor, directly below his apartment, keeps him awake at night.
'A Shit-Ton of Cheap Milk'
Caleb Kenna
Jason Vorsteveld driving the feed wagon through the barn
Last year, there were 126,000 dairy cows in Vermont, 11,000 fewer than in 2010. Meanwhile, over the last decade, the average herd size has increased, from 133 to 179 — a sign of slow-creeping change in a state where "agriculture" once meant little red barns and black-and-white-dotted hillsides.
If the word "farm" once suggested an idyllic communion between humankind and the land, a place removed from the technology-fueled rat race of modern life, those connotations no longer apply to the growing number of Vermont dairies classified as "large farm operations" — those with 700 or more cows. In 2011, just 18 of Vermont's then-966 dairy farms were considered "large." By 2018, that number had risen to 34, while the overall number of dairy farms in the state had dropped to 725.
Survival boils down to economy of scale: Small dairies are hard-pressed to make enough milk to offset the cost of production; bigger farms spread that cost over a larger herd, which translates to a lower per-cow investment.
At the beginning of 2019, milk prices remained depressed for the fifth consecutive year, an unprecedented streak in an industry that has historically relied on 36-month boom-and-bust cycles. Doug DiMento, director of corporate communications at Agri-Mark, which buys milk from the Vorstevelds and about 180 other farms across the state, said the current market is the worst he's seen in his 25-year tenure at the company.
"This is the most challenging time for dairy farmers that we've ever witnessed," he said. "Their costs are so high, but their prices are so low. Everyone in the dairy marketing chain can increase their margin except the farmer. He's at the bottom of the pile."
According to Laura Ginsburg, section chief for the Vermont Agency of Agriculture, Food and Markets' development division, the only way for farmers to get ahead in this drawn-out downturn is to extract as much milk as possible from their herd. In that endeavor, big dairies have the undisputed advantage.
"When prices are low, almost all dairy farms have to service some sort of debt, so they need to increase production to compensate," said Ginsburg. "There are still farms in the state that are profitable right now — some are doing OK, and some are breaking even or better, but nobody is wildly successful at the moment."
Gerard Vorsteveld prefers this synopsis of the situation: "Dude, you gotta make a shit-ton of cheap milk."
"Cheap" is a word of which Gerard is particularly fond, and he often bellows it in one long, reverberant bass note, like a foghorn or, perhaps more fittingly, a bovine. In his argot, "cheap" doesn't mean "of inferior quality," but "efficiently" — a holy-grail adverb at this 1,300-Holstein enterprise. That figure represents only the ones that get milked; accounting for calves and "dry cows," or cows on temporary parlor hiatus, the Vorstevelds' herd hovers around 2,300 at any given time.
When Gerard, his twin brother, Rudy, and their older brother, Hans, took over the farm from their father, Lolke, in 1998, they were milking about 400 cows; by 2014, their herd had grown to 700. Over the last five years, they've nearly doubled its size, almost entirely by raising their own young stock.
Vorsteveld Farm is in Panton, a blink of a town about five miles west of Vergennes, between Route 22A and Lake Champlain. On the west side of Dead Creek, most of the land you can see from Panton Road belongs to the brothers. In mid-February, the fields look like haphazardly shaven legs, the stray stalks from last season's harvest poking through the snow like stubble.
Gerard's house, a white cape that looks out over the fields to the east, is a half mile north of the farm. A few hundred yards south is a red trailer with a screened-in front porch, where five of the Latino workers live.
Rudy is directly across the street from the farm, in the house where he and his brothers grew up. You might see a miniature horse hanging out in his front yard — one of his daughter's whims. Hans is the only one who lives out of sight, in a cabin on the other side of the hill that separates the farm from the lake.
Their cows live in a half dozen barns on the property. Inside, all year round, they loll about in their stalls like humans at the DMV, waiting for their turn to be milked. A defunct Coca-Cola machine keeps vigil near the entrance to the main barn, which houses the office and milking parlor. The front door bears two decals: "Milk Drinkers Make Better Lovers" and "Agriculture: Because Starvation Sucks."
Since 1989, the Vorstevelds have been milking their cows in the same parlor, a retrofitted stanchion barn with 25 stalls on either side of a sunken, six-foot-wide causeway, where the workers stand at udder level and hook up the motorized milking machines. As the herd has grown, the brothers have added stalls to increase capacity. But in order to implement a major upgrade — such as a rotary milking system, with robotic arms that attach and detach the milking machines as the cows revolve on a gigantic lazy Susan — they would have to tear out the existing parlor and start from scratch.
By Gerard's estimate, a 50-stall robotic rotary parlor would cost about $3.5 million. Even with the labor savings — one person can milk 400 cows at a time with a robotic rotary parlor — that figure would still be out of their reach.
"If we wanted to put a new parlor in," he said, "we'd probably have to milk another thousand cows just to pay for it."
Brothers' Keepers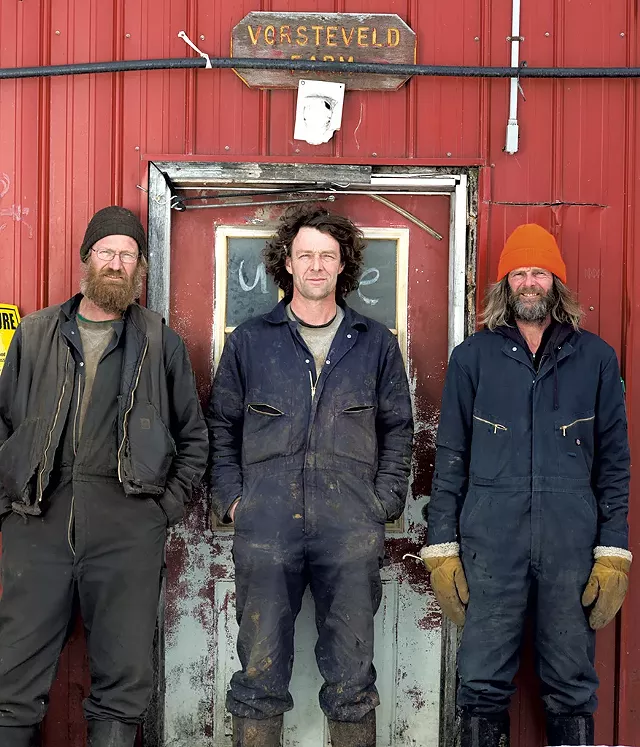 Caleb Kenna
From left: Gerard, Rudy and Hans Vorsteveld
The Vorsteveld brothers are so tall that they seem almost apocryphal, as if they wandered out of a fable. Forty-five-year-old Gerard is six foot six, not including the shock of strawberry-blonde hair that frames his head like a lion's mane. Twin brother Rudy is six foot four; Hans, 56, is six foot three. Over the years, they've carved out distinct roles on the farm: Hans is in charge of the business side, hiring and scheduling workers and managing the books, while Rudy oversees cow care. Gerard, a mechanical whiz prone to expletive-laced existential musings, fixes the machinery.
Two other brothers, Lou and Andre, aren't involved in the family business; Andre runs his own dairy in nearby Bridport, and Lou, who lives in New Hampshire, is a retired engineer.
The Vorstevelds grew up on a 100-cow dairy farm in Garnwerd, Holland, a small village tucked in a chessboard landscape of neatly manicured fields. In the early '70s, as Gerard tells it, their father wanted to build a new barn on the property. But before he could start construction, he had to get the plans approved by "whoever the fuck made the rules," though Gerard can't recall which regulatory body this might have been.
"So my old man drew up some plans, showed them to the bureaucrats, and they told him no," Gerard explained, rolling a cigarette. He had invited me to his house to have dinner with him and his girlfriend, Nancy, between my afternoon and night milking shifts. Even though I'd changed out of the overalls I'd been wearing in the parlor, I was acutely aware of my own odor — a warm, sweet stench, like an unwashed baby.
"Then, like a year later, he took those same exact plans, added some shrubs and shit, and guess what?"
I took a sip of my Heineken. "They got approved?"
"Bingo!" boomed Gerard. "It was all a load of bullshit."
His father had always wanted to come to America, but that experience hastened his search for a place where he could farm without red tape. Their neighbor in Garnwerd knew farmers in Addison County, which had become a Dutch expat community of sorts. In 1979, Lolke bought a 100-cow dairy on Jersey Street, on the same property his sons are farming today.
Lolke wasn't born into dairy farming. His father was a schoolteacher, his mother a homemaker. When he was growing up, during World War II, the Nazis occupied Holland, and food was scarce. But his mother's parents had a farm; Lolke loved going there, because they always had something to eat.
After dropping out of high school, Lolke got a job on a dairy farm that operated a bakery. Twice a week, he'd bike around to deliver bread to houses in the village. He took note of all the farms along his route, studying their barn design, their approach to cropping, how they dealt with excess rain and heat.
"He'd see a dude do something, and then he'd be like, 'Well that didn't fucking work,' or 'Oh, hey, that did work,'" said Gerard. "He didn't come from a farming background, so he never had the 'that's-how-we-always-did-it' attitude, 'cause he never always did it."
In the dairy industry, where the typical succession model involves passing down the business from one generation to the next, change is not always welcome. But for the Vorstevelds, farming has always been a giant engineering problem, a constant pursuit of optimization.
"We try to have an open mind," said Hans. "We're always looking for something better — always trying to improve, to stay on top of it."
The Handmaid's Tale
When I introduced myself to Annie Murphy, the Vorsteveld's apple-cheeked veterinarian, she was incredulous.
"They let a reporter come here for a week?" she said with a gasp. Quickly, she added, "I mean, their cows are healthy and everything, but there are definitely prettier operations. This place is kinda rough."
By "rough," she meant that decorum is a very low, possibly nonexistent priority for the Vorstevelds, whose penchant for irreverence announces itself approximately every 500 feet. Scratched in foot-high letters on the door of the calf barn is the directive: "Please shut the Fucker." On an envelope in the office, addressed to Rudy: "WTF." Spray-painted on the wall of the hoof-trimming shed: "Take Shit Put It Back Use It More."
Almost every Tuesday morning, Murphy drives up from Weybridge to make the rounds with Ashlee Morris, the farm's on-staff breeder. Most farms outsource breeding to private contractors, but the Vorstevelds like to keep their semen close.
Murphy, dressed in blue scrubs and knee-high rubber boot covers, uses ultrasound goggles to look inside the uteri of pregnant cows and check for cysts and abnormalities in the nonpregnant ones. To get the best possible view, she inserts her entire left arm, sheathed in a clear plastic glove no thicker than Saran Wrap, into the cow's rectum, where she feels around with a tiny camera that feeds images into her goggle lenses. Incredibly, most of the cows don't seem to mind this, but they also make no effort to hold in their manure. By the end of her rounds on a typical day, Murphy has been shoulder-deep in the bowels of 80 to 100 animals.
The body of a Holstein seems untenable from every angle. Their udders sometimes sag so low that they accidentally step on their own teats; their horns turn any narrow space into an instant pillory. When they slip in their own shit, which happens more than rarely, their femurs can snap like chopsticks. They lack all dexterity, except when they're in heat. Then, and only then, they hump each other with the frolicsome grace of Cirque du Soleil performers.
As we walked through the stalls, tracking down each cow on Murphy's checkup list, I could feel them all sizing me up with their big, liquid brown eyes. A few of them stalked me at a wary distance, like children lurking around grown-ups at a party; others sidled up to me and suckled the sleeve of my jacket. The bovines' energy was intensely, overwhelmingly female. I sensed that I could offend all of them without even trying.
"You've gotta watch out for the ones in heat," Morris advised me, wrangling an especially testy cow into one of the stalls by jamming her shoulders up against its backside. "They'll try to mount you, especially if you're near that time of the month. They can tell."
My time of the month, in fact, had started that day. I spent the next three hours in a state of mild panic.
In terms of reproductive biology, Holsteins are virtually identical to women. Every 18 to 24 days, a cow will go into heat; if she doesn't become pregnant, she sheds her uterine lining. In order to produce milk, a cow needs to calve, which means that she has to be pregnant once a year to sustain lactation.
After a cow gives birth, she'll make milk for close to nine months; in the third or fourth month of milking, she'll be inseminated again. Six to eight weeks before she calves, she goes into a "dry" group, or a non-milking herd, the equivalent of bed rest. As soon as she gives birth, she returns to the parlor. It's like a bovine version of The Handmaid's Tale.
Most dairies wait close to two years before impregnating a female calf for the first time, according to Murphy, who has been the Vorstevelds' vet for 11 years.
"If a younger, smaller animal enters the lactating herd, she's likely to get picked on and pushed around, like a kid who skips a grade in school and doesn't fit in with the new class," she explained. That ostracizing upsets the cow, and the golden rule of milk production is that the more stressed a cow is, the less milk she'll make.
But the Vorstevelds start calving at 20 months, a strategy that Rudy stumbled upon when he left a bull in a pen with young heifers. He didn't think the heifers would be able to get pregnant at that age, but when one of them did, he decided to see how she fared. She calved without incident, then went on to become a high-performing milker.
"To put that in human terms, that's sort of like getting a 15- or 16-year-old pregnant," Murphy said. "But as long as the heifer is physically big enough to calve, there's nothing inherently wrong with that. And because Vorsteveld Farm is so large, they can group their cows so that those young, small heifers all stay together, which other farms can't do because they don't have the space or the numbers."
There's also a financial advantage to breeding cows younger: Raising a calf for two years costs the farmer about $2,000 a head. The sooner those animals get pregnant, the sooner they can start making milk and contributing to the bottom line.
Set by the Chicago Mercantile Exchange, milk prices are broken down into different components, the most valuable of which are fat and protein. While the average milk price for Vermont farmers at the end of 2018 was $16.54 per hundredweight (equivalent to 112 pounds), farmers whose milk contains a higher-than-average ratio of those components can earn more.
To maximize their profit margin, the Vorstevelds breed not only for high volume, but for high fat and protein content. An average milker at Vorsteveld will produce 85 pounds a day, six and a quarter pounds of which are fat and protein. That might only make a difference of a few cents per cow, but, multiplied by 1,300, those cents add up exponentially over a year.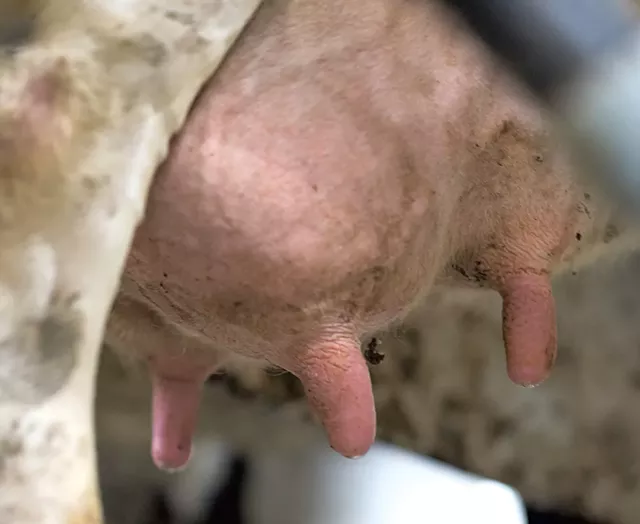 Rudy said he believes that breeding earlier results in higher milk production during the cow's first lactation, which he attributes to the presence of naturally occurring growth hormone in younger animals. When I ran that theory by Murphy, she laughed.
"I'm not sure I can vouch for that from a scientific standpoint," she said. "But then, there's a lot of stuff these guys do that doesn't really make sense to me. They like to do things their own way. They're definitely entrepreneurial."
For the Vorstevelds, that means making strategic, long-term investments. After an unusually rainy summer in 2006 that devastated their crop yield, they installed a tile drainage system in their fields, which works by removing excess water that seeps below the surface of the soil. When the next rainy summer came in 2017, their crops flourished.
"Same thing with semen," said Gerard. "We don't buy cheap semen when we're low on cash. It might save me a few bucks now, but in a year or two, when those cheap-semen cows aren't making good milk, we've screwed ourselves."
As I followed Murphy and Morris to the young heifer barns, I noticed what at first appeared to be a pile of dirty clothes in a drainage ditch. When we got closer, I realized that it was actually two dead calves, half submerged in a frozen puddle.
In a place where 1,300 cows give birth once a year, dead calves are inevitable. Some are born with congenital defects and die almost immediately; others have to be euthanized. Male calves get fed for a couple of days, until "the calf man" from East Middlebury Commission Sales comes to pick them up. From there, it's either the beef or veal market.
"When you grow up on a farm, you see death all the time," said Gerard. "Being a farmer is about life and death. I think most people never get that."
He's not done.
"The same people who go on and on about how much better organic shit is? They're probably driving around in some big-ass SUV, burning a ton of fossil fuels. The other day, some people pulled over and took pictures of some runoff from our fields, 'cause they thought it was too brown. People see brown water near a farm and they get all excited, think they know something's going on. City people like you, you know?" He let out a cackle. "No offense, but none of you guys know shit about dairy farming."
Mexico City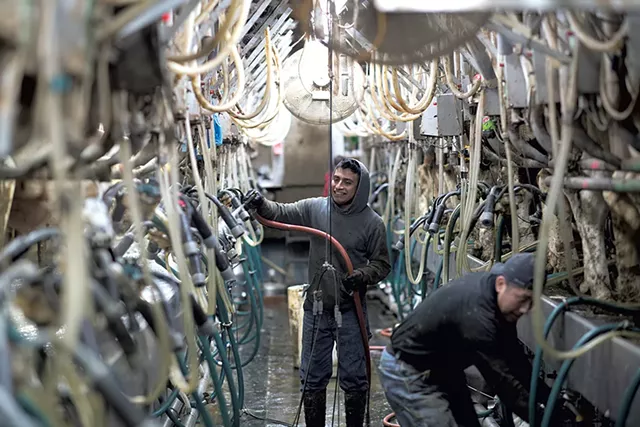 Caleb Kenna
Farmworkers Victor Diaz and Ivan Dominguez in the milking parlor
Esuin's shift begins around 7:30 p.m. He works until 1:30 or 2 a.m. — or however long it takes him and the three other workers to milk 1,300 cows, hose their shit out of the milking stalls and the crevices of the motorized pumps, and shovel all the wastewater. He runs upstairs to the apartment above the parlor for a quick bite, then comes back around 3:30 a.m. for his next shift. By 10 a.m., he's usually done. He sleeps while it's light out — one of the few circumstances in which having a bedroom with no windows is a plus.
Esuin, who asked to be identified by first name only, came to Panton three and a half years ago from San Marcos, Guatemala, where his wife and 5-year-old daughter still live. His goal is to return to San Marcos in the next couple of years with enough money saved up to buy a decent house. The dairy work is hard, he said, but the pay is better than what he could make back home.
It took Esuin three weeks to get from San Marcos to the U.S. border in Texas. Along the way, he spent nearly $10,000, loaned to him by family members, to pay off Mexican officials for the privilege of passing unreported. He crossed the Rio Grande with a group of 12 other migrants — six men, five women and one child — all of whom survived the journey.
Eventually, Esuin made it to Houston. There, he paid his brother-in-law $1,000 to give him a ride to Vermont, where he'd heard dairy farms were looking for workers. In Louisiana, when a cop pulled them over for speeding, Esuin, who didn't have any papers, was certain that he would be deported. Instead, the officer issued the driver a ticket and sent them on their way.
Esuin was also in the passenger seat when Victor Diaz, another Vorsteveld Farm employee, got pulled over by police in Panton in October 2015 for having a taillight out above his license plate. The officer saw beer bottles in the car and gave Diaz a Breathalyzer test; he blew slightly above the legal limit. At the time, Diaz had a driver's identification card — a legal document available in Vermont that requires proof of residency, but not necessarily proof of citizenship. The officers brought Esuin back to the farm; Diaz was held overnight at the police station in Vergennes. The following month, in court, he pled no contest to the DUI charge and paid a $400 fine.
Five months later, Diaz was at a Mexican-themed event at Green Goddess Café in Stowe when plainclothes U.S. Immigrations and Customs Enforcement agents arrested him. They sent him to the Stafford County House of Corrections, a detention center in Dover, N.H. After two weeks and multiple letters of support, one of which came from the office of Sen. Bernie Sanders (I-Vt.), he was released on $1,500 bail. While Diaz was away, Hans held his job for him.
"They're decent guys, the brothers," said Diaz of his bosses. He speaks more English than some of the other workers, but our conversation was mostly in Spanish. We were sitting at the kitchen table in the apartment above the milking parlor on a bright, chilly morning, drinking instant Nescafé. The Vorstevelds refer to these quarters as "Mexico City."
The kitchen is clean but spare, with a limited selection of foodstuffs, mostly of the canned and powdered variety. Diaz told me the guys aren't supposed to have visitors over for more than a few hours, but Gerard clarified: They don't want to encourage long-term guests who aren't working at the farm or paying rent. I'd had vague thoughts of crashing up there when I first started this assignment, but the lack of furniture made that inadvisable.
Here and in the trailer, the workers have their own bedrooms. Diaz pointed to the electric stove. "That doesn't work very well, so we usually cook in the microwave," he said. "And the washing machine in here was broken for a while, which really sucked because we had to use the one downstairs by the parlor, where there's all kinds of cow shit everywhere. But the heat works, at least. There are places where you have to use the oven as heat."
It's not uncommon to hear about farm owners taking advantage of their migrant workers by failing to provide adequate housing, said Will Lambek. He's an organizer with Migrant Justice, a Burlington-based nonprofit that advocates for the state's migrant workforce. Typically, workers are reluctant to complain to their employers for fear that they'll be fired; those who are undocumented have even less leverage.
Diaz, 27, an active member of Migrant Justice, has endured miserable housing conditions before. At the farm where he worked before coming to Vorsteveld in 2013, he and several other employees slept in a camper next to a barn. The roof leaked and, when it rained, they got soaked. Diaz and his coworkers eventually convinced their boss to give them a trailer, which didn't turn out to be the improvement they were looking for: One of the sewage lines broke, and every time they showered, the tub would fill with backed-up waste. The herdsman, Kelly Heath, who now works for the Vorstevelds, let Diaz take showers at his house.
Finally, Diaz quit, but his boss withheld a week's pay, a tactic used by some employers to prevent workers from leaving. That's when Diaz contacted Migrant Justice, which dispatched 20 protesters to the farm to demand back pay for Diaz and several other ex-employees. After a heated standoff, the owner agreed to pay their wages.
Such unethical labor practices were still typical in 2014, when Migrant Justice surveyed 172 dairy workers across the state. Forty percent of respondents said they didn't get paid Vermont's then-minimum wage of $8.73 an hour, nor did they have any days off. The workers I spoke with at Vorsteveld Farm all reported earning somewhere between $10 and $15 an hour, with housing and utilities included. Most get at least a day and a half of rest per week; some, like Diaz, have two.
Diaz said that Hans has been supportive in other ways, too: Recently, he loaned Diaz $3,000 to buy land in Chiapas, Mexico, where Diaz is from and plans to return at some point. When several workers requested the night off to attend Migrant Justice's 2017 end-of-year party at Main Street Landing in Burlington, Hans said yes, then showed up and danced. (Word has it all three brothers know how to bust a move.)
Hans said he typically starts his workers at $10 an hour, increasing their wages with each year of employment. He also offers $200 bonuses to the whole crew when Agri-Mark's monthly milk report indicates a low bacteria count; more often than not, they earn it. Turnover at the farm is generally low. When employees leave, said Gerard, it's usually to go back to Mexico or Guatemala.
The Vorstevelds don't offer health insurance. "They can just go to Open Door Clinic in Vergennes and get seen for free," explained Hans.
When I asked him if he knows the legal status of his workers, he shrugged.
"Not my department," he said.
Labor Pains
Caleb Kenna
Vorsteveld Farm
As Dutch nationals, the Vorsteveld brothers have had their own dealings with the vagaries of the U.S. immigration system since they arrived in the country as kids. Hans earned a master's in mechanical engineering, mainly to extend his visa. Rudy worked under the table at the farm for four years after he graduated from high school, then married and got his green card. After Gerard finished his two-year degree in auto mechanics at Vermont Technical College, he stayed in the country on the down-low until he was approved for a green card in 2012. It didn't seem to cramp his style in the least.
"Dude, I'm just here, doing my shit," he said. "I don't give a fuck. Can't go to Canada? Well, the U.S. is plenty big."
Rudy nodded. "Just gotta keep your nose clean, keep things hush-hush, and it's all good," he said. (The brothers are now lawful permanent residents.)
The four of us were sitting in the farm's machine repair shop on a rainy Friday afternoon, perched on buckets, wooden spools and other objects not typically meant for seating. Gerard had been working on a corn planter, which loomed behind us somewhat monstrously, its row of round, serrated blades like an extra-wide set of teeth.
During the winter, Gerard spends most of his time in here, fixing equipment they'll need when the outdoor work begins in the spring. Then he's out in the fields from sunup to sundown and long into the night, planting, mowing, chopping and harvesting. In one growing season, the Vorstevelds yield 22,000 tons of corn, enough to stack 30 feet high in the cement feed bunks next to their barns. I told him that sounded like a perilously large pile. He pondered for a moment.
"Well, I did hear about one guy, pile collapsed on him," he mused. "But he lived."
Back when his father ran the farm, before they hired workers, everyone did whatever needed to be done — milking, feeding, shoveling manure, picking rocks out of the fields. Then, in the early 2000s, when the herd passed the 400-head mark, they started to hire Latinos specifically for milking shifts. They tried employing some locals, but, with the exception of one of their neighbor's sons — a fellow farm kid who worked for them as a night milker for 12 years — nobody lasted.
Gerard has a theory about why Americans don't want to work on dairy farms: "because life in this country is too good," he said. "Nobody wants to get up at 3:30 in the morning, because most people don't have to. Our American guys always wanted more. They didn't want to work on Sundays; they wanted every other weekend off. They just didn't want to do stuff. But Mexicans? Things are bad enough where they're from that they don't mind."
Several years ago, two of their Latino workers got into a fistfight. One pressed charges against the other, and Hans had to go to court with them twice. As they were leaving the courthouse after their second hearing, ICE agents, who'd been waiting on the steps outside, handcuffed the defendant and brought him to a detention center in St. Albans. Hans paid the bail for his release.
Even with the substantial risk of being so reliant on migrant labor, it's still more cost-effective for the Vorstevelds to navigate a broken system than to depend on U.S. citizens to get out of bed at 3:30 a.m.
Hans thinks that Americans are missing out big time. "Instead of blowing $50,000 a year on college, they could go work on a dairy for four years," he said. "By the end, they'd have 100 grand saved up, instead of coming out with a degree and $100,000 in debt. Who do you think is further ahead?"
'Necesito Bucketa'
Caleb Kenna
Victor Diaz in his apartment
There was an abundance of Cabot Creamery cheese singles and zero mention of migrant workers at the 2019 Vermont Dairy Producers Conference, held in late February at the DoubleTree by Hilton hotel in South Burlington. The only acknowledgment of their existence came during a presentation about resiliency, delivered by a bubbly Wisconsin dairy farm owner. She told a story about getting stuck in her farm's milk tank, where she flailed around until one of the Latino workers came to her aid.
"As soon as I saw him walk by, I yelled, 'Necesito bucketa!'" she said, giggling. "Thank God, he heard!"
I made my way through the throngs of people wolfing down complimentary mini pints of Ben & Jerry's ice cream and asked Joanna Lidback, a Northeast Kingdom dairy farmer who helped organize the conference, why there was no explicit discussion of immigration on the agenda.
"I think that for most farmers, the issue feels so big, and the policy stuff is totally out of their control," she said. "They're just trying to get by from one day to the next."
Several years ago, Lidback noted, she would occasionally hear about farmers getting no-match letters — notices from the Internal Revenue Service indicating that the information submitted by an employer doesn't match records in the IRS database. In the case of a dairy farm with migrant workers, a no-match letter signals that an employee is likely using an invalid Social Security number. But those notices seem to have dropped off, said Lidback: "I haven't heard about anyone getting no-match letters in a really long time."
Meanwhile, migrant farmworkers continue to pay federal and state taxes, supporting Medicare and Social Security while leaving millions in unclaimed refunds each year. While there isn't enough data available to assess their economic impact in Vermont, an analysis by the nonpartisan Institute on Taxation and Economic Policy found that, as a whole, undocumented workers in the U.S. contributed $11.7 billion in state and local taxes in 2014.
For decades, Vermont's dairy industry — and the country's entire agricultural sector — has balanced on a precarious scaffold of half-heartedly enforced immigration policy and employer discretion. But federally mandated implementation of E-Verify, an electronic system that allows employers to check documents provided by their workers against Social Security Administration and Department of Homeland Security records, could theoretically change that. Currently, 22 states require at least some private- and public-sector employers to use E-Verify; in Vermont, the program is strictly voluntary.
During his 2016 presidential campaign, Donald Trump promised to expand E-Verify to curb illegal immigration, and his 2019 budget proposal included $23 million to bolster the program. But recently, Trump and lawmakers have shied away from pushing a federal mandate, largely because of pressure from industries that rely on immigrant labor — particularly the service and agriculture sectors. In California, which produces close to one-fifth of the country's milk, employers are prohibited by law from using E-Verify to determine the immigration status of their workers.
Nevertheless, ICE has been cracking down. Between October 2017 and July 2018, the agency conducted 6,848 workplace investigations and made 675 criminal and 984 administrative worksite-related arrests, several times more than in the entire previous year.
In January, the Trump Organization announced that it would begin using E-Verify at its own properties to weed out illegal immigrants during the hiring process. An earlier New York Times story revealed that the company had been employing undocumented workers at one of its golf clubs in New Jersey for years.
Employee of the Week?
Caleb Kenna
Chelsea Edgar attaching a milking machine
I'd heard horror stories about the physical demands of dairy farming before my stint at Vorsteveld. To get ready, I did a ton of squats and dead lifts, only to discover that there are no actions in the milking parlor for which they were useful preparation, with the possible exception of standing for 14 hours straight.
Being able to move quickly, however, is useful. Being small is also useful, because it minimizes the amount of bending you have to do in order to reach under the kick guard and attach the suction tubes to the cow's teats. Having longish arms is a plus when faced with cows whose anterior nipples are a million miles away from their posterior ones, but it's a disadvantage when they're about to stomp, and you have a whole lot of arm to get out of there.
The ideal body type for a Vorsteveld parlor worker is probably someone between five foot five and five foot seven, with diamond-hard abs, a neck made of rubber, and retractable limbs.
By my third milking shift — I had worked an afternoon and a night shift the previous day, then driven home to Burlington, then returned at 11:30 the next morning — my shoulders were sore. My lower back hurt. As I nursed my minor aches, the three workers on the shift with me milked cows at what seemed like warp speed, on four or five hours of sleep, for possibly the sixth consecutive day. And for the fourth or fifth or eighth consecutive year.
I asked one of the workers how long it had taken him to acclimate to the job.
"Two months? Three?" He couldn't remember. He'd been there for three years. Once you get used to it, he said, it feels like you've always done it.
At some point, I realized that I had stopped seeing cows. I registered only the relevant parts: udders, tails, hooves. Mentally, I started to feel like I was in a video game. I earned points for each cow that didn't try to stomp on my arms, for every udder with perfectly straight nipples. Crisscrossed teats were a sort of Rubik's Cube bonus challenge.
When a cow kicked off the machine before she was done giving milk, I lost a small amount of life force. When I got clipped in the eye with a manure-dreadlocked tail, I died. I watched the white liquid leave the udders and flow through the transparent tubes into the pipeline, marveling at how something so pure could come out of an animal that essentially lives in its own excrement.
That day, I noticed a cluster of Asian characters, written in red Sharpie, on the steel bar from which the milking machines hang. I asked one of the guys what they meant.
"That's Korean," he said. "I'm teaching myself." He pointed to one set of characters. "That's 'banana.' And that's 'email,' and that's 'cotton.' And that one," he said, "that's 'asshole.'"
He said he's doing it partly for fun and partly because he likes to have his own private language on the wall.
In the brief lull before each new group entered the stalls, one of the other workers, a quiet guy from Guatemala who reminded me of Harold from Harold and Maude, repeated a single word over and over again: "Tranquila, tranquila." Easy, easy. I couldn't tell whether he was saying that to soothe the cows or himself.
I asked him if he liked the work.
"It's kind of peaceful, actually," he said. "Not that I want to do it forever." He told me that if he could leave right now and do anything else, he'd want to be un panadero — a baker.
'That's the Fucking Future'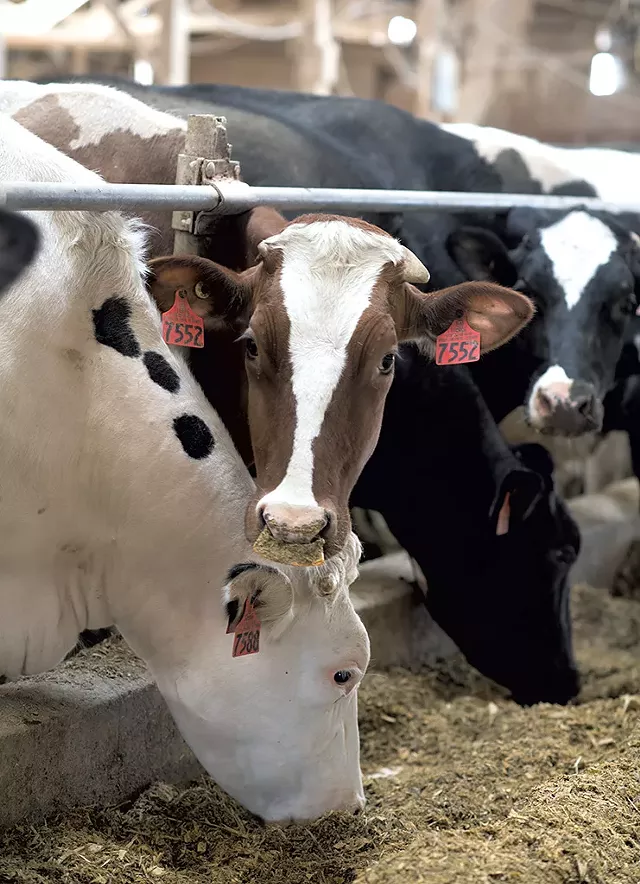 Every single day, according to Gerard's calculations, the Vorstevelds send 8,500 gallons of milk by trailer to the Agri-Mark plant in Middlebury, where it gets combined with milk from other producers and turned into a 640-pound block of cheddar cheese. That 640-pound block then goes to Agri-Mark's facility in Cabot, where it gets loaded onto a conveyor belt and pressed through piano wire. The result: those ubiquitous eight-ounce Cabot cheddar bars.
With milk production levels outstripping demand for dairy products, the country has found itself saddled with an embarrassment of cheese — 1.4 billion pounds in government cold storage, to be exact, according to the latest figure from the U.S. Department of Agriculture. (In secret catacombs beneath the Pentagon? In a nuclear silo somewhere in Nevada? A USDA spokesperson informed me that the location of those storage units was confidential information, protected by federal law.)
To manage its incoming milk supply, Agri-Mark hasn't accepted any new members in four years. According to DiMento, the co-op now has a waiting list of more than 100 farmers.
Meanwhile, the ongoing steel and aluminum tariff wars with China and Mexico have hurt U.S. cheese exports, according to John Wilson, senior vice president and chief fluid marketing officer for Dairy Farmers of America. DFA is one of the country's largest dairy cooperatives, headquartered in Kansas City, Kan.
At the Vermont Dairy Producers Conference, Wilson painted a dog-eat-dog picture of the global milk market.
"You guys are in competition with Europe and New Zealand," he told the audience. "It's up to you to produce more milk so we can beat them. As long as there are developing countries, there's a market for your product."
Too much milk, of course, is how we ended up here in the first place, but a discussion of a national supply-management plan was not on the conference agenda. The overriding message was action: In the face of uncertainty, just keep milking.
That's what Hans' 24-year-old son, Jason, plans to do. For now, his job is feeding the herd, which consumes nearly 200,000 pounds of hay, corn, grain and nutritional supplements — the rough equivalent of eight school buses in terms of weight — over a 24-hour period.
"We feed these ladies like Olympic athletes," he said, reversing the wagon out of the barn with the total confidence of someone who learned to drive a John Deere Telehandler at age 10. "Basically, what we do here is turn feed into milk. Kinda crazy when you think about it that way."
Mathematically, that's essentially true: Each month, the Vorstevelds spend about 40 percent of their $500,000 milk check on grain.
Over the roar of the engine, Jason explained his thoughts on the future of dairy.
"Fuck, yeah, this is a difficult industry. I know the future is uncertain, so I just think about this as a business. You always have to be thinking long term, you know? You've gotta adapt and diversify."
A graduate of Vermont Technical College's dairy farming program, Jason said he'd be interested in taking over Vorsteveld when his dad and uncles are ready to retire. Gerard said that his son, Lolke, now 15, might be, too. Rudy's oldest son, Klaas, who currently studies dairy farming at Vermont Tech, also wants to stay involved.
Jason is already thinking about ways to expand the farm's income portfolio. This summer, he said, they're planning to grow a few acres of hemp as a cash crop.
"CBD milk? That's the fucking future!" he crowed. "Come with me, cuz!"
We headed back to the feed bins to get more corn silage. Jason hopped into the Telehandler and knocked down several hundred pounds from the pile, creating an avalanche of vinegary, nose-stinging dust that enveloped us in the cab.
As we pulled into the next barn, loaded with approximately 15,000 pounds of future milk, Jason leaned out the window and greeted the herd in true Vorsteveld fashion.
"Heeeeeeey, bitches!"