James Buck
Heritage and ice cider flights with a curried-vegetable hand pie at Eden Specialty Ciders Boutique Taproom & Cheese Bar
In 2008, Eleanor and Albert Léger brought the tradition of ice cider from Canada to the United States. They produced the specialty drink — using a process that involves the natural freezing of apples or pressed juice before fermentation — at their farmhouse in West Charleston and called the beverage Eden Ice Cider.
Ten years and many awards later, the Légers have established a place for ice cider and other Eden cider products farther south. In September, they opened a taproom in Winooski, across the roundabout from Misery Loves Co. If you can negotiate the traffic circle by foot at rush hour on sleet-slicked streets and remain intact, you'll arrive at Eden Specialty Ciders Boutique Taproom & Cheese Bar.
The taproom is low-key and no-frills, furnished with a bar, a handful of tables and a couch with a coffee table. An adjoining retail space sells bottles and cans of Eden Specialty Ciders, baseball caps emblazoned with "Eden," and an assortment of cheese and other pairing foods.
These days, the Légers make their cider at a production facility in Newport from apples that are grown at Eden's home orchard and five other local orchards. Besides ice ciders, their line includes sparkling ciders, aperitif ciders and the Cellar Series of small-batch heritage ciders. Their ciders are available on tap or poured from a bottle, straight up or in cocktails at the Winooski taproom.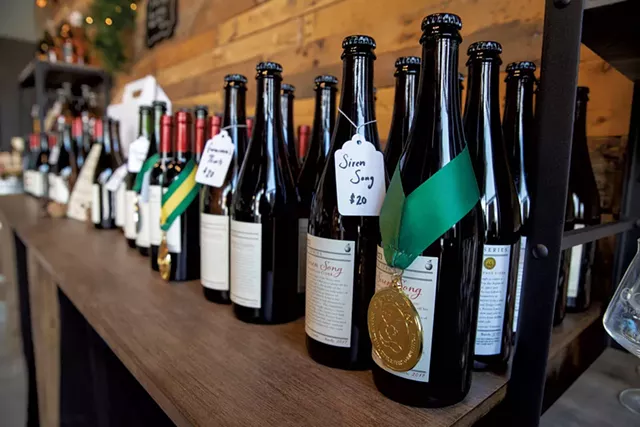 James Buck
Award-winning ciders inside the taproom
Eden's products get the stamp of approval from Terry Bradshaw, research assistant professor of plant and soil science at the University of Vermont and a longtime cidermaker. "Anything they make is premium quality," he said of the Légers. "They're growing, and they're growing at a reasonable pace."
On a recent evening, my friend beat me to Eden, scoped out the menu before I got there and came up with a plan: two flights, one with pours of ice cider and the other a sampling of Eden's heritage cider from the Cellar Series. For $8, each flight offered an array of autumnal colors — amber, golden, orangey-pink — and interesting, nuanced flavors.
I took charge of ordering the bar snacks. Here, too, we went with a sampling: a cheese board ($18) curated with cheeses from Europe — blue to Camembert — to complement the ciders, ice-cider-pickled vegetables ($4) and a curried-vegetable hand pie ($8). The savory pie, with flaky crust and abundant filling, is made at Jocelyn & Cinta's Bake Shop at the Northeast Kingdom Tasting Center in Newport, where Eden has its headquarters.
Behind the bar that evening was Adam Goddu, Eden's retail director, who served us at the couch where we settled. As Goddu set down the flights, he explained that he'd arranged the cider, left to right, from "mild to wild."
James Buck
Cider display in the taproom
Our preference was for the heritage flights, which were less sweet and more interesting to us. We favored the samples on the wild side: the sparkling Imperial 11 Rosé Cider and Windfall Farmhouse Hard Cider.
The rosé is fermented with red currants and kissed with a tart snap. Windfall, sparkling and distinct, is made by Eden for orchardist Brad Koehler of Windfall Orchard in Cornwall. Fermented from wild yeast, it contains a blend of 30 apples Koehler raises at his orchard. Its flavor — deep and, as described, wild — revealed itself with each taste.
Goddu told me later by telephone that he moved to Burlington from New York City to manage the Eden taproom. In NYC, he worked at famed Murray's Cheese in Greenwich Village, where his duties over the years ranged from cheesemonger to cheese educator. These professional specialties pair well with his work at Eden, where he readily explains the cidermaking process, describes the subtleties of the various options and guides people in cider-cheese pairings.
James Buck
Retail manager Adam Goddu
For the "bright and acidic" rosé, Goddu suggested a cheese that could "stand up to the strength of it" — something "rich and fatty" to balance out the acidity. The mention of Windfall that my friend and I liked so much elicited an admiring "Oh, man.
"That's the beautiful thing about that cider," Goddu continued. "It goes with so much." We ate ours with Keens Cheddar from England, a sharp and excellent clothbound variety.
I returned to Eden for a second round a couple of nights after my first visit. This time, I enjoyed a generous pour of rosé paired with marinated cheese curds. The bartender on duty was Jake Eustis, a graduate of Johnson State College who arrived at Eden with varied food industry experience.
James Buck
Seating area at Eden Specialty Ciders Boutique Taproom & Cheese Bar
"Working here, I appreciate cider more," Eustis said. "My girlfriend works at Citizen Cider, so there's some friendly competition. Our goal is to educate people about cider and how valuable it is."
Eden, which was featured on a recent episode of "CBS This Morning," has plans to expand its taproom inventory in early 2019 to include heritage ciders from Europe, Goddu said. The Légers intend to add a regular rotation of "guest" ciders and boost the taproom's program offerings, inviting visiting cidermakers for events.
"Very often people come in and they have no idea about [cider]," Goddu said. "They walk in assuming one thing and leave with a new perspective and understanding and appreciation of what cider is."