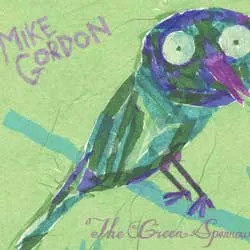 (Rounder Records, CD)
I've never been shy about declaring my dislike for Phish music. But despite my personal taste, I usually follow that statement by complimenting the band members on their obvious musical talent. So I eagerly listened to Mike Gordon's newest foray into post-Phish music, interested to see if his unique talents would deliver him from the shadow of the jam-band legends.
The sad reality is: no. At least, not yet. Gordon is a bass player. During performances with Phish and various side projects over more than 20 years, he perfected his command of this instrument. In making the transition to songwriting, though, he falls short. Perhaps it's not fair to compare his experienced instrumental and nascent lyrical gifts, but such will surely be the instinct of Phish fans, especially whem the two are showcased side by side. After all, the first featured bass line occurs only eight seconds into The Green Sparrow, and there is no shortage of them throughout the disc.
For this project, Gordon worked for a year and a half experimenting with techniques and writing an incredible 60-plus songs. He then narrowed that number down to the 10 included here. If Gordon had instead written 10 songs and spent a year and a half fine-tuning them, the results might have been more impressive.
Gordon is known to have an offbeat sensibility with words, as his published works have shown. In "Radar Blip," he conjures a metaphor for thinking against the grain: "Every time I travel to a new city / I go on my run every day / Often there's a sidewalk where I send my running feet / This time I think I'll run a different way." While the comparison is creative, it takes too long for Gordon to make his point, and the listener is left confused. Unfortunately, it's not the only baffling track.
In addition, the lyrics seem flat not just in tone but in delivery throughout the album. This style suits the more melancholy songs, especially "Pretend," but does not work in the upbeat numbers, such as opening track "Another Door."
Mike Gordon is a talented musician, and there's no question that establishing an individual career is difficult when one has long been part of a successful group. While there's work to be done in his lyrical writing and delivery, most listeners will nonetheless applaud Gordon's bold experimentation and bravery in stepping outside his traditional role. No doubt he'll continue to write songs, and they will improve. Whether his songs will be featured in the rumored Phish reunion or in another solo effort remains to be seen.