Courtesy Of Mike Biegel
Cabin illustration by Mike Biegel
In 1986, after a year-and-a-half stint at a Florida ad agency, Mike Biegel returned to New Jersey to live temporarily with his father.A graduate in illustration from Syracuse University, Biegel has an eye for imagery — and he noticed a small painting on the wall in the foyer. It was a picture of the house that a real estate agent had given his dad as a closing gift.
"I thought the house portrait was terrible," Biegel recalled in a phone conversation. "It was an insult to my industry ... I just remember sitting there looking at it, right away [thinking], I'm going to pursue this."
And he did. Biegel began to advertise his artistic services, including house portraits, by direct mail. When he started to contact real estate agents directly, he really hit his stride. Using a crow-quill calligraphy pen, Biegel would work from photographs to create intricate ink drawings of newly sold homes, to be gifted to their new owners.
Often, Biegel said, happy homeowners would order sets of custom note cards featuring their house portrait.
After moving to Killington in 1999, Biegel combined his skill of creating greeting cards with his love of the Vermont landscape, and soon Vermont Greeting Cards was born. Tourists, snowbirds and locals alike may have seen his pamphlets at welcome centers and rest stops around the state.
As a freelance illustrator, Biegel has moved fluidly between his greeting card business and custom home portraits, as well as commercial buildings and a host of other assignments (including some for Seven Days). Whether depicting a quintessential Vermont covered bridge or a family home, Biegel's illustrations have a signature look: precision of line and extreme attention to detail.
Indeed, for Biegel, the more detail the better: "I love anything with texture in it," he said, citing stone walls and shingle roofs as favorite examples.
And yet, even in stark monotone — black, blue or another contrasting shade on white paper — the images convey a sense of intimacy. As the artist puts it on his website: "A tremendous amount of heart and soul is invested in each tiny little line."
About that quill pen, Biegel writes, "It's not flashy or state of the art ... but I'm proud to wield this tool and claim it as a badge of honor."
It seems the old-fashioned look appeals to his clients. Biegel noted that hand-drawn imagery "has always been the style that people have gravitated to, versus the electronic style of artwork that's so prevalent today."
One particular assignment that fits this artisanal ethos was an illustration of the Simon Pearce flagship store in Quechee. With its picturesque waterfall and mix of building materials — brick, stone, clapboard, concrete — drawing the building was an exciting task for Biegel.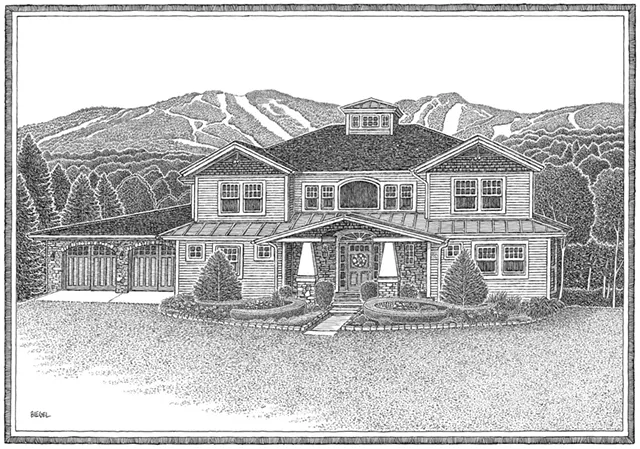 Other Vermont clients have included Pico Mountain and the Killington Grand Resort Hotel, as well as a wide range of residential homes, from a camp in Pittsfield to a saltbox in Waterbury Center to a turreted residence in Vergennes. A standard home portrait averages $500; business assignments generally cost more.
Earlier this year, Biegel relocated to Long Island, N.Y., with his wife, Lori — but he's retaining his ties to Vermont. An avid skier, Biegel said he'll be back for the slopes but also for the scenery and the inspiration it provides.
"When I began skiing, I wasn't only hooked on the sport," he explains on his website, "but enchanted with the even more remote back roads, the undulating hills, the old barns and covered bridges."
Working closely on other people's property does come with one challenge, though: "It's hard to let them go," Biegel said of his house portraits. "I feel like I've been living at these people's homes."