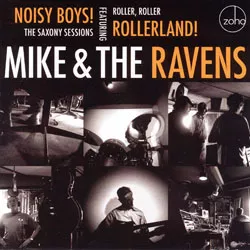 (Zoho Roots, CD)
It took Mike and the Ravens more than 45 years to make their first full-length album, Noisy Boys. Heck, the band broke up in 1962. But for a couple of years before that, five teenage boys from Stowe and Northfield inspired by Jerry Lee Lewis and Link Wray rocked at roller rinks, high school dances and frat parties.
Back in the day, they recorded a few 45s. (Remember those? Little vinyl records with one song on each side?) And they wrote all of the songs themselves, which was practically unheard of in those pre-Beatles days. Decades later, a couple of their tunes resurfaced on Heart So Cold. That collection of '60s teenage garage bands from Vermont and New York eventually led to another CD comprising solely old Ravens songs. And now, all of the original Ravens — all in their mid-sixties, most band-less for decades — re-emerge with a disc recorded on weekends between jobs and family stuff.
Don't laugh. I know you want to. The album is good. "Mature," even. Wisely, the "boys" don't try to recreate their teenage glory days. Some songs hark back to the old days, but with wonder and sly humor intact.
For example, the updated take on guitarist Stephen Blodgett's old roller-rink crowd-pleaser "Rollerland." The cut is infused with new lyrics about visiting the concrete slab where the rink used to be. It fits in nicely among tunes about dancing with your teenage buddy's mom (a she-wolf) and the mama's boy in "Catfight" who "throws like a girl."
Mike Brassard's voice is both rambunctious and clear, reminiscent of an ageless blues belter — especially on the Bo Diddley-esque "Dancing Bear," a stomping number about henpecked husbands. And John "Bo" Blodgett's trademark "growling guitar" careens and caroms with all the giddy elation of a graying guy discovering the joys of a fuzz box — which didn't exist when he was a teen. Meanwhile, drummer Peter Young and bassist Brian Lyford pound away with youthful, punkish energy propelled by the pure joy of a second chance.
On the final, title track, over a rhythm that's almost techno-funk, Brassard sings that the Ravens don't play no "grandpa rock." Agreed, Mike.
Mike and the Ravens' first show with all five original members since 1962 isn't until Friday, September 26, at Le Divan Orange in Montréal. But after 45 years, what's another month? In the meantime, grab a copy of Noisy Boys! The Saxony Sessions, which hit stores last Tuesday.