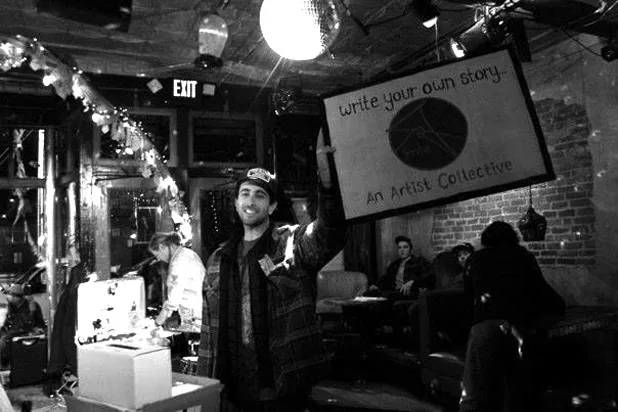 I'll admit it: When I first heard about Jenke Records last year, I was skeptical. First, many of the artists associated with the collective/label were under the radar. Second, while the concept of a collective is tantalizing, it rarely works out in practice. For every Broken Social Scene there are scads of, well, broken social scenes, music cooperatives that fizzled despite good intentions. At first, Jenke seemed too idealistic and ragtag to succeed. I mean, shit, I still can't figure out if the thing is called Jenke Arts or Jenke Records. Both? Are they two different things? Does anyone know?
But in the last year, Jenke has proven to possess some Bad News Bears-style pluck. And I don't mean the shitty 2005 remake. I mean the awesomely scruffy original version from 1976.
(If you haven't seen the original, do yourself a favor, if only to count the number of times the movie's adult characters would be hauled off to jail today. Its political incorrectness is astonishing — from Walter Matthau carting around the entire team, sans seat belts, in his convertible, while drinking, to the coach of the rival team smacking his son, the star pitcher, to the mound after giving up a home run. They sure don't make 'em like that anymore.)
But back to Jenke. The collective has released a steady stream of albums and EPs over the past year, bolstering those with regular showcases around town. The label has had swings and misses, and I'm not sure it's released anything truly defining yet — though Any Day by Greg Alexander comes close. Still, much like the Golden Dome Musicians Collective/State & Main Records are doing in Montpelier, Jenke is exploring a different way of doing business in an era of uncertainty across the music industry. It's an experiment. And for now, at least on a micro level, it's working.
On Wednesday, October 17, at Nectar's, Jenke will celebrate its anniversary and the release of four — count 'em! — new albums: Bogart The Ghost, a solo album from founder Tommy Alexander; a collaboration between Alexander and Set-Up City; a new EP from Face-One; and the debut from hip-hop outfit Bless the Child. The showcase will feature performances by those acts as well as Tommy Alexander's Quiet Lion, songwriter J. Kaine, Mavstar and Alanna Grace Flynn, whose new album is due out shortly.
I won't apologize for my early skepticism, as that can be useful in this line of work. But I'm pleasantly surprised that Jenke has managed to thrive. I often hear people around town griping that the scene is fractured and clique-y, that it lacks the cohesion that was long a hallmark of Burlington music. On that front, Jenke has taken matters into its own hands.
So congrats, Jenke Records, on an intriguing first year. Here's to many more.
Start Me Up
Earlier this year, a slew of ace local players got together at the Higher Ground Ballroom to pay homage to the late Levon Helm and to raise money for the Northeast Organic Farming Association of Vermont's Farmer Emergency Fund. It was one of the year's most entertaining nights of local music, a great showcase of talent for a great cause in tribute to a truly great man. In short, it was, um, great.
So great that said local players are getting back together to raise some more dough and pay homage to another legendary act, the Rolling Stones, this Thursday, October 11, at the Ballroom. And I think you should go.
Now, if you read last week's column, you may be saying to yourself, "Aren't you the guy who just ranted against tribute bands and made me feel like a schmuck for buying Badfish tickets?" Yes, I am. Glad you asked.
A few readers emailed me last week in defense of pro tribute bands, arguing that they provide a service for fans who can no longer see the real thing. Sure, I responded, in the same way that eating store-brand chocolate cookies would fulfill your desire for Oreos if Nabisco ODed on heroin and you couldn't get them anymore. Except you would be wildly overcharged for your crappy fake Oreos.
The difference here is that the Hug Your Farmer crew is not a professional tribute band, just a group of supremely talented local musicians getting together to jam and play some of their favorite music. Oh, and to raise money for a deserving cause. (If Badfish donated a good chunk of their earnings to, say, drug rehab clinics, I'd probably feel differently. Instead, they capitalize on Sublime's fame to rope listeners into seeing Scotty Don't, an original band who open Badfish shows and are composed of — drum roll, please! — the members of Badfish.)
Anyway, the Hug Your Farmer band returns with many of its key players, including Bob Wagner, Jon Fishman, Clint Bierman, Peter Day, Rich Price, the Sweet Remains, Guster's Ryan Miller, Matt Hagen and Michael Clifford of Lendway, Joshua Panda, Nicole Nelson, Lowell Thompson, Kat Wright and many more. If the Helm tribute in May was any indication, the Stones tribute should be a hell of a show.
BiteTorrent
While the national megastore Guitar Center moves into Williston this week — in the same space as a failed chain music store — it's a good time to remember we've still got good indie instrument stores in the area. For example, Advance Music. This week, the Burlington shop hosts two remarkable drum clinics with two heavy hitters. On Wednesday, October 10, check out an in-store Roland V-Drum clinic with Mike Snyder, who has performed, among numerous other credits on the soundtrack to every Mel Brooks flick from Spaceballs to Robin Hood: Men in Tights. It's free, but you need to sign up at the store to reserve a spot. The second clinic, at Club Metronome on Wednesday, October 17, is led by Styx drummer Todd Sucherman. This one isn't free, but again, it's led by Styx drummer Todd Sucherman.
The Aztext's Learic, aka Devon Ewalt, is in Atlanta this week competing for a spot on the Freestyle Friday segment of the BET network show "106 & Park," which is kind of a big deal. If he's selected, he'll appear at a hip-hop festival in Hot-lanta this weekend. Best of luck, Learic.
It's pretty awesome that Primus is coming to Burlington this Saturday, October 13. Less awesome: The show is at Memorial Auditorium, which wasn't even a suitable venue for Vanilla Ice when I saw him there in eighth grade. (OK, it probably was. But it definitely wasn't good enough for Technotronic.)
Last but not least, it's nice to have the Vermont Joy Parade around for a spell, in part because of their nifty side projects, such as accordionist Galen Peria's Duke Aeroplane and the Wrong Numbers, who describe their sound as "music for baptisms, side shows, card games, funerals, bank robberies, structure fires and train rides." Sold. You can catch them at Radio Bean on Friday, October 12, or at Equilibrium in Brattleboro on Saturday, October 13.
Listening In
Once again, this week's totally self-indulgent column segment, in which I share a random sampling of what was on my iPod, turntable, CD player, eight-track player, etc., this week.
Snowblink, Inner Classics
Savior Adore, Our Nature
Tame Impala, Lonerism
The Mountain Goats, Transcendental Youth
Nowhere Lights, Nowhere Lights