Caleb Kenna
Otter Creek Bakery
Ask nearly anyone who has spent time in Middlebury about their favorite Otter Creek Bakery treat, and watch them get instantly dreamy-eyed.
"Oh, my God, the olive twists," raves Melody Trump, who lives in East Middlebury. "So salty and affordable!" she says of the $2.25 snack. "When I was pregnant with my second kid, I craved them several times a week. They always run out early in the morning. If I didn't get one, it would be all I could think about all day long."
"The Caesar salad that comes in a Chinese take-out carton," says Middlebury College grad Rachel Joynes. "It's just — those croutons. The fresh lemon slice. And it always has nice, sophisticated greens, frisée and shit like that. And there's something about the carton that makes it kind of a joy to open, like a little present."
Caleb Kenna
Tomas Ruprecht postcards
Former Seven Days delivery driver Tomas Ruprecht loves OCB's pretzels so much, he regularly sends the bakery fanciful postcards decorated with messages inspired by his pretzel obsession. An album displays them near the OCB coffee station.
Local playwright Dana Yeaton's personal favorite? The honeybun. Sweet, dotted with raisins and showered in cinnamon sugar, they ring in at just $1.75. "First of all, it's a bargain," he enthuses. "But you have to get them early, because they always go. They're not too sweet. Just enough raisins."
Yeaton is also a fan of the Lunch Box Folders: Regulars can pay $50 for an index card kept in a hot-pink box at the register, which entitles them to $55 worth of credit. During the morning rush, you'll see folks dash in, grab coffee, wave to the cashier and dash out. "What it creates is a kind of insiders' club, which makes you feel special," Yeaton says.
It's easy to see why OCB draws a steady stream of "insiders" and regulars. For 30 years, co-owners Ben and Sarah Wood have been churning out delicious European-style fare. They've created the kind of place where, quite literally, everybody knows your name. And their location — on College Street, right about where Middlebury College meets downtown Middlebury — helps them bridge the town-gown gap, attracting customers from both sides.
In warm weather, bright blue umbrellas shade tables and chairs on the sidewalk in front of the bakery. It's the perfect spot to linger over coffee, watch the world go by and feed the songbirds.
Inside, sweets and treats are displayed in glass cases and tiered cake stands: homemade oversize Oreos, cinnamon twists, fruit-filled oat bran muffins, blueberry scones, elegant cakes, tarts, meringues. For lunch, there are sandwiches, panini, salads, soups. A bucket of twisted puppy biscuits sits by the register.
A single long banquette is all the seating you'll find indoors, the better to start conversations with strangers.
At the end of the lunch rush on a recent Thursday, in walked 90-year-old George Jaeger, a World War II veteran and one-time U.S. Department of State official and diplomat in residence at Middlebury College. Ben Wood spotted him from the kitchen and caught his eye.
"Time for lunch, George?" he said. Jaeger nodded and sat down. Five minutes later, Ben emerged with the day's special, a soft-shell crab sandwich that Jaeger deemed delicious.
Ben and Sarah — now 60 and 54, respectively — have known each other since she was 7; their mothers were good friends in Delaware, where they both grew up. Both also got their culinary start at the same French fine-dining establishment.
Courtesy Of Ben And Sarah Wood
Ben and Sarah Wood
In 1975, 18-year-old Ben was looking for a way out of his job insulating houses on the eastern shore of Maryland. He met a guy at a bar who told him about a good kitchen job in Nantucket. Ben had never heard of the island. "Call this Frenchman up," he was advised. "But beware, he's pretty tough."
The Frenchman, Jean-Charles Berruet, offered Ben a job as a pot washer at the Chanticleer, one of Nantucket's venerable special-occasion spots. He was paid $1.75 an hour, with a portion taken out of each check and returned if he finished the restaurant's summer-only season.
"French food was something I'd never seen," Ben says. He loved the job. "All we did was talk about food," he recalls. "[Berruet] would take us out fishing, bring us ducks for dinner." The next summer, he asked Berruet to hire him again. Berruet said yes, if Ben could find him a Maryland connection for soft-shell crabs.
Ben found one. "So I started an apprenticeship" at the Chanticleer, he says. The hours were long. Six days a week, he was cleaning fish at 7 a.m. and working until 11 p.m., with a break in the middle of the day. Six years later, he was promoted to sous chef.
In 1979, Sarah, fresh out of high school, heard about dishwashing jobs at the Chanticleer through her sister, who had rented a room on Nantucket from Ben. The youngest of seven kids, Sarah, unlike Ben, had always had an interest in food. "In our house, if you wanted sugar, you had to make the sweets," she says. She loved baking cakes and cookies.
"I still love it," she says. "It's not like coming to work. It's like coming to play."
Sarah got her plane ticket to Nantucket "and never turned back," she recalls. She and Ben fell in love at the Chanticleer, where she focused on pastry making and he on savory dishes.
At the end of each summer in Nantucket, Berruet asked Ben and Sarah, "Where do you want to go this winter?" They'd pick a city, and he'd find them a job at a French restaurant there. Together they traveled to San Francisco, Miami, Boston, Stowe and Sugarbush Resort.
When their Chanticleer apprenticeships wrapped up, in the mid-1980s, Ben and Sarah moved to Burlington to start anew on their own. "We liked Vermont. It was affordable," Sarah says. Ben got a job at the Ice House Restaurant. Sarah worked at Lake Champlain Chocolates, which had a bakery at the time.
The Woods hoped to open their own restaurant serving European-style fare, but they found too much competition in Burlington. Middlebury, where that niche hadn't been filled yet, fit the bill.
In 1986, they opened the Otter Creek Café & Bakery in the Old Stone Mill building that currently houses the Storm Café. The mill sits right on the edge of the rushing river, hence the name.
They offered a wine selection, table service, the whole shebang. But "it was tough to make a living," Sarah recalls. Today, the mill bustles with Middlebury College students; back then, that part of town lacked even sidewalks and street lamps. "People's cars were getting burglarized while they were eating," Sarah says.
Even now, she adds, it's difficult for her to visit the neighborhood "because so much of my heart and soul is down there. We put in a lot of sweat there."
In 1989, the Woods bought an old Esso station on College Street "for a song" and gutted it to house their bakery-café. Two years later, they sold the bistro in the Old Stone Mill to focus entirely on the bakery. OCB has been going strong ever since.
On a recent morning, bakers are making 400 croissants — enough to fill the glass cases and a special order from the college's French department. That much dough requires 25 pounds of butter.
The morning shift starts early — really early. Bakers Cindy Denis, Caroline Corrente and Esther Bove show up at 3:45 a.m. Around 5:30, the mood is cheerful but focused. There's no music in this kitchen, just the gentle rattle of the giant 60-quart stand mixer, full of sloshing honey and oats.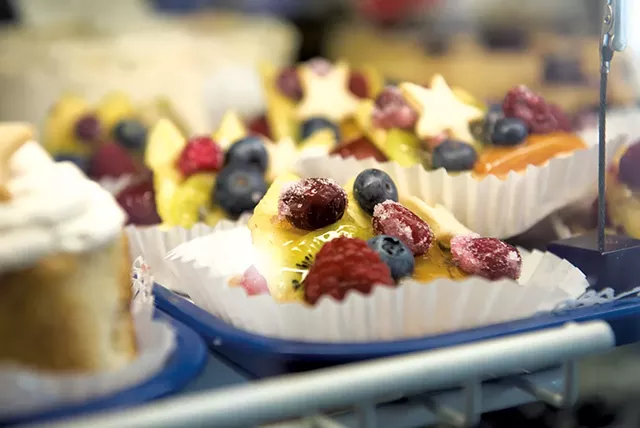 Caleb Kenna
Fruit tarts at Otter Creek Bakery
A mound of French bread dough rests on a worktable. Bove pulls a tray of breakfast pizzas from the oven.
The bakers have to be out by 11 a.m. to make way for the lunch crew. "We make everything here," says Sarah. "Ben is the savory, I'm the sweet." She still uses the techniques she learned at the Chanticleer, she says, but the recipes are all her own, putting "creative twists" on classic pastries.
Whatever the Woods can't sell at the end of the day goes to HOPE, the Addison County food shelf. They pass along their compostables to local farmers. Bread scraps turn into croutons.
"We don't make anything I don't like," Sarah tells me, dipping petit fours filled with almond and apricot in a bowl of silky fondant. "And we follow our hearts."