If "craftiest street in Vermont" were an official title, it would inspire plenty of spirited competition. And everyone would recognize Middlebury's Exchange Street, between Route 7 and Elm Street, as an up-and-comer in the food-and-drink category. This mile-and-a-half stretch of industrial park, once the dreary domain of concrete warehouses, professional offices and a wastewater treatment plant, is now home to an impressive assortment of palate pleasers.
Heavyweights on the block include Cabot's largest cheese plant, which produces 55 million pounds of cheddar annually; Otter Creek Brewing, which brews 70,000 barrels of beer a year; and the new, $34 million Woodchuck Hard Cider mill and bottling plant, which expects to ship three million cases of hard cider by year's end.
In recent years, Exchange Street has also attracted smaller similar businesses, including two artisanal distilleries, a fair-trade coffee company, an organic cheese maker, a crouton maker and a gourmet popcorn company.
Jamie Gaucher, director of Middlebury's Office of Business Development & Innovation, explains the area's appeal: abundant real estate combined with the relative ease of setting up manufacturing operations under a single Act 250 permit.
As these businesses prosper and extend their market reach outside Vermont, they've also generated tourist traffic in the form of tour buses, tasting rooms, pubs, gift shops and even an alcohol-themed "tasting trail." In coming years, town leaders plan to install sidewalks along the full length of Exchange Street, which could spark a food and arts renaissance like the kind that transformed Burlington's Pine Street corridor.
Here are mini-profiles of four companies already capitalizing on their proximity by sharing space, resources, technical know-how and, sometimes, ingredients.
Caleb Kenna
Paul Ralston
Year Founded: 2001
Employees: 26 Production: 4,000 pounds of coffee roasted daily
The lobby of Vermont Coffee Company, at 1197 Exchange Street, has become a veritable shrine to the company's slogan: "Coffee roasted for friends." A few years ago, when the fair-trade coffee producer invited customers to redeem empty coffee bags for gifts, diehard java fans took up the challenge by transforming those brown paper sacks into works of art.
Today, those creations are proudly displayed beside the original roaster that company founder Paul Ralston used to prepare beans in his garage in the 1970s. On one wall hang a quilt woven from 100 empty bags, a mobile of paper coffee mugs and a toilet-paper roll made from 80 bags. A detailed paper cutout of Johnny Cash is captioned "He drinks it black."
Vermont Coffee Company also showcases its product's status as a go-to ingredient for other Vermont producers. The lobby displays samples of Long Trail Brewing's Coffee Stout, Wolaver Organic Brewing's Alta Gracia Coffee Porter and neighbor Appalachian Gap Distillery's two coffee-infused spirits. Strafford Organic Creamery's coffee ice cream and Liberty Chocolates in Montpelier also incorporate VCC's joe.
When Ralston relocated VCC from Bristol to Middlebury in 2007, he set up shop in what was then a 7,000-square-foot "concrete bunker." Back then, the industrial park wasn't even wired for internet access; Ralston recalls that the staff accessed Wi-Fi via rooftop antennas that often blew down in the wind. Today VCC is fully wired and occupies 18,000 square feet, with another 10,000 reserved for future growth.
Revenues are on a "deliberate growth curve" of close to 20 percent annually, Ralston says. With market penetration "very deep in Vermont," the company has also made incursions into New York, New Jersey, New Hampshire, Massachusetts and Rhode Island.
"We're 'coffee roasted for friends,' so we're all about relationships," Ralston adds. "And that's what you're feeling in the Middlebury area — a community of mostly small businesses working together."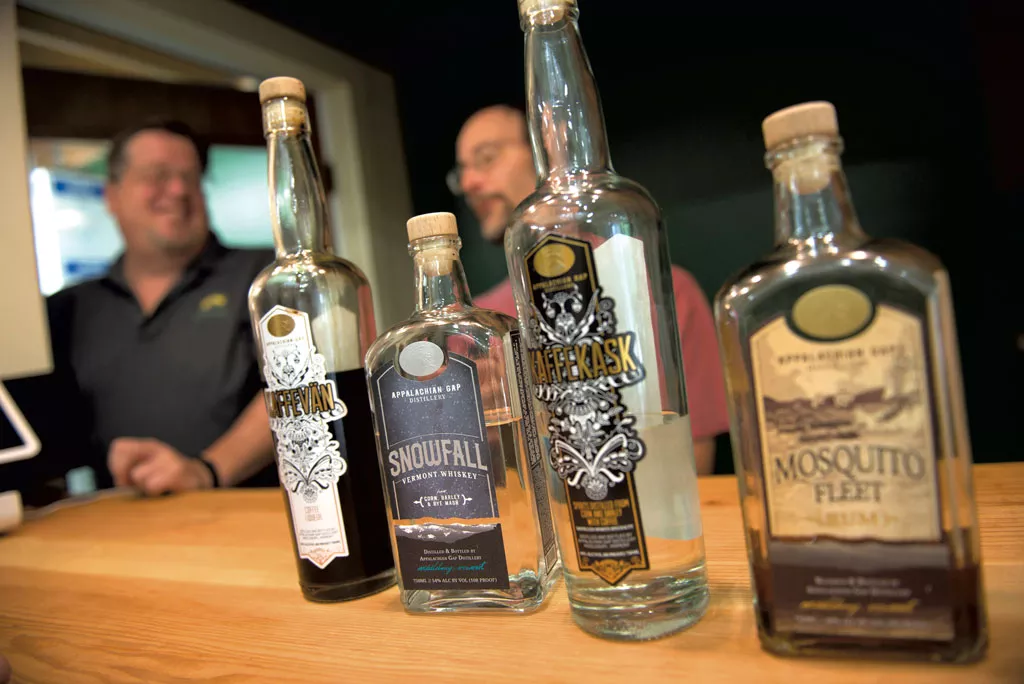 Lars Hubbard and Chuck Burkins
Year Founded: 2014
Employees: Four Production: Approaching 100 cases monthly
Three years ago, Lars Hubbard, founder, distiller and "chief palate officer" of Appalachian Gap Distillery, bought a vacant building on the corner of Exchange Street and Mainelli Road. Back then, the perimeter drain was clogged, the interior was mold-ridden and the walls were full of dead raccoons.
"It was just a disaster," he recalls. So Hubbard gutted it, built an office for his architectural software firm (which is largely financing the distillery's startup) and added a cheese plant in the basement, which Champlain Valley Creamery now occupies. Only then, Hubbard says, did work begin on his distillery, which included a "doghouse," or cupola, cut through the roof to make room for the towering still.
Since May, "App Gap," as the artisanal distillery is often called, has gotten approval from Vermont's Department of Liquor Control to sell four spirits. They include two infused with coffee purchased from the distillery's back-door neighbor, Vermont Coffee Company; Kaffekask, a smooth but potent (88-proof) corn-and-barley white whiskey; and Kaffevän, a slightly sweet and full-bodied coffee liqueur that, Hubbard boasts, "chases Kahlua down the street with a coffee stick."
App Gap also produces Mosquito Fleet Rum, named for the longboats built in Vergennes during the War of 1812, which helped the Americans win the Battle of Lake Champlain. The only liquor Appalachian Gap doesn't distill itself — it's blended from three barrel-aged Jamaican rums — Mosquito Fleet is "stupidly smooth," Hubbard promises.
Finally, there's Snowfall, a white whiskey made from a corn, rye and barley mash. It's the unaged "heart" of App Gap's Ridgeline Vermont Whiskey, which is due out in December 2015. Though it's quite potent (108 proof), Snowfall is smooth and slightly sweet, with complex tones.
"One of the things we've really worked at is making flavors that are clean and kind of sweet but not boring, more complex," Hubbard says. "I want you to taste things five minutes after you taste it."
The distillery just recently opened to the public, but it's already drawing foot traffic as one of five stops — along with Lincoln Peak Vineyard, Woodchuck Hard Cider, Otter Creek Brewing and Drop-In Brewing Company — on the five-mile Middlebury Tasting Trail.
Passersby have been stopping in, too. "Having a sign out at the street," Hubbard says, "has made a world of difference."
Year Founded: 2003
Employees: Four Production: 20,000 to 25,000 pounds of cheese annually
Champlain Valley Creamery owner Carleton Yoder, 44, is one of the few craft producers along Exchange Street who aren't thrilled when tourists drop by unannounced. Not that visitors are unwelcome, he emphasizes. It's just that giving them his undivided attention is no easy task when he's elbow deep in a vat of cream cheese.
Yoder moved into the space two years ago when Appalachian Gap owner Hubbard bought the building and offered to rent him the basement. Yoder jumped at the opportunity to move his operations, and family, to Middlebury.
Yoder, who buys all his organic milk from Blissful Dairy in Bridport, launched the business with certified organic cream cheese, then added Organic Champlain Triple, a four-ounce cheese "button." On the day I visited, Yoder was making his Queso Fresco Organic, a traditional Mexican farmer's cheese similar to a mild feta, with a crumbly texture and slightly acidic flavor.
Yoder has begun experimenting with a harder cheese aged five to seven months. As he explains, it's a way to use up some of the skim milk created in the manufacture of other cheeses. All are aged on-site.
Champlain Valley Creamery also benefits from its proximity to Exchange Street — the pub at Otter Creek brewery now serves Yoder's Queso Fresco and Triple Cream.
"That's a real bonus," he says. "Go in there and have a beer and a slice of cheese."
Then visit Yoder's space — just try to call ahead first.
Year Founded: 2014
Employees: Two Production: about 1,500 cases, due out in summer 2015*
In the fall of 2013, Sas Stewart and Sivan Cotel were honeymooning in Portland, Ore., when they noticed that the fine local cocktails they were enjoying "were all made with some really unremarkable spirits," Stewart recalls.
Hence Stonecutter Spirits. The pair relocated to Bridport and began working on their business plan to launch a local distillery producing what Cotel calls "a whiskey-lovers' gin" that's aged six to 12 months in old bourbon barrels.
Though Stewart and Cotel are relatively young — she's 31, he's 32 — they're no neophytes in the craft-spirits industry. For nearly two years, Cotel worked as head of operations at WhistlePig Rye Whiskey in Shoreham, while Stewart has business and community development experience.
Last week, construction workers were putting the finishing touches on the spacious, 12,000-square-foot office and production space Stonecutter Spirits will soon occupy at 1197 Exchange Street — at the opposite end of the building from Vermont Coffee Company. As Stewart puts it, "One side of the building wakes you up, and the other side puts you to sleep."
Is Stonecutter's other neighbor — Appalachian Gap Distillery — a potential competitor? On the contrary, collaboration has been the rule. When the couple recently placed an order for wooden aging barrels, they asked App Gap's Hubbard if he wanted to go in on some, saving both businesses on shipping costs.
"It's not a place where people guard ideas. It's a place where people share ideas," Stewart says of Exchange Street. "And that's just a very nice community to be a part of, especially when you're building something new."
The couple predicts there will be more food, beverage and other ag-related businesses setting up shop nearby, as businesspeople recognize the street's potential.
"We're the newest neighbors on Exchange Street, but we won't be the last," Stewart says. "And I think that's really exciting."
The original print version of this article was headlined "Pleasure Crafts"
*Correction 09/18/14: An earlier version of this article stated that Stonecutter Spirits would be producing 50 cases next year; the company will, in fact, produce 1,500.