It's been four and a half years since Edgewater Gallery opened on Mill Street in downtown Middlebury, filling the space that had been home to the Frog Hollow Vermont State Craft Center since 1971. In that short period, Edgewater has grown steadily, acquiring dozens of artists from Vermont and beyond.
The work on display in the gallery's airy space overlooking Otter Creek Falls varies greatly, from Clark Derbes' boldly colored wood sculptures to Ethan Bond-Watts' hanging glass mobiles; from Robert Compton's functional pottery to Anne Cady's brilliantly colored paintings of fantastical landscapes. From the beginning, the gallery has straddled the line between fine art and the traditional crafts and folk art that Frog Hollow offered in the space.
This year, Edgewater is expanding — in two directions.
"When we first came in, of course we had to pay attention to the audience that was used to coming in," says Edgewater's gallery curator and marketing director, Shawna Cross. "We didn't want to make the gallery seem too inaccessible or too intimidating, and we absolutely wanted to foster that audience that wanted those more traditional Vermont pieces. But as we have grown, and as our audience has grown, we've really been leading them toward a more contemporary feel."
This year, Edgewater will acquire 15 new painters to bring new life to the walls of the gallery on the upper level. In a departure from custom, these additions include abstract and contemporary artists, because, as Cross puts it, "finally there's a demand for that."
2013 marked the gallery's most profitable year yet, and that success was largely driven by sales of two-dimensional fine art. The gallery's painting sales in particular increased — by 90 percent. "Last year we really scaled back a lot of our three-dimensional work like pottery and table sculptures," notes Cross. Though she stresses that it's impossible to form a definite conclusion, she speculates that paring down some of the floor displays to divert attention to the paintings made a big difference.
Another factor contributing to the upswing in sales was Edgewater's gradual expansion into more active markets. For the past two years, the gallery has brought several of its painters to the annual Affordable Art Fair in New York City's Chelsea neighborhood, exposing its two-dimensional artists to a wide range of buyers.
Even as Edgewater expands its reach elsewhere, it must also find new ways to express its commitment to the local audience, says director Joe Siesholtz, who joined the gallery in January.
"Edgewater, in earnest, exists for the community," he says. "And what we've found is that the upstairs space looks beautiful, but parts of that can be intimidating for people who walk in the door."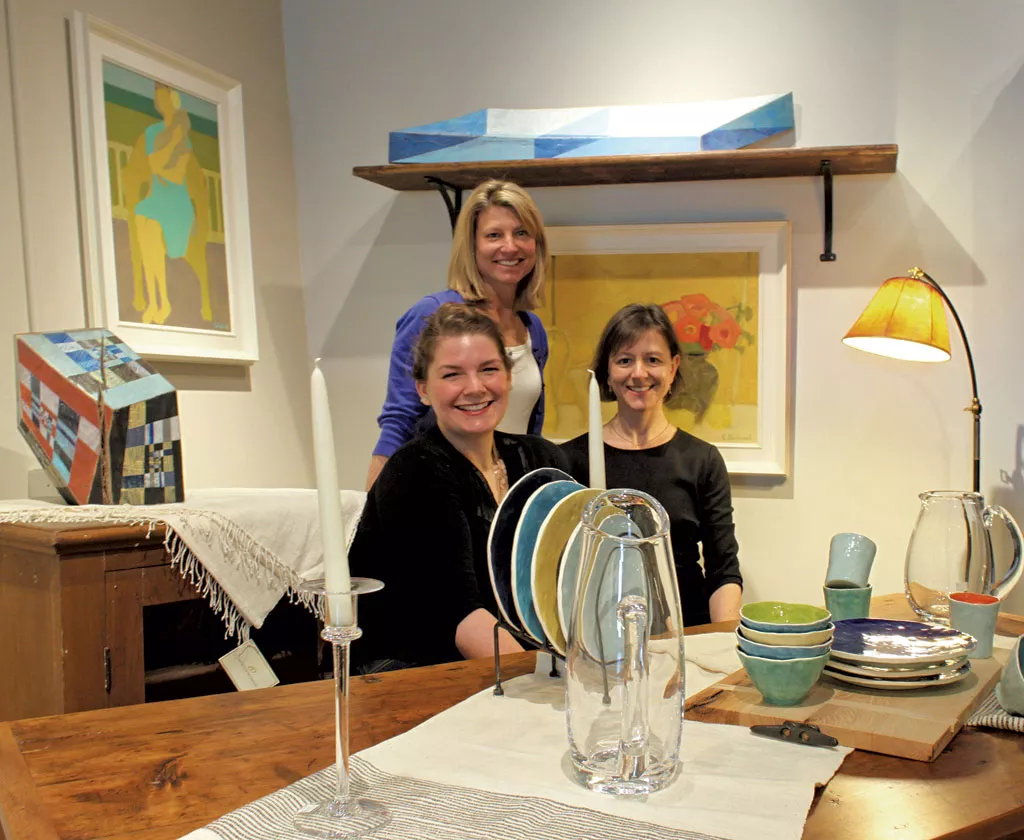 courtesy of Edgewater gallery
Shawna Cross, Rachel Teachout, and Kate Smith
So, in addition to ramping up its fine-art selection, Edgewater will simultaneously take a bold step in the other direction. In early May — just in time for the Middlebury Arts Walk — Edgewater will launch a home-and-lifestyle store in its lower-level space (formerly the Frog Hollow ceramics studio), which is designed to attract a local audience. Called Edgewater at Home, the store will be managed by Rachel Teachout, a longtime presence in the Middlebury business community best known for Belladonna, her now-closed furniture and home-décor shop on Main Street. Many of Edgewater's three-dimensional artists and craftspeople will be moved downstairs to unclutter the upstairs gallery. The downstairs space will also be used for events and community gatherings.
Edgewater at Home will allow for better display of the gallery's 3-D pieces. "Curating three-dimensional work is a different set of challenges from curating two-dimensional work," Siesholtz admits. "What happens now, practically speaking, is that the [two-dimensional] work goes on walls, and then you try to figure out how to put the 3-D work around it."
Edgewater at Home, furthermore, will create an opportunity to bring in new lines of merchandise and potentially attract a more varied customer base. Edgewater's profit margins may be rising, but it's still a small gallery based in a small town, where customers in the market for a $10,000 painting are rare.
"The thesis is that having merchandise at a lower price point will draw more people into the gallery," says Siesholtz. To that end, Teachout is bringing in a range of items that includes antique and vintage furniture, home goods and other small, artisanal objects such as handbags.
Creating a community events space and giving a jolt to the local market were the driving motives behind the expansion, according to staff.
"We may sell to people in New York or elsewhere, but there are people right here. You don't want to miss your own market," Teachout says. "[Edgewater at Home] will have a different feeling than the gallery. When you come into a space and there's a couch and a table, you feel at home. You're not worried. It changes your mindset a little bit."
Teachout plans to change the design of the shop frequently, depending on the furniture, artwork and home items at hand, as well as the season. One thing won't change, though: an enormous window with a spectacular view of the nearby falls.
"The view of the waterfall alone is worth the price of admission — which is free," quips Siesholtz. "And, very honestly, I don't care if you ever buy a painting. It's great if you do, but really, our goal is to foster community and to build a local arts scene. That means being inclusive, and it means encouraging people to come in the door."
The original print version of this article was headlined "Middlebury's Edgewater Gallery Keeps On Rising"