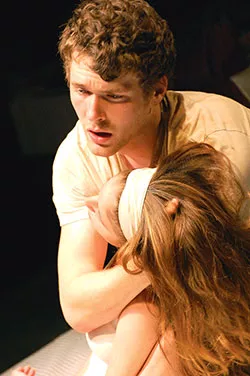 Michael Kessler '11 and Jessica Spar '11
Deep recession, rampant unemployment, disaffected youth — Road, staged this weekend by the Middlebury College Theatre Department, seems to feature ripped-from-the-headlines themes. But Jim Cartwright's play doesn't take place in Anytown, U.S.A., in 2009. These circumstances grip an unnamed town in the playwright's native Lancashire, England, in 1986. The action unfolds along a working-class neighborhood street on an alcohol-fueled Saturday night, as two dozen young characters confront dark fears and dire futures.
Director Richard Romagnoli, a Midd theater professor, has taught the play as part of his contemporary British playwriting class and has observed a "very strong and powerful" student response to the text. For this fall's student production, "I was looking for a play that provided acting challenges, and that addressed emotional and broader contextual issues that we are facing today," he explains. "It has a certain topicality," although timeliness wasn't the only reason for choosing the script.
Romagnoli is particularly drawn to the strength and complexity of Cartwright's characters. "They all are suffering from the kind of psychic infections that come along with the economic privation," he notes. "The characters live pitiful lives, but they don't want to be pitied.
"The play deals with people in grave, desperate emotional, psychological and economic situations," Romagnoli continues. "And yet it's very funny at the same time."
A tramp named Scullery acts as the audience's tour guide. "You're taken into people's homes, you walk along the streets, you encounter people at various times of the night doing various things," Romagnoli explains. In the Midd production, "it's all done on an abstracted, suggested set of a road."
Music plays a major role in the storytelling. Despite the vibrance of the British music scene during the mid-1980s, the inhabitants of Road only listen to American tunes. "The music is another symptom of the infection," says Romagnoli. He wants to emphasize how the music represents "pure escape" to the disaffected young Brits, who also follow TV froth such as "Dynasty."
Shallow pop-culture fantasies provide stark contrast to the characters' heartbreaking fears. Clare expresses one to her unemployed boyfriend, who has gone on a hunger strike: "Just think, one day there might be the last job on Earth. And everyone will come out to see the man lose it. They'll all watch as he comes up to his last hour."