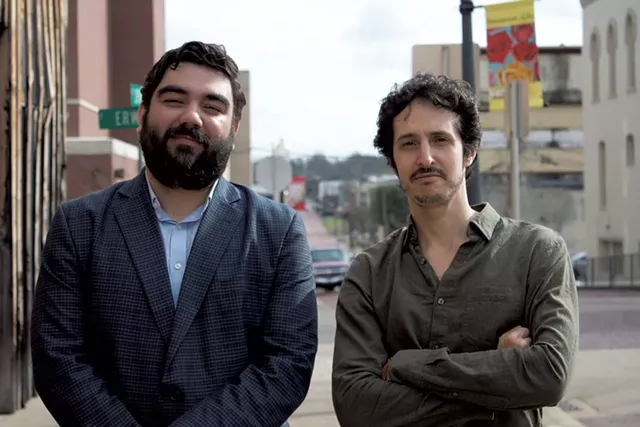 Courtesy Of Ariel Orr
James Chase Sanchez (left) and Joel Fendelman
When 13-year-old James Chase Sanchez and his mother moved to Grand Saline, Texas, in 2001 for better schools, he soon heard about the town's most famous stories: Signs at both ends of Grand Saline ordered African Americans to leave by sundown; the Ku Klux Klan visited the town; the Pole-town neighborhood got its name because black people's bodies had been put on display on poles after they were lynched.
"There is some truth to these stories," said Sanchez, now an assistant professor at Middlebury College who studies public memory and cultural and racial rhetoric.
Unfortunately, his research has shown that Grand Saline's history of racism is not exceptional. In fact, it is similar to that of other towns in the South before the civil rights movement.
"For any other town, these stories would go away," observed Sanchez, 31. "But why does Grand Saline keep sharing them?"
The town's history — or rather, the perception of the town as racist — is the subject of Sanchez's debut documentary Man on Fire.
Directed by Joel Fendelman, the hour-long film won the International Documentary Association's David L. Wolper Student Documentary Award in 2017. It was screened at this year's Slamdance Film Festival and Big Sky Documentary Film Festival, and it will make its national debut on public television on Monday, December 17. Vermont PBS will air the film all week at various times.
Man on Fire takes its name from Charles Moore, an elderly white preacher who set himself on fire in a parking lot in Grand Saline in June 2014. The Tyler Morning Telegraph newspaper published Moore's suicide note, in which the preacher said he grew up hearing racial slurs and witnessing racist incidents in the town. He felt he hadn't done enough to address racial injustice, and he wanted to join the African Americans who were lynched by "giving my body to be burned."
Moore urged his hometown to "open its heart and its doors to black people, as a sign of the rejection of past sins."
Six months after the preacher died, Michael Hall, a writer at Texas Monthly magazine, wrote a biography of him, also titled Man on Fire.
Rather than duplicating Hall's work, Fendelman and Sanchez decided to use the preacher's final fiery act as a vehicle to not only discuss the impact of Moore's self-immolation on Grand Saline, but also to establish the veracity of the folklore and extent of racism in the town.
Sanchez said that rumors circulated around the town during filming. Many residents thought the pair would exploit Grand Saline or that the documentary would portray it as the most racist community in America.
"A lot of people from my hometown think that this project comes out of a place of hate," said Sanchez, "[but] it comes out of love and responsibility."
Though Sanchez lived in Grand Saline for just five years, he claims it as his hometown. He loved growing up there, but also remembers being called "beaner" and "wetback." One of the slogans of the high school football team was "We're all right cuz we're all white," he said.
Grand Saline's folklore has long been known in neighboring towns. An African American man who lives 38 miles away told the filmmakers, "We all grew up and heard the same stories. You don't go to Grand Saline. You don't talk to people from Grand Saline. There's no reason for you to be there because it's not safe for you."
Some of the older Grand Saline residents remembered Sanchez from his football-playing days, and that gave him an "in" for talking to them, he said. On the other hand, his peers were aware of his scholarship on race and what he describes as his "very, very, very liberal" views on the subject. Many didn't want to appear in front of the camera, Sanchez said. He also admitted that he's lost a few friends because of his project.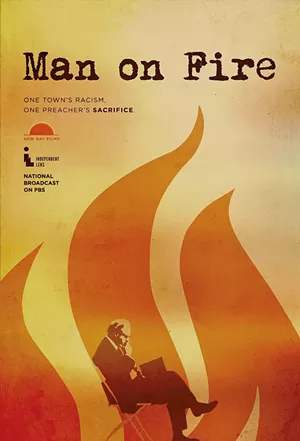 Throughout the 54-minute documentary, the dramatization of Moore's final moments and self-immolation is interspersed with the recording of a 911 call, as well as interviews with local historian Elvis Allen, residents of Grand Saline and neighboring towns, former city officials, and Moore's family.
With Allen's help, the filmmakers established the extent to which the stories were true.
A common refrain among Grand Saline residents was that the town — and by extension the country — isn't racist because Barack Obama was president, Fendelman said. "Grand Saline is any town in the U.S.A., to some degree," said the New York City-based director. "There's a Grand Saline in a hundred different places in the U.S."
While the documentary doesn't draw explicit conclusions, Sanchez offered his own hypothesis on why the stories continue to be told.
"It's a way for the [residents] to preserve the culture while also being able to deny that they are racist or white supremacists," he said. As a result, Grand Saline continues to be perceived as a racist town.
Fendelman and Sanchez have given talks on their film at Middlebury College, as well as at five other schools in Kentucky, Ohio, Pennsylvania and Texas. They plan to do another tour in the spring.
Sanchez hopes that Grand Saline residents will watch the film, which he insisted was a labor of love. "I'm hoping that this documentary does good and can help the community," he said.