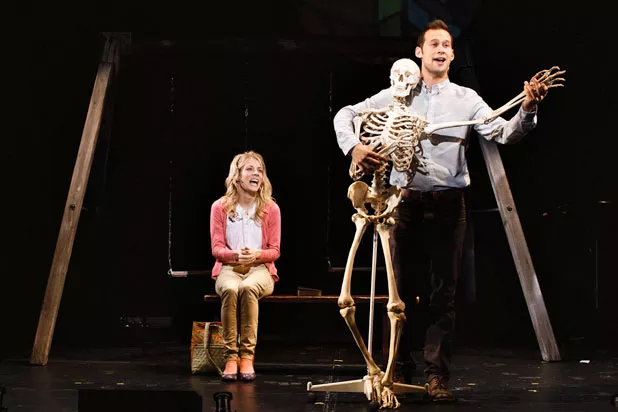 Morgan Weed and Jed Resnick in "Swing State"
Pregnancy can seem interminable, so imagine what it's like to carry a creation for eight times the requisite nine months. That was the case with Middlebury College visiting assistant professor Dana Yeaton's musical, now called Swing State, on which he started work in 2006.
But the play's long gestation came to term last week. A production of Swing State ran for seven performances at a venue just two blocks from Broadway as part of the New York Musical Theatre Festival. Yeaton's story of a gay chiropractor and a Christian fundamentalist kindergarten teacher got generally positive reviews. Except from the source that most theater people believe matters most: the New York Times.
Times critic Catherine Rampell called Swing State "an odd little show." She expressed confusion about the apparent disconnect between the show's name and its content: "It has a flip, political-sounding title, but the story is not a farce about elections but instead a drama about personal loss and childhood trauma. It's a musical about tolerance," Rampell added, "but chiefly emphasizes tolerance of those who are openly intolerant."
In an interview last week, Yeaton demonstrated his own ability to remain tolerant even when his work came under fire. He called the Times review "smart" and said it "made me think about the play in a new way."
He now intends to "make one more tweak with the title." The show will henceforth be called Swing State: A Musical Fable.
The plotline of a bone cracker from Brooklyn healing a tensed-up teacher in Appalachia will ring a bell with some Vermonters. That's because the show had a well-attended run at the FlynnSpace in Burlington in 2010 in a production by the Vermont Stage Company. Back then, it was titled My Ohio.
The version chosen for inclusion in the New York festival is 90 percent the same as the one staged in Vermont, Yeaton said. He and LA-based composer Andy Mitton, a Middlebury alum, fiddled with one big scene and a few songs as well as with the title. Yeaton said he went with Swing State partly because the two characters are seated on swings as they snipe at and schmooze with each other, and partly because My Ohio "didn't tell you what the show's about."
The festival's vetters liked the piece well enough to award it a $5000 credit toward the cost of production, which Yeaton estimated at $50,000. That necessitated "fundraising like crazy" and relying on the kindness of strangers. "At age 54, I decided not to ask my father for money," Yeaton related.
In addition to marketing the play to New York audiences, the festival arranged for Yeaton to work with "two of the best actors I've had" (Jed Resnick and Morgan Weed) as well as "the best director I've ever worked with" (Igor Goldin). Those attending the sold-out performances at the West 45th Street venue included theatrical rainmakers who, Yeaton hopes, will want to put Swing State on other stages. The festival does have a strong record of presenting shows that later embark on off-Broadway runs; one, Next to Normal, ran on Broadway itself.
For now, though, Yeaton doesn't know what future awaits Swing State — beyond having already decided to "give it another rewrite."