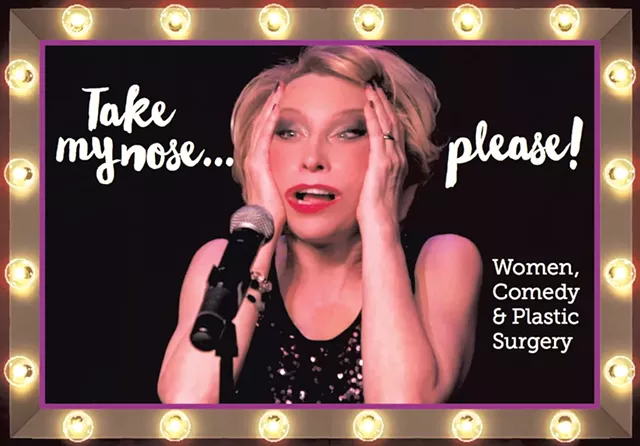 Joan Kron has worn many hats during her lifetime. Costume designer. Pop-art impresario. Journalist. Contributing editor-at-large at Allure magazine. Plastic-surgery expert. Not content to rest on her laurels, in 2012 the octogenarian added another item to her lengthy résumé: film director.
Take My Nose ... Please!, a documentary about cosmetic surgery that was four years in the making, is 89-year-old Kron's directorial debut. On Thursday, August 24, it will open the third annual Middlebury New Filmmakers Festival.
"Being old is a tremendous advantage," Kron says, "because, No. 1, you become wiser with age. And, No. 2, everybody underestimates you. So you cannot lose. And I'm blonde, and of course, everybody underestimates blondes."
Kron's wry sense of humor and openness about her own experiences under the knife made her the ideal director for a film that follows two female comedians as they consider having work done for the first time. The documentary examines celebrities' historical reluctance to discuss plastic surgery — with the notable exception of comics such as Joan Rivers and Phyllis Diller. It lays bare the double standard of a society obsessed with physical appearance that also stigmatizes those who choose to alter their looks.
"In Hollywood, everyone has taken the 'Hypocritical Oath,'" Kron riffs. "That is, they deny surgery in public, and they have it in private."
Take My Nose is part of a conscious effort by MNFF's leadership to highlight the work of women behind the camera. Other films in the festival spotlight include the closing-night selection, Swim Team, a documentary about autistic athletes from first-time feature director Lara Stolman. On Saturday night, Dana Auditorium at Middlebury College will host a screening of Alexandra Dean's Bombshell: The Hedy Lamarr Story. The doc chronicles the career of the screen siren whose billing as "the world's most beautiful woman" overshadowed her achievements as the coinventor of a frequency-hopping radio-wave system that served as a precursor to modern-day Wi-Fi and Bluetooth technologies.
"I think part of what we want to do is draw attention to the fact that it's independent film where women have the most opportunities, by far," says MNFF artistic director Jay Craven. "By hosting this type of festival, we want to recognize that and celebrate it, and do what we can to support the idea of these women filmmakers going on to have sustainable careers."
Maverick director Robert Altman, whom Craven lauds for creating "a new language in independent cinema" through his circular approach to narrative and innovative use of sound, is the subject of a two-film tribute composed of his 1971 revisionist Western McCabe & Mrs. Miller and the 1975 satire Nashville. The Nashville screening will be followed by a discussion with Ferrisburgh resident Allan Nicholls — who worked with Altman in various capacities on a dozen pictures — and frequent Altman player Michael Murphy.
Murphy will also participate in a Saturday morning coffee chat with Craven and fellow actor M. Emmet Walsh, who has a home in Swanton. The two thespians, whose careers briefly overlapped in 1972 on Peter Bogdanovich's screwball comedy What's Up, Doc?, are of that special breed of character actor whose face is instantly recognizable, but whose name often escapes even seasoned moviegoers.
Festival producer Lloyd Komesar, a former Disney executive, credits the many industry connections Craven has made during his 20-plus years on the Vermont filmmaking scene with creating a kind of MNFF "family tree." Branches of that tree include the documentary team of Ricki Stern and Annie Sundberg, who met in 1992 on the set of the Craven-directed Where the Rivers Flow North. The pair will receive a VTeddy Award for Sustained Excellence in Documentary Filmmaking on Sunday, following a screening of their most recent film, Marathon: The Patriots Day Bombing.
The fest will also feature the work of a returning honoree. Marlboro native Jesse Kreitzer, the recipient of last year's inaugural Vermont Symphony Orchestra award for Excellence in Music Composed for Film for his short "Black Canaries," will present excerpts from his in-progress feature Caregivers. Clips from Kreitzer's film about eldercare, which features nonprofessional actors and blurs the distinction between fiction and documentary filmmaking, will be accompanied by a live VSO performance of an original score by Williamsville composer Paul Dedell.
Komesar praises MNFF alumni for reaching out to other filmmakers about the festival by word of mouth. He notes that Swim Team was submitted for festival consideration at the suggestion of Amy Geller, whose documentary The Guys Next Door was a Best of Fest selection in 2016. Likewise, Jesse Nesser, the director of last year's opening-night film, made the connection with Untouchable director David Feige, whose documentary about sexual abuse will be screened on Friday.
"To have the alumni network working for us is a great thing," Komesar says. "It's an outgrowth of the positive nature of the festival and the hominess of it."
As for Kron, a Manhattan resident, she says she's thrilled to make the trip up to Addison County. Though she's been traveling the festival circuit since Take My Nose ... Please! debuted at the Miami Film Festival in March, Middlebury will mark her first opening-night spot.
"People say this never happens to a first movie. It just doesn't happen — and especially to an old lady!" Kron says with a warm laugh. "I can't wait to be 90 and say I'm a filmmaker. I want to be the oldest filmmaker in the world."