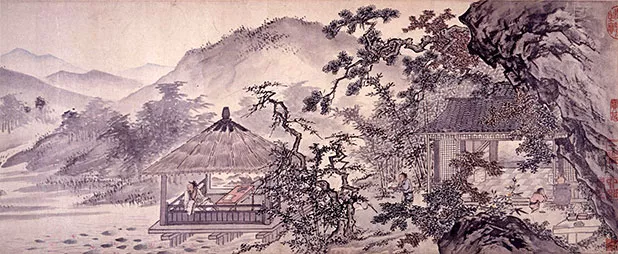 Symbols of Eternity by Tang Yin
A show of Chinese bronzes and paintings at Middlebury College qualifies as a stealth blockbuster.
In a single, elegantly curated room in the college's Museum of Art, visitors will encounter works by three of the four greatest painters of the Ming Dynasty (1368-1644). It's the equivalent of seeing canvasses by Michelangelo, Raphael and Caravaggio in a Vermont exhibit, suggests one Middlebury art historian.
Crowds would come running to see those Italian Renaissance heroes, but the audience was thin last Saturday afternoon for hand scrolls by Tang Yin, Qiu Ying and Zheng Zhong. Which, in a sense, is just as well, since Tang's and Zheng's landscapes reward close-up inspection (magnifying glasses are provided). Qiu's multipaneled narrative "Eighteen Songs of a Nomad Flute" can likewise be savored from the comfort of folding stools placed alongside the vitrine holding this 44-foot scroll.
Prospective visitors to "Artists and Ancestors: Masterworks of Chinese Classical Painting and Ancient Ritual Bronzes" should approach this exhibit differently than they would a French Impressionist extravaganza, advises Colin Mackenzie, Middlebury's curator of Asian art. "It has to be seen not in terms of a public statement but in terms of intimacy and subtlety."
Despite the differences in scale and cultural context, viewers familiar with the European canon will quickly come to appreciate the finesse of the Chinese painters, Mackenzie suggests. "The bronzes are a harder sell," he adds.
American art lovers may initially wonder why utilitarian objects such as wine goblets and cooking vessels have been paired with pen-and-ink studies of plum blossoms and bamboo shoots, and with Qiu's colorfully rendered tale of a Chinese maiden abducted by barbarian nomads. It's an unusual combination for a Western art museum, Mackenzie acknowledges. "But it wouldn't surprise the Chinese."
Ancient bronzes and classical paintings have long been paired together by China's literati as expressions of homage to ancestors and past masters. The two forms are also linked by their prominence in the millennia-long continuum of Chinese art. The ritual bronzes and many of the paintings included in the show share symbolic significance, as well.
The bronzes are noteworthy for their age alone. These highly decorative pieces span nine centuries, with the earliest made about 400 years before the first extant examples of ancient Greek sculpture. These Chinese bronze works do deserve to be seen as sculpture, Mackenzie suggests. Again, a lingering look will reveal the intricacy of the vessels' designs and the skill of the unknown hands that cast them.
No special effort is required to admire a set of almond-shaped bells of graduated sizes that were clearly crafted to appeal as much to the eye as to the ear. The museum's entrance desk offers iPods loaded with contemporary takes on the music the bells may have made more than 1500 years ago.
A text panel explains that the bells were perceived as symbols of authority, because harmonious accompaniments to ritual were considered essential to good governance in ancient China. Accompanying text also elucidates the symbolic qualities of some of the paintings. For example, an exquisite hanging scroll of a blossoming plum branch by Yuan Dynasty painter Wang Mian (1286-1359) may allude to the virtue of independence, because plums alone blossom in winter.
All the pieces in this show were lent by an anonymous private collector connected with former Middlebury College trustee William Youngman (1907-1994), to whose memory the exhibit is dedicated.