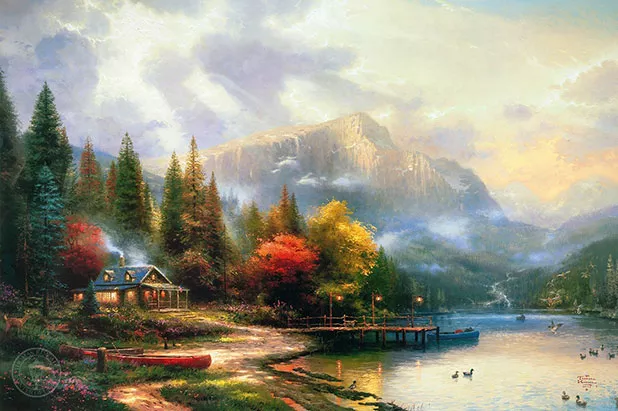 Does an art museum have an obligation to make judgments about what qualifies as "art," and to exclude works that don't fit its definition?
That's one of several questions raised by "Making Sense of Thomas Kinkade," a provocative and pioneering show currently at the Middlebury College Museum of Art. Although Kinkade, a 51-year-old multimillionaire, ranks as the most successful living American artist, he has never before been the subject of an exhibit by a respected museum.
There are good reasons for this.
Kinkade's work drips with sentimentality and religiosity. His aesthetic, which purports to celebrate the simple, joy-filled life, could be described as Recycled Romanticism, or Mass-Market Melodramatics. Kinkade specializes in cutesy landscapes featuring cavorting critters, glowing gingerbread houses and pink-streaked skies meant to be seen as the product of a blissful Creator. Then again, he also sells an idealized urban line featuring a glitzy Las Vegas, NASCAR prints and other sports imagery.
Kinkade, who has trademarked the descriptor "Painter of Light," is actually a highly successful corporation based in Morgan Hill, California. As Middlebury's samples of his output indicate, most works attributed to Kinkade are actually reproductions touched up by teams of "master highlighters" in his employ. Indeed, the artist-entrepreneur's website credits the Thomas Kinkade Company with manufacturing works that "inspire people to create their own place of refuge." Fans are invited to join the Thomas Kinkade Collectors' Society for just $50.
The whole enterprise conforms uncannily to what Americans mean when they say, "I don't know much about art, but I know what I like." The Middlebury show revealingly includes "America's Most Wanted," a 1993 print by satirists Vitaly Komar and Alex Melamid showing George Washington standing near a lake in which deer wade as a mom, dad and boy stroll along its shore. Komar & Melamid's composite reflects the results of a survey they commissioned that found a popular preference for bluish outdoor settings composed with soft curves and presented on a "dishwasher-size" canvas. American historical figures were identified as another of the people's choices.
Curated by Franklin and Marshall College art historian Michael Clapper, the show does provide a context for its inquiry into what Kinkade's success suggests about American cultural values. A typically treacly work by Norman Rockwell, one of Kinkade's heroes, hangs among such crowd-pleasers as "End of a Perfect Day III" and "Home Is Where My Heart Is."
Clapper explains in a text panel that Kinkade is not responding to marketing surveys but is constructing an alternate universe free of the pressures and unpleasantness of modern life. Regardless of the quality of the work, Clapper argues, its popularity is worth investigating.
Museum director Richard Saunders takes a similarly nonjudgmental stance. He refers to Kinkade's legions of fans as "introductory viewers" who know little of art history and aesthetic norms but whose tastes should not be disparaged.
Maybe so. But then, what's next for Middlebury? "The Art of the Smiley Face"?