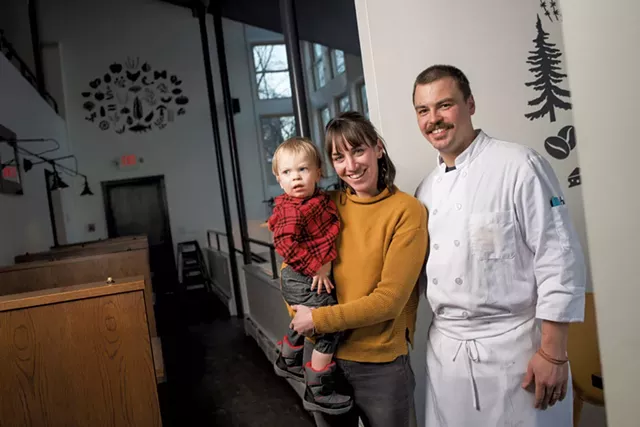 Caleb Kenna
Caroline and Matt Corrente with their son, Casey
A light snow fell at dusk on a recent Saturday evening in Middlebury, floating past the window by our table at the Arcadian and falling to the river below. We were on the lower level of the three-deck restaurant at the edge of Otter Creek; I was lucky to be on the river-view side of the restaurant, which opened on Bakery Lane in mid-November.
It wasn't easy to turn my gaze from the scene outside, but our cocktails were pretty alluring. Mine was served on a cornhusk, a presentation easily matched by the cocktail, called Blue Corn and Chocolate: house-infused bourbon (cacao and popcorn), smoked husk syrup, and chocolate bitters.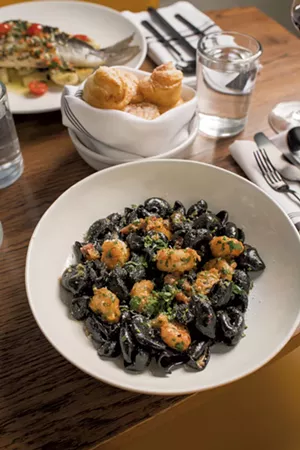 Caleb Kenna
Squid-ink orecchiette with pan-fried rock shrimp, Calabrian salami and chile
My cousin's gin and tonic was delivered in a small, capped bottle that was popped at our table; the gin was infused with foraged local botanicals — spruce, juniper, cedar and more. The tonic was made in-house. Her drink was set on a piece of burlap cut from a coffee-bean bag.
The cocktails foretold what was to come: a meal that delighted and intrigued us with each course, unfolding at a pace that invited us to hang out — always with food on the table.
Three days later, I sat at the same table overlooking the creek. This time it was late morning, the sky was steely gray and the restaurant had a different name: Haymaker Bun Company. My drink was a latte that I fetched from the bar. I ate it with a sticky cinnamon bun. When I cleared my mug and plate and put them in the dish bin, the tub was carried to the kitchen by Matt Corrente, who was working a dishwashing shift that morning. The night I ate at the Arcadian, he was the chef.
Corrente, 34, and his wife, Caroline Corrente, 29, have created two distinct businesses within one building. The shared space is Caroline's bakery and café in the morning and Matt's Italian restaurant at night. The workstation by the front door where Caroline makes pastry dough at 5 a.m. is a pasta-making place at 5 p.m.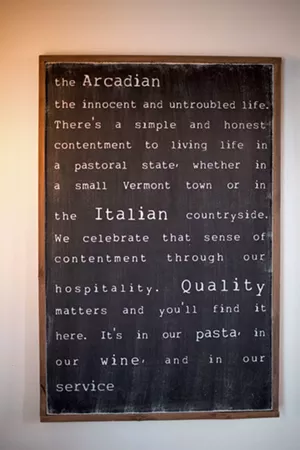 Caleb Kenna
The Arcadian in Middlebury
"I always knew I wanted to open a restaurant with Matt one day," said Caroline. "The backbone of our relationship is food, and love for food."
The couple met in 2012 at Pistou, an acclaimed but now-defunct Burlington restaurant. Matt, a graduate of Middlebury College, had majored in studio art and premed and thought he'd be a dentist. Yet he had started in the restaurant business as a teenage dishwasher in his native Rhode Island. After college, Matt switched directions, attended culinary school and has cooked in restaurants ever since. (Most recently, before opening the Arcadian, he was the chef at Middlebury's Notte.)
Matt was sous chef at Pistou when Caroline applied for a server job. She was a senior at the University of Vermont, where she majored in anthropology. Caroline walked into Pistou, Matt looked at her and smiled, and his fellow cook, George Lambertson, told him, "You're going to marry that girl." Lambertson, now chef-owner of ArtsRiot, was on the mark: Caroline and Matt married in 2014.
The Correntes now live in Middlebury with their 2-year-old son. They share ownership of the Arcadian and Haymaker and occasionally bake or wash dishes for each other. Their front-of-the-house wooden prep table has a "dough soul to it," as Matt put it, whether it's pastry or pasta. Still, the businesses that together employ about 30 people are independent in function and feel.
"Breaking in the middle of the day allows the two concepts to be segregated," Matt explained. "[And] they draw from two different cultures creatively."
In the morning, college students work on laptops and couples chat over coffee. A customer might linger in a corner booth after closing time at 11:30, when the space begins its daily transformation.
Caleb Kenna
Branzino with grilled artichoke caponata
In the evening, the counter that held breakfast buns becomes a bar that offers a negroni on tap. Diners are served at their tables, and the kitchen turns out an assortment of housemade pasta dishes and seafood dinners. Matt's meals are grounded in traditional Italian cuisine and shaped by Vermont's seasonal and value-added ingredients.
"I see it as an opportunity to really create something new," said Matt. He's interested in the "parallels" between Italy and New England — from geography to food history to cultural artisanship — and in making food that draws from and highlights these attributes.
Our meal exemplified this approach, especially the pair of terrific entrées.
First, though, we started with a big bowl of steamed mussels in a slurp-worthy broth of tomato, white wine and garlic, served with a slab of grilled bread. Next came a sizable salad of chopped romaine, radicchio, slivered endives and croutons tossed in a Caesar dressing. (Kudos to the kitchen for sending these out one at a time so we could share and take our time over each.)
My entrée was tagliatelle Bolognese, a tangle of pasta tossed in ragù of beef (shoulder that's ground in-house), ground pork and cured meat. The sauce was not tomato based but a gravy whose key ingredient is veal stock, according to Matt.
I snitched from my cousin's plate — a special of pan-seared scallops that came aligned on fennel risotto, bordered on one side by a roasted-red-pepper-and-almond pesto and on the other by radicchio, which was charred on the grill before being steamed in its juices. The plate's winter palette — jade green (risotto), reddish-orange sunset (peppers) and night-sky (radicchio) — was as lovely and distinct as its flavors.
Caleb Kenna
Balcony view at the Arcadian
"I like that dish," Matt said later, explaining that the fennel, which gives the risotto its hue, comes in three forms: the fennel itself, its juice and cracked fennel seed. He devised it because he had a lot of peppers around and because the restaurant was briefly out of branzino. Matt wanted a seafood dish to replace the sea bass that is a regular menu item.
The night we dined at the Arcadian, the scallop special was available and branzino was back on the menu. I got a vicarious thrill watching a diner at the neighboring table receive his fish, lean back in his chair to take a good look at it, flash a big smile and give a double thumbs-up before taking his first bite.
We moved on to dessert, a wedge of Caroline's rich chocolate torte resting on a thick caramel-orange glaze and adorned with whipped cream. This was an easy two-thumbs-up, both before and after eating.
I'm envisioning a return to the Arcadian in the summertime, when the house gin and tonic, flavored by the foraging and imagination of bar manager Andon Whitehorn, can be sipped on the patio alongside Otter Creek.
"It's been a blast," Whitehorn said of the first months at the Arcadian. The same could be said of our meal.