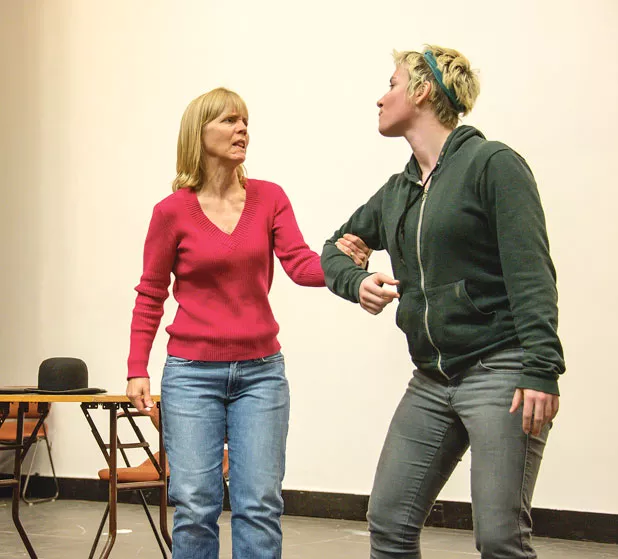 Rehearsing for Threepenny
The Broadway theater critic Walter Kerr once described the score of The Threepenny Opera as "the most wonderfully insulting music I have ever come across." Its sinister number, "Mack the Knife," is a classic thanks to recordings by Louis Armstrong, Ella Fitzgerald and Frank Sinatra. But the musical itself is infrequently performed in the U.S.
That's why Bettina Matthias, chair of Middlebury College's German department and director of the German for Singers and Vocal Coaches program, is so excited for her Middlebury Community Players production to open this Thursday, April 25, at Middlebury's Town Hall Theater.
"It's been incredibly sleep depriving," gushes Matthias in the days before opening night. "It's a big show. It's three hours … But it's been fantastic."
This is the 26th dramatic production Matthias has directed, but the first in English. She's done Threepenny twice before but always in playwright Bertolt Brecht's original German.
Collaborating with composer Kurt Weill, Brecht based his 1928 play on a 1728 English satirical musical called The Beggar's Opera, which skewered both London's social hierarchy and Handel's operas. Threepenny is a story of two rival villains, gangster Macheath, aka Mack the Knife, and king of the beggars Jonathan Peachum. Matthias describes them both as "capitalist exploiters" — Mack pillages wealthy neighborhoods, Peachum exploits the very poor.
Its roots go back nearly 300 years, but Threepenny, says Matthias, remains relevant today. "It's about social injustice. It's about exploitation and power," she says. "And for me, the play is about the banking crash."
It's also an intriguing example of Brecht's signature "epic theater," in which he stripped away traditional conventions to keep audiences acutely aware "that theater is an illusion," explains Matthias. Brecht's actors, for example, would stop acting while they delivered a song.
"That's a challenge for both actors and audiences," admits Matthias, whose cast of 17 includes professional and amateur actors from both the college and the community. "But you do get drawn into this because it's all about social relationships."
And the play's references to Weimar Germany — its war veterans and people who've lost jobs because of new technology — are likely to resonate with contemporary audiences. "It's about modern society, and how power is maintained and what people in power do to stay in power," says Matthias.
To emphasize the strategic nature of the play's social dynamics, Matthias has staged it all on a life-size chessboard, with each character representing a specific piece. "They have predetermined paths to walk," she says, "but in some pivotal moments they really show who they are in this game."
In keeping with the chess metaphor, the actors are dressed in black and white. "I hope people don't think it's about bad and good," says Matthias. It's tricky to distinguish the good guys from the bad in this play, as anybody listening to the opening number knows: "Oh the shark has pretty teeth, dear / and he shows them pearly white / Just a jackknife has Macheath, dear / and he keeps it out of sight."
"The Threepenny Opera," performed by the Middlebury Community Players, at Town Hall Theater in Middlebury. Thursday through Saturday, April 25 through 27, at 8 p.m.; Saturday and Sunday, April 27 and 28, at 2 p.m. $20/15. middleburycommunityplayers.org