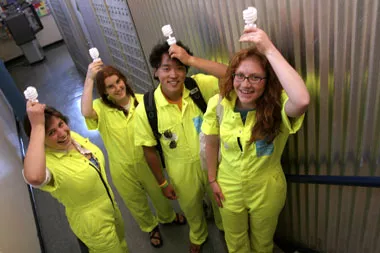 Left To Right: Bonnie Hemphill, Corinne Almquist, Josh Chan, Lizzie Quinn
MIDDLEBURY -- Question: How many Middlebury College students does it take to change a light bulb? Answer: Four, each of them wearing a green fluorescent jumpsuit. These and about 50 other student activists are actually changing a total of 2300 bulbs on the increasingly energy-efficient campus.
The four-member light brigade charged over to a dorm lounge one day last week to unscrew the standard incandescent bulbs in several reading lamps. Each was then replaced with a mercury-phosphorous bulb that uses two-thirds less energy and lasts 10 times longer than the old-fashioned variety.
The bulb exchange is part of a campaign by the student environmental club to save energy at the college and thus reduce emissions of the greenhouse gases that are starting to overheat the planet.
"It's a very simple way to do a lot," says Middlebury sophomore Bobby Levine, organizer of the bulb replacement drive. "With 2300 kids all making a small change, it adds up to a big change."
It could also add up to an outlandish piece of sculpture. Levine and friends are considering building a campus monument of some sort with all the incandescent bulbs they've collected.
It was Levine who arranged to outfit his fellow eco-activists with the jumpsuits that glow brilliantly in the springtime sunshine. They're another way of generating attention for an effort that has already involved visits to each of the 1200 dorm rooms on campus. Almost every occupant complies when asked to install a super-efficient compact fluorescent light bulb (CFL), says first-year student Corinne Almquist, one of the switchers in action last week.
College administrators agreed to split the roughly $9000 cost of the bulb replacement operation with Efficiency Vermont, a statewide utility that promotes energy-saving initiatives. The school was pleased to ante up its share because the CFL switchover is projected to save Middlebury $11,000 a year in energy expenditures.
Each CFL costs about $4, but will last for about 10,000 hours. Sophomore Bonnie Hemphill, another member of the jumpsuit set, says the CFLs in her parents' North Carolina home haven't needed to be changed once in the eight years since they were installed.
The campaigners point out that CFLs do need to be recycled when they finally burn out because of their mercury content. It's that element, in combination with the phosphorous coating, which enables the bulbs to direct energy primarily to light rather than to heat -- the opposite of what occurs with energy-wasting incandescent bulbs.
Efficiency Vermont plans to sponsor a competition next October to encourage every college in the state to replicate Middlebury's achievement. If fully successful, the statewide effort will result in 14 fewer tons of carbon dioxide being released into Earth's atmosphere, says Indu, an Efficiency Vermont project manager who goes by a single name.
Efficiency Vermont finances its operations through a percentage-based surcharge on the bill of every electric ratepayer in the state.
Middlebury may meanwhile move on to more ambitious conservation undertakings in the fall. The student environmental club is discussing a plan to make the college "carbon-neutral," meaning it would make renewable energy investments sufficient to offset the amount of carbon dioxide currently released as a result of its energy usage.
The club will also continue promoting conservation through the set of small steps it urges students to take. Almquist says there was a huge response to last fall's 2-degree campaign that involved resetting dorm-room thermostats from 70 to 68 degrees. The activists might seek a 3-degree reduction next semester.
Midd kids are further asked to walk up stairs rather than ride in elevators, to turn off computers when not in use, and to avoid using hair dryers.
The foursome replacing bulbs last week have put their beliefs into personal practice. None of them had a car on campus; they rely instead on the town's extensive public bus system. And all four say they never turned the heat on at all in their dorm rooms this past winter.
It's easy to go green at Middlebury, says sophomore Lizzie Quinn, a jumpsuiter from Long Island. "There's so much energy and so much optimism on campus for environmental issues," she says. "Being in Vermont acts as a crucible. We have all sorts of opportunities to work with community members on these issues."
While it's true that climate change may already be irreversible, adds Hemphill, "We can still make it less severe. So many people say that being pessimistic is being realistic, but I say it's just as realistic to be optimistic."