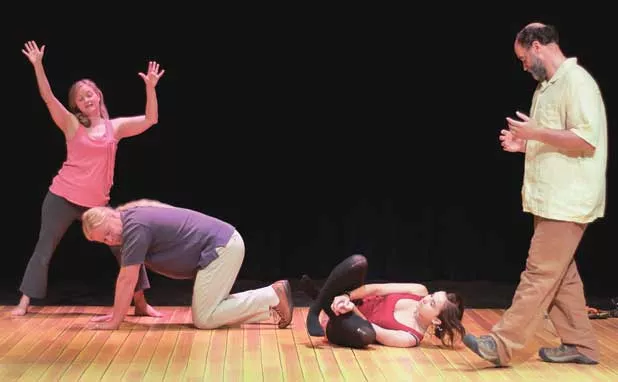 Circle Mirror Transformation
"I hope you all feel safe here — and are willing to go with it," says acting instructor Marty at the beginning of Circle Mirror Transformation, a play set entirely in a community acting workshop. She might as well be speaking to the audience. Over the next hour and 50 minutes, the actors will engage in theater game after theater game — and the revelations will come pouring out.
CMT is the second play by 30-year-old Annie Baker of Amherst, Mass., that Middlebury Actors Workshop has produced. Last year, MAW did Body Awareness, about a lesbian couple and their 21-year-old son whose lives are turned upside down during the nearby college's Body Awareness Week. Both plays, and one more called The Aliens, are set in Shirley, a fictional Vermont college town — a fitting backdrop for the Middlebury actors.
But CMT is a different kind of play from Body Awareness. "Annie is trying to capture real life in an almost naturalistic way," writes California-based Mark Ramont in a director's note. "As such, the play's delights are of a more subtle kind and take a certain amount of patience."
The opening scene features the five workshop participants lying on their backs on the floor. One of them says, "One." There's a pause.
Another person says, "Two."
When two more participants shout out, "Three!" simultaneously, we discover that this is a theater game. They're attempting to get in tune with one another by counting to 10.
Melissa Lourie, MAW's artistic director, plays hippie-dippy acting instructor Marty. Kevin Commins, with his long, bleached-blond ponytail, is James, Marty's reluctant-to-be-taking-this-class husband. A bubbly Jenny Gundy plays Theresa, the "real" actor, who recently left a career in New York City to escape a smothering boyfriend. And 14-year-old Gianna Kiehl is a pitch-perfect Lauren, a sullen teenager angling for the lead in her high school play.
But it's hard to keep your eyes off Ethan Bowen as Schultz, the socially awkward, recently divorced carpenter who's looking for love in all the wrong places. It's fascinating to watch Bowen, a big, barrel-chested guy, embody a character who much of the time seems to wish he could make himself invisible. Bowen hulks around the stage with plodding steps. When he sits on the floor, his shoulders hunched and his thick legs stretched straight in front of him, he looks like a giant child.
Marty's class feels, at times, more like a group therapy session than an acting workshop. She asks the students to use each other to recreate tableaux of their painful childhood memories. In another exercise, actors have to pretend to be one another, revealing personal details they may have learned in confidence.
Teenage Lauren isn't happy about it. "Are we going to be doing any real acting, like reading from a play?" she complains. Teen actors don't always get the teen thing down on stage, but Kiehl does. She's simultaneously sweet, vulnerable and disaffected. Her Lauren is insecure, but forceful. "I don't get it," she says during the counting exercise. But she keeps showing up.
Lauren finds a kindred spirit in Schultz. When it's her turn to impersonate him in an exercise, she talks about his recent divorce. "I'm in a lot of pain about it," she says, pretending to be Schultz. Then she pauses. "But, on the bright side, I have more time to work on my chairs." Another pause. "I'm an artist."
The play unfolds over the course of a six-week workshop, and we only see the characters in class. Each time we encounter them in a new scene, they have learned much more about each other than we have. Some developments are revealed onstage, but plenty more happen offstage. We can infer, for example, that Marty and James' marriage is on the rocks and that their daughter is troubled, but we only see fragments. We watch James' affection for Theresa blossom in exercises, such as when the pair is instructed to have a conversation using one word each. "Goulash, goulash," Theresa says solemnly, looking deep into James' eyes. "Ak-mak," James answers, with all his heart. "Ak-mak."
In the play's tensest scene, Marty asks each participant to write down a secret, then fold up the paper, throw it in a bag and pick out a different one to read aloud. Schultz's hands are visibly shaking, but he goes along with the exercise — and the revelations are momentous.
It may be more drama than any community acting workshop should reasonably have. But it makes for great theater.