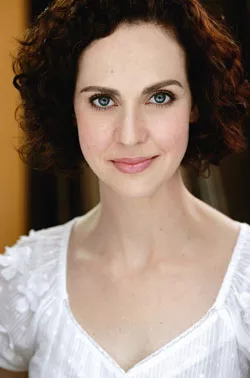 A few weeks ago in this space we noted the extensive auditions for the pivotal and challenging role of Maggie in the Middlebury Actors Workshop production of Cat on a Hot Tin Roof. Well, director Melissa Lourie announced this week that she has chosen her "Cat," as well as other cast members. New York City Equity actor Katie Hartke will play Maggie — a character in the classic Tennessee Williams play that some of us may still envision as Elizabeth Taylor, who embodied her in the 1958 film adaptation. Currently on Broadway, movie star Scarlett Johansson is reviving the stage role to mostly positive reviews.
Lourie, who will direct the Vermont version, said that MAW's Steve Small will play Big Daddy, while Burlington-based actor Andrew Butterfield won the part of Maggie's handsome-but-soused husband, Brick. Stephanie Gallas, of Vergennes, will play Big Mama.
But we'll have to wait until October to watch this cast prowl the stage. First up is the Middlebury company's other major production of 2013, Yasmina Reza's Tony-winning God of Carnage. Commencing in June and guest directed by Tara Downs, the comedy of ill manners will pit MAW vets Karen Lefkoe and Harry McEnerny against Burlington actors Chris Caswell and Ben Ash, as the respective parents of two kids who've had a playground incident.
Both productions will run at MAW's resident Town Hall Theater and at the Paramount Theatre in Rutland.
In other good news, Lourie announced the hire of an associate managing director, Liz Marino. Standing O for the burgeoning cast of local theater.
Middlebury Actors Workshop Productions: "God of Carnage," June 27 to 30 at Town Hall Theater in Middlebury, and July 10 and 11 at the Paramount Theatre in Rutland. "Cat on a Hot Tin Roof," October 17 to 20 at Town Hall Theater, and October 25 and 26 at the Paramount.