Isaac Wasuck
Students in the Chinese Academy practice early-morning Tai Chi Fan.
It all starts with the pledge.
On the second day of the four-week Middlebury-Monterey Language Academy (MMLA) — a rigorous language immersion program that originated at Middlebury College in 2008 — middle and high school students take The Language Pledge. It's a formal promise that they will only communicate in the language they're studying while attending the academy.
That means English is off limits — not just in class but during meals, dorm meetings and off-site excursions. The exception is twice-weekly phone calls home and two hours allotted for English speaking on Saturdays.
This month, Spanish, German and Arabic academies for students entering eighth through twelfth grade took place at Green Mountain College in Poultney while Saint Michael's College in Colchester hosted 149 students for a French academy and 125 students for a Chinese academy.
The programs attract students from all over the country, as well as international students from far-flung locales including Moscow, Dubai, Nigeria and the Phillipines. Locals attend, too; 34 Vermonters signed up for the July academies at Green Mountain College and St. Michael's College.
One of those students was 16-year-old Zoe McClure, a rising junior from St. Johnsbury. On the afternoon before graduating from the French academy at St. Mike's, she spoke about her experience — in English.
Knowing she was going to have to speak exclusively French for almost a month was a bit scary at first, she said, and the first few weeks were difficult. With a smile, she recalled resorting to pantomime to figure out how to do things like laundry.
But the hard work — doing Internet searches using Google France, giving presentations and designing Powerpoints in French and reading articles from French-language publications — paid off. "Oh my gosh, I've learned so much," she said. As she neared the end of the immersion experience, she said she was having trouble remembering words in her native tongue.
And the benefits extended beyond academics. Zoe said the bonds she formed with fellow students were strong. "I have a feeling there are going to be some tears tomorrow," she said as she looked forward to the next day, when students would be returning home. "There's something about everyone struggling that makes everyone come together."
The pedagogical approach of MMLA is to give the students "more than they can handle," says Cort Boulanger, a spokesman for Middlebury Interactive Languages, the digital world-languages company that runs the academies. Most, but not all, of the attendees have some prior experience with the language they're studying. A placement test upon arrival helps group students appropriately. Improvement can be significant. According to data from the MMLA, many students gain at least a full language level on the American Council of Teaching of Foreign Language's proficiency scale from the beginning to the end of the institute, and some gain two. That means language academy students might skip ahead one year in foreign-language class when they return to school.
[jump]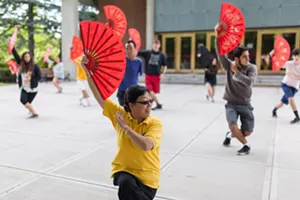 Isaac Wassuck
Tai Chi Fan
Tong Chen has been MMLA's Chinese Language Director for the past three years. During the school year, she teaches Chinese at Leland & Gray Union Middle and High School, a public school in Townshend, Vermont. She explained what the day looks like for Chinese Academy students. At 6:30 a.m., students can participate in optional classes including the martial art Tai Chi Fan or News Corner, where they discuss articles from Chinese newspapers. That's followed by breakfast, then three hours of language class with a break after the first two for lunch. In the afternoon, students attend enrichment classes called Cultural Exploration, where they learn — in Chinese — about topics like calligraphy, traditional games and cooking.
Chen devised a system where students get play money for good behavior, active participation and helping each other. They can use it to "buy" traditional street-vendor foods like egg rolls, made by Chen's parents, who stay near the college during the academy to help watch her 1-year-old daughter.
After dinner, students have an hour of free time, then take part in either student-interest clubs, one-on-one speaking practice with teachers, or watch Chinese movies or special performers. The day is long and students are tired by the end of it, Tong said, joking that "they dream in Chinese."
Speaking in a non-native language is a rigorous experience, said Tong, and that sometimes means stress and frustration on the part of the students. She counsels them with this advice: "You'll never be ready. Just jump into the waters. You'll make mistakes" but "if you reach the goal of communicating with people, you've got it."