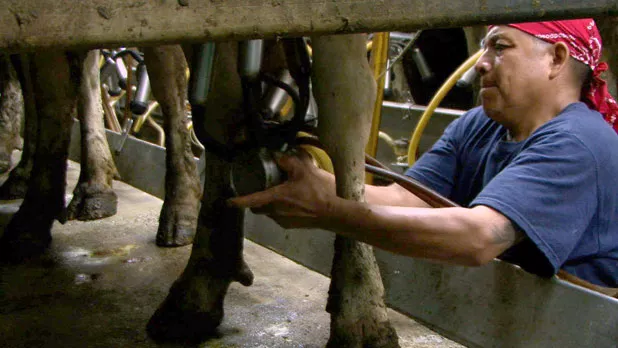 A new documentary film shines light on a continuing problem: the harsh conditions endured by undocumented immigrants who labor invisibly on Vermont's dairy farms. The release this month of Hide comes as lawmakers returning to Montpelier prepare to tackle controversial legislation on immigrant rights.
Next week, a legislative study committee will release a report recommending that Vermont allow foreign-born workers to obtain drivers' licenses or state identification cards regardless of their immigration status.
The 30-minute documentary, which juxtaposes shots of Vermont's bucolic landscapes with the dark and grimy conditions on local dairy farms, could end up boosting the efforts of immigrant-rights groups at the Statehouse. But first-time filmmakers Peter Coccoma and Elori Kramer say that Hide has no hidden agenda other than bringing the stories of Vermont's estimated 1200 to 1500 undocumented farmworkers to a broader audience.
"Some of the activism [around migrant-worker issues] has become overly political and alienated a lot of people," says Kramer, 22, a senior at Middlebury College who hails from Minneapolis. "We didn't want to point fingers. We just wanted to ask the questions."
Among those questions: Why do conditions for the dairy workers remain so abysmal, despite widespread knowledge of their presence in Vermont?
For those familiar with the subject, Hide doesn't break a lot of new ground in its depiction of life in Vermont's dairy industry. But it documents how little those conditions have improved since June 2003, when Seven Days published the first exposé on Vermont's foreign-born farm laborers.
Coccoma, 23, a Cooperstown, N.Y., native who graduated from Middlebury College last May, says that all the people interviewed in the film describe the "same sense of monotony and stagnation in their lives," as well as a universal feeling of being "beaten down and worn out." One migrant worker reports having worked on 30 to 35 farms across the country; only two farmers treated him with compassion and respect.
Filmed on about a dozen unidentified farms in Addison, Chittenden and Franklin counties, Hide provides up-close and personal interviews with three farmers and 10 workers who perform some of Vermont's most menial, grueling and hazardous labor.
The workers range in age from their early 20s to mid-30s. All are migrant workers from Mexico, Guatemala and other Latin American countries who entered the country illegally. Because most have no means of leaving the farms or are wary of doing so for fear of getting arrested and deported, they work virtually around the clock, seven days a week, for years on end. In the film, they describe a monotonous existence made more challenging by loneliness, exhaustion, depression, poor health and isolation from families and friends back home.
"I don't know what day it is today," says one Spanish-speaking laborer in the film. "You don't need to know what day it is."
Another describes working 10-hour shifts without a meal or break. "Maybe they don't know it, but we are not machines," he complains.
Still another farmworker tells the filmmakers he has a brother working on another Vermont farm, 20 minutes away by car, but may go months or years without seeing him because it costs half a day's salary for the taxi fare.
Coccoma and Kramer produced Hide on a $3000 grant from Middlebury College and filmed it over the summer. Coccoma says they first learned about the plight of Vermont's dairy workers in their college classes. But they realized, as Kramer puts it, "The only people reading our papers were our professors.
"I was familiar with [the subject matter] beforehand, but only in an academic sense," Kramer adds. "But waking up at 3 a.m. to meet the workers at the start of their first milking shift ... put it in a whole new light."
Two years ago, Coccoma landed an internship with Migrant Justice, a Burlington-based nonprofit that works to improve conditions for the state's undocumented farmworkers. He speaks fluent Spanish and formed relationships with several of the workers featured in the film during his internship, so many were willing to appear and speak candidly on camera. Some even identify themselves by name.
The farm owners were more camera-shy, Coccoma notes, for fear of legal repercussions.
Migrant Justice's Brendan O'Neill, who collaborated on the documentary, says that Hide is beautifully filmed and edited. He says it will "intentionally provoke consumers" to ponder where their milk and other dairy products come from. But while Migrant Justice helped the filmmakers connect with local farmers and laborers, O'Neill insists he had no direct input into the film's content, nor was it produced as a lobbying tool to support upcoming legislation.
Coccoma says he was inspired by those workers he met who, despite obvious and considerable personal risks, use what little free time they have each week to meet, organize and become politically active.
"They become animated all of a sudden," he says about workers' gatherings in local libraries and churches. When they get together and suddenly discover a community of others like themselves, he says, "They come to life. It's transformative."
That political activism produced a victory in December, when a legislative study committee voted 8-to-1 to recommend that workers be granted the right to apply for drivers' licenses and other state identification cards. State Sen. Phil Baruth (D-Chittenden) says he's already drafted legislation to that effect and plans to introduce it on the first day of the session. Gov. Peter Shumlin has already indicated his willingness to sign such a bill.
Baruth explains that it's critical that these driver's licenses be "physically indistinguishable" from other state IDs because he doesn't want to create a subclass or "scarlet license" that instantly raises questions about someone's immigration status. Vermont State Police policy prohibits troopers from asking suspected immigrants about their status unless evidence of another crime is present.
Baruth's bill would require people to provide the Department of Motor Vehicles with up to three forms of identification — foreign passport, consulate ID, driver's license from another country or certificate of birth, adoption or divorce — and proof of residency. The latter could be verified with medical bills, a bank statement, or two pieces of mail bearing the applicant's name and Vermont address. Baruth says he's been told that law enforcement in other states with similar provisions report the licenses have had the desired effect.
"The irony is that people who oppose this say that somehow this will make us less safe," Baruth says. "This makes it very easy if [police] conduct a roadside stop to know exactly who they're dealing with, what their history and what their situation in the state is," he says. "All those things make for greater health and safety for the workers but also greater health and safety for the rest of the community."
Among those who oppose this legislation is Sen. Peg Flory (R-Rutland), who chaired the summer study committee. Flory, who was the lone dissenting vote against allowing undocumented workers to obtain drivers' licenses, suggests that doing so could diminish the acceptability and validity of Vermont licenses in other states. She points out that it's very difficult, if not impossible, to conduct background checks on foreign-born workers, especially those who don't have driver's licenses in their home countries.
"Driving is a privilege, not a right," Flory adds, noting that Vermont denies that same privilege to citizens who have too many points on their license, haven't paid child support or have committed other offenses. She calls it hypocritical to deny a license to someone who fails to pay child support but not to one who enters the country illegally.
"I have a problem with that," Flory says.
But as the workers in Hide explain, gaining the ability to get off the farm and do something most Vermonters take for granted, such as visiting a bank or grocery store, would go a long way toward improving their overall quality of life. Says one worker in the film, who dreams about walking down the street like everyone else without fear: "That would be beautiful."