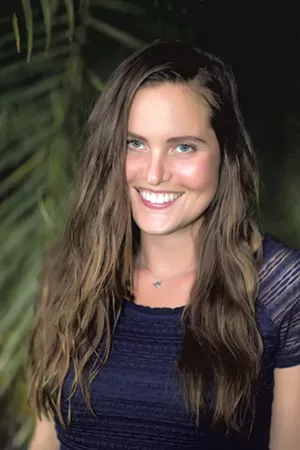 Courtesy Photo
Katherine Arden
Off the main thoroughfare of Vermont Route 100 in Washington County, Katherine Arden's soft-yellow house stands on a small hill scattered with birch trees. Inside, large windows capture a view of the Green Mountains and fill the rooms with natural light. In Arden's office, floor-to-ceiling built-in bookcases cover a wall — one of her primary reasons for purchasing the home, she joked.
Arden, 32, is a rarity these days — a full-time working novelist. The Austin, Texas, native is author of the Winternight fantasy trilogy and a growing series of middle-grade children's horror books, the latest of which came out in August 2019. Arden graduated from Middlebury College with degrees in French and Russian and hopes of becoming a translator. Since then, she's traveled extensively, lived in France and Russia, and changed career paths to become a New York Times best-selling author.
Arden's 2017 debut novel, The Bear and the Nightingale, centers on Vasya, a young girl who grows up in the Northern Rus' region of Russia. Her life is filled with magic and local folklore. The second book, best-selling The Girl in the Tower, follows Vasya through the tumult of life in Moscow in the shadow of the crown prince. The final installment, The Winter of the Witch, focuses on the choice Vasya must make to save either Moscow or the magical world she has come to love.
With her long brown hair tied back, dressed in a sweater fit for the New England winter, Arden heated water and selected tea from a collection of mason jars on shelves. She smiled as she recounted how she and her partner decided to repurpose the shelves — which previous owners had filled with trinkets — as a pantry.
Over tea, sitting in camp chairs in her dining room, Arden spoke of her travels and how she started her writing career. "I [have] always loved to read and wondered if I could write a book," she said, "and so I started and really fell in love with writing, especially writing fiction."
After getting her BA, Arden spent six months in Hawaii and began developing The Bear and the Nightingale, "put[ting] any grad school work or professional development on hold [to] see if I could finish the book to a final draft," she recalled. But she struggled to find a literary agent, so she moved to France and spent a year as a teaching assistant.
Back in Hawaii, Arden decided to pursue an active career path in preparation for graduate school. But in summer 2014, she finally landed an agent; a three-book contract followed in October.
"The very same week I got my real estate license, I signed my first book deal," Arden said. "That ended my real estate dreams." She put grad school on indefinite hold.
Arden continued her travels, backpacking around Europe, but "[in the] late fall of 2015 I had a friend who was still living in Vermont say, 'Come out and just hang,' and I did," she said. "I met Evan, my partner, on a hike in Middlebury, and I stayed in Vermont, and I'm glad I did."
Arden is currently focusing on the middle-grade series that launched while Winternight was being published. She started writing Small Spaces (2018) "on a whim, waiting for notes on my second adult book," she said. Each book in the projected four-book series takes place in a different Vermont season; the winter installment, Dead Voices, came out in August. Small Spaces is a nominee for the 2019-20 Dorothy Canfield Fisher Award (to be renamed this year), "so I feel that a lot of students will have the opportunity to see it at this point," Arden said. "And, because I live in Vermont, it's nice having the students be into that."
Arden's middle-grade books are categorized as horror, a genre she decided to explore in a full-length novel after including a small section in The Bear and the Nightingale. She was a fan of R.L. Stine's Goosebumps series as a child, as well as Mary Downing Hahn's YA ghost stories, she said.
Middle-grade books tend to be about half the length of adult novels — a change after her research-heavy Winternight trilogy. In writing a children's book, "the effort is intense but less sustained," Arden said.
In November, she did a workshop with kids through the Young Writers Project. "I like talking with younger writers. It's fun doing storytelling exercises and prompts," said the author, who added that she would like to "teach a more extended class on creative writing, especially writing for genre."
Arden's adult fantasies have been translated into Dutch, Portuguese and other languages, giving the Winternight trilogy an international fan base. Many of those readers have crafted art connected by a color scheme of blues, reds and greens that mirrors the books' covers, with Russian folk-art styles well represented. Arden plans to hang pieces from her collection of fan art around her house.

Courtesy Photo
Books by Katherine Arden
"People send me things or put them up on Etsy," she said, adjusting a selection of candles named after Winternight characters.
With her middle-grade series halfway completed, Arden has plans for the future. "Right now, I have an adult stand-alone that I'm working on that should hopefully be drafted by the end of the year and be scheduled for 2021," she said. She has an idea for a stand-alone middle-grade book, too. "So that's a good couple of years more work," Arden said. "If you're doing one book at a time, it's about a year each, and it's hard to plan for the future. But with a couple books in a contract, you can look ahead three or five years."
As she settles into her new home and workspace, Arden looks forward to continuing the promising career she's started. Asked if she sees herself ever stepping into a teaching position, as many writers do, she said she'd rather write her own fiction. But, she conceded, "I can never know about the future."
For now, she's busy exploring the potential of fiction for different age groups and audiences — including the very youngest. "I've been playing with ideas for picture books," Arden said. While she acknowledges that "getting something that's good is super hard," she loves the idea. "They're so wonderful and illustrated," she said. "I loved them when I was very little."