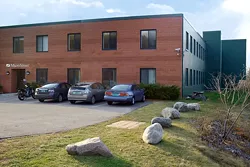 Got a press release last week from MicroStrain, one of the companies that exhibited at the Vermont 3.0 Creative/Technology Career Jam in October. Looks like they're expanding their Williston HQ:
The new 19,000 square foot facility, formerly occupied by Qimonda, is roughly double the size of [MicroStrain's] previous location. "Our new, expanded engineering & production facilities are needed to support our rapid growth, which we expect to continue at approximately 40% per year," said Steve Arms, President of MicroStrain. The new office space has advanced networked, high-speed workstations and provides a bright, open, high-tech working environment for its engineering, computer science, sales and technical employees. The new facility enables MicroStrain to significantly increase the production area, with additional space dedicated to increased capacity for its state of the art robotic calibration systems — which automate the process of embedding intelligence into its inertial, wireless, & micro-displacement sensing systems.
What's so great about those robotic calibration systems? Writer Kirk Kardashian penned a profile of MicroStrain back in January that explains what they do in layman's terms. From Kirk's story:
Founded 21 years ago by Burlington native Steve Arms, the company designs high-tech strain gauges that measure the stress loads on all kinds of objects, from knee joints and helicopters to bridges and Caterpillar Earthmovers.

The gauges, many of which are housed in compact black boxes the size of a pack of Post-it Notes, allow engineers to determine the structural health of metals and plastics, and thereby avert failures. They can also help avoid premature replacement of expensive, taxpayer-funded toys such as F-18 fighter jets. In addition, MicroStrain makes $1500 orientation sensors that can navigate unmanned vehicles in any imaginable application, such as oil exploration, underwater research and landmine detection.

I'm sensing an increase in demand for their services...